By Pat Harty
IOWA CITY, Iowa – Like many of you, I have a favorite Iowa football team, but for reasons that go far beyond what happened on the playing field, although, that was also quite spectacular.
The 1981 Iowa football team, which is having a reunion this weekend in Iowa City, will always have a special place in my heart, not only for what it accomplished 40 years ago this fall, but also because of who was on the team.
My older brother, Frank Harty, would've been a fourth-year junior linebacker on Iowa's 1981 team if his career hadn't been cut short by a staph infection in his knee that ravaged his body in the fall of 1979.
I sometimes wonder what role my brother would've played on the 1981 team if he had been healthy, and I'm sure he has wondered the same thing over the past four decades.
All-America defensive end Andre Tippett and once-in-a-lifetime punter Reggie Roby were the biggest stars on the 1981 team, and deservedly so because they were both incredibly gifted and driven to succeed.
Members of the 1981 team were sick and tired of losing, especially the veterans on defense, and together, and with Hayden Fry as their beloved leader, they did the improbable by winning a Big Ten title for the first time since 1960 and playing in the Rose Bowl for the first time since 1959.
The 1981 squad was filled with players that were highly respected and admired, from Tippett and Roby to defensive backs Bob Stoops and Lou King to defensive linemen Pat Dean and Mark Bortz, there were dynamic performers and dynamic personalities up and down the roster.
But for me, one player stood above the rest and that was linebacker Todd Simonsen, who was a senior in 1981.
He and my brother were both in Iowa's 1978 recruiting class, along with Bob Stoops, and that was the final recruiting class to be signed under Bob Commings, who was fired shortly after the 1978 season.
I met Todd Simonsen for the first time in the fall of 1978 when I along with three of my high school freshmen classmates at West Des Moines Dowling spent a Saturday night visiting my brother and sleeping on the floor of his room at Hillcrest dormitory.
Todd looked as if he had been born to play football. His thighs were thicker than a tree trunk and his neck even had bulging muscles.
Todd was blessed with many physical gifts, but he also had worked hard to reach that level.
I still remember my brother talking about Todd for the first time after they had met in college, and my brother was sort of in awe of Todd's physical attributes.
It was kind of strange hearing my brother brag about somebody as a physical specimen who was his own age because my brother never had done that before.
However, upon seeing Todd for the first time I knew exactly what my brother meant about Todd being physically gifted, and I also knew why Todd wasn't being redshirted as a true freshman because he was ready to play the moment he stepped on campus.
What I didn't realize until meeting Todd for the first time was just how friendly and caring he was as a person.
He was the ultimate teammate, tough, dedicated and loyal.
But Todd also had a softer side that made him so easy to like, and to trust, the ultimate friend.
What little I do remember most about that night in Iowa City was just how friendly Todd was to me, and to my friends.
When Todd sensed that I was getting on my brother's nerves, which I did sometimes, Todd would create a distraction, or he would tell my brother to lighten up and then look at me and smile.
Todd was also a groomsman in my brother's wedding in 1982, while I was the best man.
My brother's playing career was long over by then, but he and Todd had remained close friends because Todd made it so easy to stay friends.
Football was good to Todd, as he was good to the game, which he coached for a while after college before becoming a successful financial planner and consultant in his home state of Wisconsin.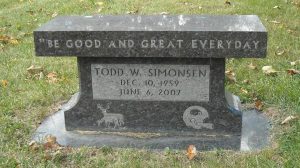 My brother spent much of the 1979 fall semester in the hospital battling the effects of staph infection, and Todd, along with Iowa trainer John Streif, were often by his side providing encouragement and prayers because that's what good friends and good people do.
Todd also knew how to have a good time, and that was in full display at my brother's wedding reception where, let's just say, that Todd and I were the life of the party.
Todd and my brother eventually went their separate ways, but they remained close friends, and that was never more apparent than on that horrible day in June 2007 when Todd passed away in his home state of Wisconsin from complications from Lymphoma at the age of just 47.
To this day, that's the only time I remember my brother crying as he was just overwhelmed by the loss of his friend.
I also cried that day because it hurt seeing my brother in so much pain, and because it just seemed so cruel and unfair that somebody as young and vital as Todd Simonsen would be taken from us.
Todd left behind three children and a long list of friends whose lives were greatly enhanced by having known him.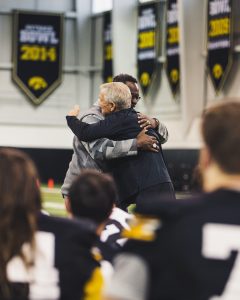 Iowa's 1981 team will be honored at the Minnesota game on Saturday to mark the 40-year anniversary of their special season.
Andre Tippett will also be enshrined in the College Football Hall of Fame later this year, and Tippett is in Iowa City this weekend to mark that occasion, and to celebrate as part of a reunion what he and his Hawkeye teammates accomplished 40 years ago.
Tippett addressed the Iowa players at practice on Friday and the Iowa football twitter account posted a photo of Tippett hugging Kirk Ferentz as the players looked on.
Ferentz was in his first season as the Iowa offensive line coach in 1981, so he saw up close what made that team special.
Todd Simonsen would've loved being reunited with his Hawkeye teammates this weekend because nobody loved being a Hawkeye more than Todd.
He was born and raised in Wisconsin, and he died in his home state, but his heart and soul will always be in Iowa City.
I imagine that Todd's name will come up a lot this weekend as his former Iowa teammates reminisce about what they accomplished in 1981, along with Reggie Roby's name as he passed away in 2005 at the age of just 43.
Two of the driving forces behind Iowa's rebuild under Hayden Fry aren't with us anymore and that's very sad.
Hayden Fry also passed away in 2019, but he was 90 at the time of his death and had lived a long and distinguished life in which he touched the lives of so many and became a legend.
Todd and Reggie, on the other hand, didn't get to see their 50th birthday.
Todd made second-team All-Big Ten in 1981 and was a key piece to arguably the greatest defense in program history, and one of the greatest defenses in Big Ten history.
He was an outstanding football player who helped lay the foundation under Hayden Fry.
But Todd Simonsen was a better person and friend, and I'm lucky to know that from experience.
RIP Simo!