By Pat Harty
Friday's game between Iowa and Nebraska was basically a three-hour demonstration of how each teams' season has played out.
The team that finds ways to win despite being ranked last in the Big Ten in total offense found yet another way to win, thanks largely to the team that finds ways to lose, especially against ranked opponents as No. 17 Iowa became the 18th consecutive ranked opponent to defeat the Cornhuskers, coming from behind to win 28-21 before a sellout crowd at Memorial Stadium in Lincoln, Nebraska.
Iowa finished the regular season 10-2, marking just the fourth time in 23 seasons under Kirk Ferentz that Iowa has finished the regular season with 10 wins.
But more importantly, Iowa still is in the hunt for the Big Ten West Division title.
All it would take is a Minnesota victory over Wisconsin on Saturday in Minneapolis, although, that's asking for a lot considering how well the Badgers are playing.
Nebraska finished the season 3-9 under fourth-year head coach Scott Frost with all nine losses by nine or fewer points.
Iowa struggled to finish drives, and even struggled on defense for much of the first half on Friday.
But as Kirk Ferentz likes to say, a win is a win whether it comes with style points or not.
Of course, it also helps to have rock-solid special teams, and that was the case for Iowa, which benefitted from four Caleb Shudak field goals, and from a blocked punt that led to a touchdown in the fourth quarter.
"That's really what this team has been doing for quite a while, and today, special teams were huge, obviously," Ferentz said on the Big Ten Network post-game show. "They had some good drives on defense. We settled down on defense and that made a big difference, too."
Iowa has reason to be proud for how it overcome a 21-6 deficit in the second half to win in hostile territory against a 3-8 opponent that was favored by one point, even without starting quarterback Adrian Martinez, who missed Friday's game due to a shoulder injury.
The odds-makers, who had Nebraska favored by one point, even without Martinez playing quarterback, had little faith in Iowa's 9-2 record, and for half of Friday's game, the odds-makers were right.
But the odds-makers apparently failed to consider Nebraska's habit of self-destructing with the game on the line.
Iowa scored 22 unanswered points and finally took the lead at 28-21 when junior quarterback Spencer Petras scored on a 2-yard sneak with 2 minutes, 58 seconds left to play.
Petras replaced starter Alex Padilla for the start of the second half and played well enough for Iowa to have pulled out yet another close win.
Both quarterbacks had been out with the flu during the week leading up to Friday's game, but Petras, who missed Tuesday's practice, recovered in time to help Iowa recover.
Ferentz was asked about the situation at quarterback on the field after the game.
"Both he and Alex are first class," Kirk Ferentz said. "Alex stepped in a couple weeks ago and did a great job and Spencer got healthy and has been practicing these past two weeks like a winner. So we've got two really good quarterbacks. I'm just thrilled for both of them."
It sounds as if Petras might have his starting position back again based on what Ferentz said. But Ferentz is right in saying that Iowa now has two quarterbacks with game-time experience.
The running game also continued to show improvement as Tyler Goodson rushed for over 100 yards and surpassed 1,000 yards on the season.
Nebraska drove into Iowa territory on its final possession of the game, but Iowa sophomore cornerback Jermari Harris intercepted a pass from Nebraska quarterback Logan Smothers with just seconds left to play.
Iowa now plays the waiting game to see if it will have a chance to face either Ohio State or Michigan for the Big Ten title next Saturday in Indianapolis.
Iowa fans will be in the strange position of having to cheer for P.J. Fleck and the Minnesota Gophers on Saturday.
Kirk Ferentz was interviewed by the Big Ten Network on the field immediately after the game and Iowa's 66-year old head coach became emotional while talking about his players.
He called his players resilient.
"These guys, they're pretty good" Ferentz said of about the cause of his emotion.
Iowa was trailing 21-9 when reserve defensive back Henry Marchese raced in from the edge to block a punt that reserve linebacker Kyler Fisher returned 14 yards for a touchdown early in the fourth quarter.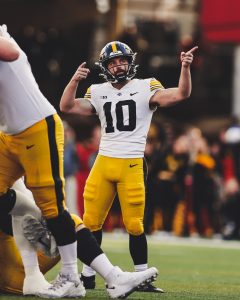 Shudak had just made a 38-yard field goal on Iowa's previous possession, so that was a 10-point swing in Iowa's favor in just a few minutes.
"That blocked punt was the game," said Nebraska coach Scott Frost.
The pressure was clearly on Nebraska at that point, even with a 5-point lead, due to its inability to win close games this season.
Nebraska entered Friday's game with all eight of its losses by nine or fewer points.
Smothers, a redshirt freshman who was making his first start at quarterback, then lost a fumble on Nebraska's next possession that Iowa defensive lineman Logan Lee recovered at the Iowa 46.
Iowa defensive end Zach VanValkenburg made the hit on Smothers to cause the fumble.
At that point, it appeared that Nebraska was melting down once again, and turning victory into defeat.
But Iowa still trailed by five points and had to finish the job.
Nebraska continued to unravel, however, as Smothers was called for intentional grounding in the Nebraska end zone, resulting in a safety that cut the deficit to 21-18 with 9:56 left in the fourth quarter.
Iowa then received good field position from a Charlie Jones punt return, and that would lead to Shudak's fourth field goal of the game that evened the score at 21 with 5:34 remaining.
The situation for Iowa looked bleak for Iowa when Goodson lost a fumble that Nebraska recovered at its own 6-yard line with 10:32 left in the third quarter. Goodson appeared to lose the ball when he made contact with center Tyler Linderbaum, who was blocking down field.
Nebraska then marched 90 yards for a touchdown on nine plays. Smothers capped the drive by plowing into the end zone from two yards.
The point-after kick expanded Nebraska's lead to 21-6 with 5:54 left in the third quarter.
Iowa now found itself playing catch-up on offense, and with Petras back in at quarterback.
The Hawkeyes would go on to outscore Nebraska 19-0 in the fourth quarter to extend their winning streak to seven games in the series, while also keeping possession of the Heroes Trophy.
It wasn't pretty.
It wasn't always effective.
But Iowa's performance was gutsy, and was enough to win.
And that's really all that matters.