Pat Harty
IOWA CITY, Iowa – The Iowa men's basketball team improved to 6-0 on Friday, and it happened using an all-too-familiar script.
Sophomore forward Keegan Murray stuffed the stat sheet again as the Hawkeyes overpowered yet another overmatched opponent, defeating Portland State 85-51 at Carver-Hawkeye Arena.
Iowa has won all six of its games by at least 17 points, but to say that the competition left something to be desired would be an understatement.
Iowa should've won all six games easily because it was vastly superior to its first six opponents, which in order were Longwood (106-73), Missouri Kansas City (89-57), North Carolina Central (86-69), Alabama State (108-82), Western Michigan (109-61) and Portland State.
But now the level of competition will rise substantially when Iowa plays at Virginia on Monday in the Big Ten/ACC Challenge before facing Purdue next Friday in the Big Ten opener.
Keegan Murray and his cohorts haven't really been tested, with exception to the first half against North Carolina Central, and for stretches in the first half against Portland State, but that will certainly change in the next two games.
Actually, Iowa's next five games will be challenging with games against Illinois on Dec. 6 at home and against Iowa State in Ames and against Utah State in Sioux Falls, S.D. on Dec. 9 and Dec. 18, respectively.
Friday's game against Portland State was just more of the same as Keegan Murray produced Luka Garza-like statistics for the sixth consecutive game.
The son of former Iowa basketball player Kenyon Murray scored 23 points, and was among four Iowa players in double figures.
It'll be fascinating to watch the 6-foot-8 Keegan Murray face better competition because without question he will be a marked man, and the focus of every scouting report.
Iowa never was at risk of losing any of these six games due to the level of competition, but it also showed why it never was at risk by winning convincingly.
The question is whether defeating six vastly inferior opponents was the best way to prepare for the next five-game grind?
It certainly has helped Keegan Murray get off to a spectacular start, and has put Iowa at 6-0, and with loads of confidence and momentum.
But without having faced an opponent of similar talent, it's still hard to really know what this Iowa team is all about.
It certainly has some intriguing pieces and multiple scoring options.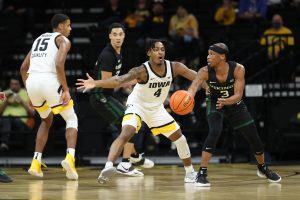 But most of the players are in new roles, either as the go-to guy on offense as is the case with Keegan Murray, or as a key piece off the bench as is the case with his twin brother and fellow forward, Kris Murray, who scored 13 points and grabbed six rebounds in Friday's game.
The challenge now for Kris Murray, and for everyone on the team, is to show that these lopsided wins were a sign that Iowa has a high upside.
Kris Murray was asked on the Learfield post-game radio show about the upcoming schedule and about playing on the road for the first time this season when Iowa faces Virginia on Monday.
"We're looking forward to it," Kris Murray said. "These games were good for us to get our flow going and create our identity. It's going to be a good challenge on Monday night and we're excited for it."
Iowa only led 31-20 at halftime and committed nine turnovers in the first 20 minutes.
Fran McCaffery challenged the players at halftime to play up to their potential, and his message came through loud and clear.
"We were out of character in the first half," Fran McCaffery said on the Learfield post-game radio show. "We were putting our heads down and throwing the ball away. We had four assists and nine turnovers, very uncharacteristic for us. I thought we made some poor shot decisions, which we consider turnovers, if you take a really bad shot is essentially the same as a live-ball turnover.
"So, I really challenged the guys at halftime to be more like us and to be better versions of themselves."
Iowa's better version ended up turning an 11-point halftime lead into a 34-point rout.
Fran McCaffery was asked about the benefit of playing these six games in which the outcomes never were in doubt.
"We wanted a lot of different guys to develop confidence and to understand how we play and why we play the way we play whether it's in transition or with motion or with sets or whether we're pressing or we're playing man-to-man, let them have the ability to make some mistakes and play through those mistakes and get better.
"And then also find out some thing about different combinations that may work and guys that can play more than one position. That was the game plan going into this six-game stretch. Obviously, it gets a lot tougher this next two weeks starting with Monday at Virginia. But I think we learned a lot about our team and we'll keep getting better."