By Pat Harty
IOWA CITY, Iowa – With the regular season now over and Big Ten West champion Iowa preparing to face Michigan in the Big Ten Championship game on Saturday in Indianapolis, here are 15 storylines, in no particular order, that have stood out.
Caleb Shudak's consistency: A strong case could be made for the sixth-year senior from Council Bluffs being Iowa's Most Valuable Player.
Shudak made all four of his field-goal attempts in this past Friday's 28-21 victory at Nebraska, including one from 51 yards and another from 48 yards.
He finished the regular season having made 22-of-25 field-goal attempts, with one of his three misses coming from 58 yards. He also made all 34 of his point-after kicks in the regular season.
Shudak had to wait five years before getting his chance to be the full-time starting kicker, and he is now being rewarded for his patience and unselfishness.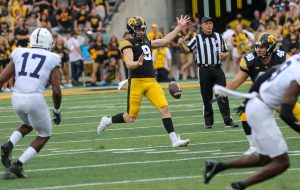 2. Tory Taylor's ability to flip field position: The sophomore from Melbourne, Australia has punted a whopping 69 times this season for a 45.8 average, with 33 of his punts being downed inside the opponent's 20-yard line.
He also has had 21 punts that were 50 yards or longer.
Iowa has a history of playing in close games under Kirk Ferentz, and to have a punter who flips field position as often as Taylor does is a huge weapon.
3. Dane Belton's versatility: The Tampa, Florida native leads Iowa with five interceptions and with seven bass breakups and is seventh on the team with 41 tackles.
Belton plays safety in Iowa's 4-3-4 alignment, and then switches to more of a linebacker role when Iowa uses its 4-2-5 alignment.
He makes the switch from playing in space to playing in traffic look easy when it's anything but that.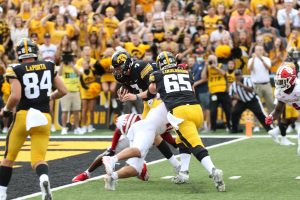 4. Tyler Linderbaum's motor and relentlessness: Somebody on Twitter described Linderbaum's play-through-the whistle mentality as being so good that he makes blocking look like unnecessary roughness.
There's some truth to that as more than once this season Iowa's All-America center has smashed a defender to the ground near the end of the whistle with a pancake block that didn't draw a penalty.
Linderbaum isn't dirty, but rather tough and relentless.
And there's a big difference.
5. Freshmen youth movement at receiver: This season marks the first time that two true freshmen receivers have started for Iowa in 23 seasons under Kirk Ferentz.
Keagan Johnson and Arland Bruce climbed to the top of the depth chart just by making plays and by performing well in practice.
They also complement each other well with Johnson being more of a deep-threat and Bruce more effective in the slot.
6. Sam LaPorta's reliability: The junior from Illinois is the latest in a long line of tight ends to thrive in the Iowa offense.
LaPorta leads Iowa with 40 catches and with 486 receiving yards.
To help put that in perspective, former Iowa tight end Dallas Clark finished with 38 catches for 539 yards as a sophomore in 2001.
LaPorta has a knack for making difficult catches in traffic, which is crucial to the success for any Big Ten tight end.
7. Phil Parker's ability to make the right adjustments: The Iowa defense has struggled early in games at times this season, including allowing Nebraska to score on its opening drive this past Friday.
Iowa also trailed Illinois 10-0 in the first quarter, but then only allowed one touchdown for the rest of the game, and it came in the closing minutes, and with the outcome already decided.
Parker has struggled to make adjustments against Purdue, but David Bell and Boilermakers are an exception.
Iowa's defense almost always performs well enough for Iowa to have a chance to win games. It combines solid fundamentals with toughness and well-crafted game plans to have success.
8. LeVar Woods' impact on special teams: A case could be made for Iowa having the best special teams in the Big Ten, if not the country.
You name it and the Hawkeyes perform it at a high level on special teams.
From Shudak's kicking to Taylor's punting to Charlie Jones' success as a return specialist, there is no way Iowa would've finished 10-2 in the regular season without the special teams being dominant.
Woods, a former Iowa and NFL linebacker, has turned special teams into arguably the biggest strength on the team since being named special teams coordinator in 2017.
Iowa was ranked last in the Big Ten in total offense throughout conference play, but still founds ways to win all but two conference games, thanks largely to the wide range of contributions from special teams.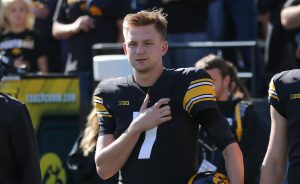 9. Spencer Petras's leadership: This was apparent with him as the starting quarterback, but maybe even more so when Alex Padilla took over when Petras was injured.
Padilla credited Petras with assisting him in every way possible and for providing encouragement in practice and in games.
Kirk Ferentz said during a Sunday zoom conference that he would announce his starting quarterback for the Big Ten Championship game on Tuesday.
My guess is that Petras will get the start, but if not, he will not let his disappointment affect the team or his relationship with Padilla because Petras is the ultimate leader and teammate.
10. Charlies Jones' impact as a return specialist: The former walk-on, who played his first two seasons at Buffalo, has been arguably the best kick and punt returner in the Big Ten this season.
His 100-yard kick return for a touchdown against Illinois came with Iowa trailing 10-0 late in the first quarter.
Jones seems to make some of his best returns when Iowa so desperately needs a big play on special teams due to the offense struggling.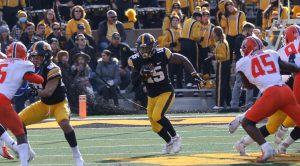 11. Tyler Goodson's ability in space: The Georgia native has surpassed 1,000 rushing yards this season despite playing behind an offensive line that has struggled to run block.
However, Iowa's run blocking improved considerably in the last two regular-season games against Illinois and Nebraska and Goodson took advantage of the running room by combining to rush for 288 yards on 50 carries in the two games. He also averaged 5.8 yards per carry in the two games.
12. Jack Campbell's productivity and leadership: The Cedar Falls native in many ways is the heart and soul of the Iowa defense.
He leads Iowa with 124 tackles, while no other player on the team has more than 89 tackles.
Campbell also returned a fumble for a touchdown against Iowa State and had a 32-yard pick six against Illinois.
13. Henry Marchese's loyalty and dedication: The Illinois native has been buried on the depth chart throughout his career, first as a receiver and now as a defensive back. But he has stayed the course and is now playing a significant role on special teams as shown against Nebraska.
Marchese helped Iowa overcome a 21-6 deficit in the second half against Nebraska by blocking a punt that reserve linebacker Kyler Fisher returned 14 yards for a touchdown, cutting the deficit to 21-16 in the third quarter.
Every successful team needs a player like Marchese who is willing to put individual goals aside for the good of the team.
Marchese could've easily transferred in this age of the transfer portal, but he has stayed loyal to the Iowa program and that says a lot about his character.
14. Kaevon Merriweather's emotional attachment to being a Hawkeye: The Michigan native became emotional during one of the weekly press conferences on Tuesday while looking back to his first game as a Hawkeye.
You could just tell how much being a Hawkeye meant to Merriweather as he talked about riding on the team bus and entering Kinnick Stadium for the first time.
Merriweather has also been outspoken about the racial unrest that rocked the Iowa program in the summer of 2020. He has stood firm in his beliefs, but has done so in a constructive manner that has helped to unify the team.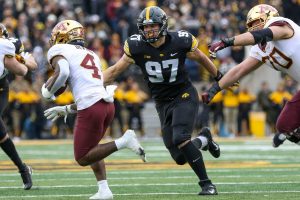 15. Zach VanValkenburg's toughness in the trenches: He fits the description of an Iowa player under Kirk Ferentz in so many ways.
Lightly recruited out of high school, VanValkenburg played for two seasons at a Division II school in his home state of Michigan before transferring to Iowa where he has been a mainstay at defensive end. He leads the team with 11.5 tackles for loss and eight quarterback hurries.
He also made second-team All-Big Ten last season and was the only returning starter on the defensive line.