By Pat Harty
IOWA CITY, Iowa – My father loved everything about Notre Dame football, except for Brian Kelly.
Dad was part of Notre Dame's 1945 recruiting class as a 215-pound running back from Des Moines Dowling High School.
Dowling didn't relocate to West Des Moines until 1972.
Sadly, my father never had the chance to participate in a game for Notre Dame because he suffered a career-ending knee injury during preseason practice as a freshman.
But he still graduated from Notre Dame, and always felt an attachment to the football program as one of Leahy's Lads in reference to legendary head coach Frank Leahy.
But as for Brian Kelly, he just rubbed my father the wrong way with how he lashed out at his players during games. Dad was also a football coach and he could be tough and demanding. He just felt that Kelly crossed the line when he would get in the face of a player during a game, usually a quarterback, and scream and curse as spit flew out of his mouth.
My father, who passed away in 2018, just didn't think Brian Kelly was a good fit for Notre Dame, and apparently, Brian Kelly felt the same way after Louisiana State offered him a 10-year contract worth a reported $95 million plus incentives.
When the money became too good to resist, Brian Kelly bailed on a team that is 11-1 and that still has an outside chance of making the playoff.
Notre Dame's all-time winningest football coach didn't even have the decency after 12 seasons at the school to tell his players before the news broke according to multiple reports.
Head coaches always preach about loyalty and staying the course and resisting temptation that might help from an individual standpoint, but that causes the team to suffer.
And yet, head coaches are allowed to come and go as they please if the money is right, and Kelly's sudden departure to LSU is a perfect example, as is Lincoln Riley's decision to bail on Oklahoma to be the head football coach at the University of Southern California.
Meanwhile, college student-athletes are held to a different standard by some, including by some hypocritical head coaches.
The next time I hear somebody bitch and moan about how the transfer portal gives student-athletes too much power, and makes it too easy for them to bail at the first sign of frustration, I'll mention two names: Brian Kelly and Lincoln Riley.
The transfer portal, along with Name, Image and Likeness, certainly has changed the college landscape, especially at the Power Five level.
Student-athletes have more power and more flexibility, but some view that as a bad thing.
Head coaches are always at risk of being fired, but most of them at the Power Five level get paid millions to go away when they fail.
And that's fine. It's a business.
But why is there this fear that college sports ultimately will suffer if student-athletes are allowed to have some power and influence?
The ways in which Kelly and Riley both bailed on their teams is a reminder of how much power, influence and freedom that head coaches have at the collegiate level.
They both certainly have the right to better themselves and to pursue what they believe is a better opportunity.
But there's a way to do that with some decency and the way in which Kelly left Notre Dame with no warning, and with the season reaching its peak is a horrible look for him, and for college football.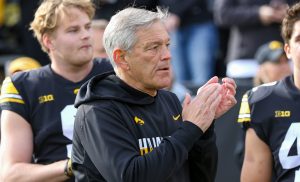 In fairness to head coaches, not all of them are money-craving, self-absorbed egomaniacs.
Take Kirk Ferentz for example.
He could've easily left Iowa, and he almost did in 2002 for the Jacksonville Jaguars.
The 66-year old Ferentz has also reportedly turned down some Power Five jobs that would be considered more prestigious than his current job, which he has held since the 1999 season.
And while Iowa makes it easy for Ferentz to stay by paying him well and by having expectations that are reasonable, some would say too reasonable, Ferentz has resisted the temptation to leave because sometimes the grass isn't greener somewhere else.
Ferentz was asked at his Tuesday press conference for his thoughts on head coaches leaving for greener pastures and he gave a predictable answer.
"I'm not a historian, but I can't remember this much activity," Ferentz said. "It's a flurry of activity. It started early, needless to say. So, it's like a lot of things it's a sign of the times.
"Our world's changing, certainly the world I live in is changing pretty much day to day. So, I'm not quite sure where it's going to land, or end, what it's going to look like five years from now, talk about NIL transfer portals, all those things. But I think this is one more step. And a lot of it, it's like anything else: As the dollars get bigger, the stakes get a little higher.
"So, it's changed. It has changed the whole landscape."
Iowa had a player enter the transfer portal on Tuesday as redshirt freshman quarterback Deuce Hogan became the fourth Hawkeye to enter the portal since the 2021 season started.
Hogan was no higher than third on the depth chart and his chance of playing anytime soon didn't look promising.
So, he's now looking for what he considers a better opportunity for him, just like Kelly and Riley pursuing other jobs.
The landscape certainly is changing in some respects, but for college head coaches, especially at the elite level, it's been this way for a while.
For some, it's a money grab and circumstances don't matter if the money is enough.
It's been suggested that Kelly and Riley weren't motivated just by money, but more by the belief their new job will be an easier path to a national title.
Maybe there is some truth to that, but Notre Dame gets criticized for having too much power and influence over the playoff.
Whatever the case, they both left at an inappropriate time, and without hardly any warning, because they could without penalty, and without consequences.
The transfer portal has its flaws, as does NIL, but to say they're hurting college sports anymore than head coaches coming and going as they please is a double standard.