By Pat Harty
IOWA CITY, Iowa – On paper, the 10-2 Iowa football team doesn't stand much of a chance against 11-1 Michigan.
The initial point spread for Saturday's Big Ten Championship game in Indianapolis was 10 ½ points in favor of Michigan, and the position matchups also compare favorably for the Wolverines.
But that is the beauty of sports in that you never know for sure until the game is played.
Iowa also might have caught a break by facing Michigan instead of Ohio State because Iowa's style under Kirk Ferentz matches up better against Michigan's power running game than against Ohio State's explosive spread attack, especially playing indoors, as will be the case on Saturday at Lucas Oil Stadium.
The Iowa players have embraced the underdog role and some of them said Tuesday that they prefer being the underdog because it fits their chip-on-the-shoulder mentality.
Both teams will be under pressure to win, but Michigan has a berth in the college playoff on the line. The Wolverines never have made the playoff, so Saturday's game could be historic for the team, and for head coach Jim Harbaugh, who was hired to lift his alma mater back to elite status.
Quarterback: Both teams have two quarterbacks with game-time experience, but under much different circumstances.
Cade McNamara is Michigan's starter, and he has taken most of the snaps, but Harbaugh also has carved out an effective role for heralded freshman J.J. McCarthy in which McCarthy replaces McNamara on multiple occasions during the course of a game to run a play or two.
McCarthy has made appearances in nine games this season, but it hasn't hurt Michigan's chemistry as both quarterbacks have performed well in their roles, and both have accepted their roles.
McNamara has passed for 2,301 yards and 14 touchdowns this season, while throwing just three interceptions. He completed 13-of-19 passes for 159 yards in the 42-27 victory over Ohio State last Saturday and is completing 64.4 percent of his passes with just three interceptions for the season.
McCarty is completing 66.7 percent of his passes (26-of-39) for 379 yards and four touchdowns. He also has 77 rushing yards and two touchdowns.
Iowa has two quarterbacks with starting experience, both neither Spencer Petras nor Alex Padilla have produced statistics that are anywhere close to what McNamara has produced for Michigan. Petras has recovered from the shoulder injury that gave Padilla an opportunity to start against Minnesota, Illinois and Nebraska, and Petras will now make his 18th career start in Saturday's championship game.
Advantage: Michigan
Running back: A case could be made for Michigan having the best collection of running backs in the country, let alone the Big Ten.
First-team All-Big Ten running back Hassan Haskins scored five touchdowns and rushed for 169 yards against Ohio State last Saturday, and he has 1,232 rushing yards and 18 rushing touchdowns on the season.
Haskins is hardly a solo act, however, as Blake Corum has 865 rushing yards and is averaging 6.4 yards per carry. Corum is also healthy now after having been slowed by an injury.
But wait, there's more.
True freshman Donovan Edwards also gives Michigan a potent threat as a pass-catcher out of the backfield. He has 14 catches for 196 yards and 157 rushing yards.
Michigan's success on the ground is one of the biggest factors in its climb to playoff contender this season.
Iowa junior Tyler Goodson surpassed 1,000 rushing yards for the season against Nebraska and the running game has improved during the month of November.
But how much of it is due to the opponents?
Iowa has failed to rush for at least 100 yards in five games this season, while Michigan has averaged over 200 rushing yards throughout the season.
Advantage: Michigan
Receiver: Michigan lost Ronnie Bell, its most experienced receiver, to a season-ending knee injury in the season opener, but others have stepped up in his absence, including Cornelius Johnson, who leads the team with 36 catches for 587 yards and three touchdowns.
Mike Sainristil, Roman Wilson and Daylen Baldwin have 301, 296 and 250 receiving yards, respectively, while speedy freshman Andrel Anthony has 207 receiving yards and two touchdowns, including one from 93 yards, on just 10 receptions.
Michigan is deep at receiver even without Bell leading the way. It has receivers that can stretch the field such as Anthony and receivers that can make tough catches in traffic such as Johnson.
Michigan's vaunted rushing attack gets most of the attention, and deservedly so, but its passing game also provides much-needed balance.
Junior Nico Ragaini leads the Iowa receivers with 26 catches, while true freshman Keagan Johnson leads the team with 339 receiving yards on just 17 catches for 19.9 per-catch average.
Charlie Jones and true freshman Arland Bruce have 19 catches apiece for 282 and 175 yards, respectively.
Junior Tyrone Tracy Jr. was considered Iowa's go-to receiver heading into the season, but he only has 15 catches for 106 yards and one touchdown. He also has lost his starting position to Johnson.
Advantage: Michigan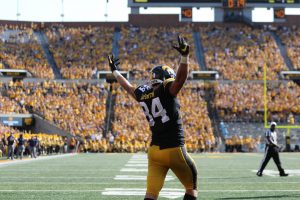 Tight end: This is a close call between Michigan's one-two punch of Erick All and Luke Schoonmaker versus Iowa's Sam LaPorta.
All has 32 catches for 331 yards and one touchdown, while Schoonmaker has 15 catches for 116 yards and three touchdowns.
LaPorta is Iowa's leading receiver with 40 catches for 486 yards and two touchdowns. The Illinois native was named third-team All-Big Ten on Tuesday.
Freshman backup Luke Lachey has five catches for 84 yards, but where he really excels is as a blocker.
Again, this is a close call, but LaPorta has more receiving yards by himself than All and Schoomaker have combined.
Advantage: Iowa
Offensive line: Michigan's offensive line might be the best in all of college football, let alone the Big Ten. Only two starters returned on the offensive line from last season, but this has been a case of reloading in spectacular fashion rather than rebuilding.
That was never more apparent than during Michigan's 42-27 victory over Ohio State as the Michigan offensive line controlled the line of scrimmage, with both physicality and finesse where needed. From start to finish, the Michigan offensive line created a surge at the point of attack, like it has all season.
The performance of the Michigan offensive line against Ohio State was so impressive that John Madden, a legend as both a Super Bowl winning head coach, and as perhaps the most famous NFL color analyst of all time, reached out to Michigan coach Jim Harbaugh afterwards to share his praise.
"I got a great text from John Madden, and John Madden said that this is as good an offensive line performance as he's seen in a football game," Harbaugh said Sunday during a Big Ten conference call.
Iowa junior center Tyler Linderbaum is the most celebrated of all the offensive linemen from either team as he was named the Big Ten Offensive Lineman of the Year.
But it takes more than just one star to make a successful offensive line, and Michigan is a shining example of that that.
Advantage: Michigan
Defensive line: This isn't even close due to Michigan's dominance on the defensive line.
Senior defensive end Aidan Hutchinson was named the Big Ten Defensive Player of the Year on Monday, and he is even being mentioned as a potential Heisman Trophy candidate due to his dominance. Hutchinson leads Michigan with 14.5 tackles for loss, 13 sacks and 10 quarterback hurries.
There have been lots of times this season when Hutchonson has been virtually impossible to block.
Iowa quarterback Spencer Petras could be in serious trouble on Saturday if his offensive line fails to at least contain Hutchinson off the edge.
Hutchinson's support cast is pretty good, too, as Michigan had 33 sacks and 66 tackles for loss during the regular season.
Michigan native Zach VanValkenburg leads the Iowa defensive linemen with 48 tackles, and he leads the team with 11.5 tackles for loss.
Iowa's defensive line has been solid for most of the season, but Hutchinson and his cohorts are just at a different level.
Advantage: Michigan
Linebacker: Michigan linebacker David Ojabo made first-team All-Big Ten despite only having 33 tackles, which is nearly 100 fewer tackles than linebacker Jack Campbell has for Iowa.
Ojabo's biggest strength is his ability to pressure the quarterback from the edge as he has 11 sacks and 11 tackles for loss.
Ojabo and Hutchinson form arguably the most potent pass rushing combination in college football.
Josh Ross leads Michigan with 86 tackles and is second on the team with eight quarterback hurries, while fellow linebackers Junior Colson and Nikhai Hill-Green have 53 and 43 tackles, respectively.
Advantage: Michigan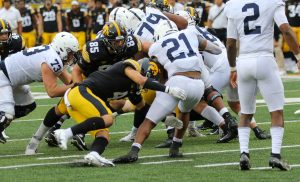 Secondary: Both units are among the best in the Big Ten as evidenced by the Big Ten Conference postseason awards.
Iowa cornerback Riley Moss was named the Big Ten Defensive Back of the Year despite missing three games due to a knee injury, while junior safety Dane Belton made first-team All-Big Ten.
Iowa will be without second-team All-Big Ten cornerback Matt Hankins on Saturday due to a leg injury, and his loss is significant.
However, sophomore Jermari Harris has performed well in his absence.
Junior cornerback Terry Roberts is also expected to play for Iowa on Saturday after having missed the last five games with an injury.
Michigan's secondary is led by safety Daxton Hill, a first-team All-Big Ten selection. He has eight pass breakups and two interceptions, and also excels as a tackler in open field.
Vincent Gray has also started every game at cornerback and excels in pass coverage.
Iowa leads the country in interceptions (22) and ranks third nationally in takeaways (28) largely because of the secondary.
Advantage: Iowa
Special teams: This was almost too close to call between arguably the two best special team units in the Big Ten.
Michigan kicker Jake Moody has made 22-of-24 field-goal attempts and is one of three finalists for the Lou Groza Award, while Brad Robbins is averaging 45.8 yards on 38 punts.
Caleb Shudak has made 22-of-25 field-goal attempts for Iowa, with one of his misses coming from 58 yards and the other the result of bad snap, while Tory Taylor is averaging 45.8 yards on 69 punts.
Both teams also have solid return specialists, but Iowa senior Charlie Jones was named the Big Ten Return Specialist of the Year on Monday, giving the Hawkeyes a slight edge.
Advantage: Iowa
Prediction: Michigan 27, Iowa 20