By Pat Harty
WEST LAFAYETTE, Ind. – The Iowa men's basketball team showed something special on Friday against second-ranked Purdue, even in defeat.
It will go down as a conference loss that dropped Iowa (7-1) from the ranks of the unbeaten.
But the short-handed Hawkeyes played with toughness and grit on defense and they didn't unravel even after Purdue built a 19-point lead in the second half.
Purdue made just enough plays down the stretch to quell Iowa's upset bid, winning 77-70 before a sellout crowd at Mackey Arena.
But if there is such a thing as a moral victory, Iowa earned one on Friday in impressive fashion.
"We've got a lot of heart man," said sophomore forward Patrick McCaffery. "Everyone in that locker room has got heart. We've got a lot of warriors in there."
Playing without leading scorer Keegan Murray due to an ankle injury, Iowa still kept the score close until about the midway point of the second half when Purdue finally started to build a lead behind the play of electrifying sophomore guard Jaden Ivey, who finished with 19 points.
But as was the case throughout Friday's game, Iowa just kept competing and battling and cut the deficit to two points.
"We knew it the whole time, we were right there, we had them," said Patrick McCaffery, who led three Iowa players in double figures with 15 points.  "Even when they made their run, we knew we were going to come right back with a run of our own.
"Unfortunately, we came up a little bit short. But that's going to happen sometimes."
Purdue had a huge size advantage on the frontline with 7-foot-4 center Zach Edey, and with 6-10 Trevion Williams rotating at the center position.
But it was the 6-4 Ivey who caused most of the damage with his acrobatic playing style, and with his ability to score in transition.
Edey only scored six points, while Williams only made 4-of-12 field-goal attempts.
Williams was a force on the boards, however, grabbing a game-high 18 rebounds.
Purdue appeared on the verge of blowing the game wide open about midway through the second half, but then Iowa put forth a spirited rally that was ignited by its pressure defense.
Iowa sliced the deficit to 70-65 with 3 minutes, 35 seconds remaining, causing Purdue head coach Matt Painter to call a timeout.
Sophomore forward Kris Murray, who is Keegan Murray's twin brother, made a 3-point basket that cut the deficit to 70-68 with less than three minutes to play.
The Boilermakers were clearly out of sync, and if you didn't know anything about Iowa before watching Friday's game, you might think that defense was its biggest strength.
Because offensively, the Hawkeyes' performance, which included making only 5-of-21 shots from 3-point range, left much to be desired until the late rally in the second half. Iowa stayed within striking distance against the second ranked team in the country due its defense that caused Purdue to commit 17 turnovers.
The only thing Iowa did wrong on defense was foul too much, especially in the first half, but that was due partly to being so physical and aggressive.
Fran McCaffery's teams have been criticized in past season's for being too soft on defense and for letting what happens on offense effect their defense.
Friday's conference opener was in contrast to that, however, as Iowa struggled to make shots, but still never let up on defense.
"I'm really proud of that," said Fran McCaffery. "I thought our effort and intensity level and our ability to stay connected, whether we were in a press or half-court. I thought we were all battling. This is a team that runs really good stuff. And they rebound the ball extremely well.
"We got outrebounded, but I thought we fought pretty hard on the glass. I thought we were fighting to get through the screening action. They're a handful in the post, whether it's Trevion or Edey. I thought our guys were locked in and aggressive, physical and tried to stay out of foul trouble, but that's hard to do."
Friday's game marked the first time in the last 40 years that the top two scoring teams in the nation faced each other in a Big Ten game. Iowa entered the game leading the nation in scoring at 94 points per game, while Purdue was averaging 92.4 points per game.
But without Keegan Murray, Iowa was missing the nation's second leading scorer at 24 points per game.
It would've been asking a lot for Iowa to upset the second-ranked team in the country on the road with Keegan Murray playing. But without him, it was virtually impossible.
Or, so it seemed that way until Iowa showed that it could compete with what will almost certainly be the top ranked team in the country by next week.
The sellout crowd was loud from start to finish, but that didn't seem to bother the Iowa players.
They could've easy unraveled, but they just kept scrapping and competing, especially on the defensive end.
The loss of Keegan Murray created a huge void for Iowa on offense, but his teammates compensated by lifting their performance on defense to another level.
Fran McCaffery had to go deep into his bench to help compensate for not having Keegan Murray, but also due to his team being in foul trouble.
Starting forward Filip Rebraca was in foul trouble throughout the game and only played 20 minutes before fouling out in the second half.
Redshirt freshman center Josh Ogundele provided a spark off the bench on both ends for Iowa. In addition to scoring seven points, Ogundele also grabbed five rebounds and played hard on defense.
"This team, we play with a lot of passion and aggression and we're a very good defensive team," Ogundele said. "I believe after today's performance that we can challenge any team in the country."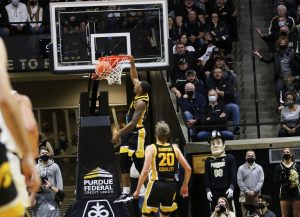 Indianapolis native Tony Perkins also provided a spark off the bench for Iowa on both ends, scoring 14 points with his family watching from the stands.
"It felt good finally for my family to see my play," Perkins said. "I'm from here so I know a lot of the Purdue guys. I played against them in high school."
As for Keegan Murray's playing status, he left Mackey Arena after Friday's game with his right ankle packed in Iowa.
Fran McCaffery was asked if he thinks Keegan Murray will be able play against Illinois on Monday at Carver-Hawkeye Arena.
"I think he will," Fran McCaffery said. "But I thought he'd be ready today. So, I don't really know."
But even without its best player, and even in defeat, the Iowa players made a statement with their performance on Friday in a hostile road environment.
Shots don't always fall as was the case for Iowa during much of Friday's game.
But unlike some previous Iowa teams that would struggle on defense when shots weren't falling, this team didn't let that happen. The players just kept working hard on the defensive end and nearly pulled off a huge upset.
That's something to build on, even in defeat.