By Pat Harty
INDIANAPOLIS – The Iowa football team used a combination of rock-solid defense, reliable special teams and just enough offense to win the Big Ten West Division.
Against Michigan, however, that recipe for success never materialized and the end result was a disaster.
The Wolverines used their own recipe for dominance that included two big plays on offense in the first quarter that resulted in touchdowns and a suffocating defense throughout the game to crush Iowa 42-3 in the Big Ten Championship game on Saturday at Lucas Oil Stadium.
Iowa could've wilted after falling behind 14-0 in the first quarter, but it regrouped on defense and kept the deficit close until Michigan pulled away in the fourth quarter.
Both teams were trying to win a Big Ten title for the first time since 2004, but it was abundantly clear after Saturday's game that Michigan deserved to be favored by 12 ½ points, and that Michigan was clearly the better team.
Even the Iowa defense fell apart in the second half as Michigan scored three touchdowns in the fourth quarter and became the first team to score at least 40 points against Iowa since Stanford defeated Iowa 45-16 in the 2016 Rose Bowl.
But in fairness to the defense, it kept the deficit within reach through about 2 ½ quarters, but with the offense struggling to run and pass, the defense eventually unraveled against one of the best teams in the country.
And it didn't matter who played quarterback for Iowa because the offense still performed woefully.
And that's been the case in each of Iowa's three losses this season as Purdue and Wisconsin defeated Iowa in back-to-back games in October by scores of 24-7 and 27-7, respectively.
Saturday's loss was the second worst in 23 seasons under Kirk Ferentz, trailing only the 49-3 loss at Michigan State in Ferentz's first season as head coach in 1999 when Iowa finished 1-10.
"We knew this was going to be a big challenge coming into it and we have a lot of respect for what they've done this season and we knew we'd have to play our best and make some things go our way, and obviously, it didn't materialize," said Iowa coach Kirk Ferentz. "So that's certainly disappointing tonight and it certainly hurts and everyone in the locker room is really disappointed and not feeling so great.
"But the one thing I will say about this football team is somehow this season they still found a way to win ten football games and can be really proud of that. And we've still got another game to go. So, I just told the guys in the locker room on behalf of our entire staff how proud we are of what they've done since January."
Iowa (10-3) is most likely headed to the Citrus Bowl in Orlando, Florida where it could face Kentucky, which is coached by former Iowa defensive back Mark Stoops.
Michigan, on the other hand, will advance to the four-team playoff for the first time in program history. And judging from Saturday's performance, the Wolverines are ready to compete for a national title.
Iowa, meanwhile, has a mess on offense that needs to be fixed in a hurry, but it's unrealistic to think that it could happen before the bowl game.
Iowa had success throwing to tight end Sam LaPorta early in the game as he finished with six catches for 62 yards.
But where Iowa really struggled was in the red zone where it made three trips, but scored just three points.
"The red zone is hard as it is because the field is so shrunk with so many people in a condensed area," LaPorta said. "A lot of good play calls, you can put those out the window. It's a much different play book than the rest of the field. But I don't know, it just seems the last couple weeks we couldn't really get much going in the red zone, which hurts.
Sophomore quarterback Alex Padilla replaced starter Spencer Petras after one series in the third quarter and the offense responded by marching deep into Michigan territory, but then failed to score any points after being held on fourth down.
This game in some ways was a microcosm of Iowa's season in how the offense just couldn't hold up its end of the deal.
The one big difference, however, was that the Iowa defense also fell apart.
One of the few bright spots for Iowa was the punting of Tory Taylor, who repeatedly flipped field position and averaged 47.3 yards on seven punts.
But with the Iowa offense struggling to move the chains, and with the defense allowing big plays, Iowa's special teams even started to struggle as Taylor had a punt blocked in the fourth quarter.
A victory on Saturday would've put Iowa in the Rose Bowl against Utah, but it just wasn't meant to be as the offense once again failed to do its part.
Padilla's stat line helps to illustrate the problems for Iowa on offense as he completed 10 passes for just 38 yards. Padilla's first completion gained 17 yards, while his other nine completions gained just 21 yards.
Petras wasn't any better, completing just 9-of-22 passes for 137 yards.
Iowa also converted on just 5-of-19 third-down plays.
"As you can imagine, obviously disappointed when you put so much work into it and it doesn't go as you planned," Padilla said.
Kirk Ferentz said the switch at quarterback was due to Petras suffering an injury to his torso at some point in the first half.
"Spencer right now has something in his torso, so he just couldn't perform," Ferentz said.
In truth, though, it didn't matter who played quarterback for Iowa in Saturday's game because the offense stood no chance against Michigan's vaunted defense.
The naysayers and doubters probably were ready pounce and say I told you so when Iowa fell behind 14-0 in the first quarter as Michigan scored on two explosive plays, the first being a 67-yard run by running back Blake Corum in which he made a nifty cut-back move to elude Iowa cornerback Jermari Harris before racing down the sideline untouched to the end zone.
It marked the first time this season that Iowa had allowed a run of longer than 30 yards.
Michigan's second touchdown came a on a perfectly executed halfback pass from Donavan Edwards to Roman Wilson that covered 75 yards on the first play of Michigan's third offensive series.
Caleb Shudak then missed on a field-goal attempt for just the fourth time this season and the situation looked bleak for Iowa.
However, the Iowa defense settled down and started performing like the Iowa defense, holding Michigan scoreless in the second quarter, while Taylor repeatedly shifted field position with his punting prowess.
Iowa trailed 14-3 at halftime, but it felt as if Iowa had avoided a potential disaster against a Michigan team that had defeated Ohio State 42-27 a week earlier.
Take away Michigan's two explosive plays that resulted in touchdowns and the offense didn't really accomplish much in the first half.
The game still was there for the taking heading into the third quarter.
Petras started the third quarter, but he was replaced by Padilla after Iowa had gone 3-and-out on its first possession of the second half.
Petras missed on a throw to a wide-open Keagan Johnson on first down and the possession fizzled after that.
Michigan then marched 82 yards on 10 plays for a touchdown that was scored by Hassan Haskins on a 4-yard run with 8:23 left in the third quarter.
So, Padilla faced a 21-3 deficit when he entered the game in the third quarter.
The Colorado native made an immediate impact, leading Iowa on a drive that reached the Michigan 8-yard line.
However, the drive stalled when Padilla failed to complete a pass to running back Tyler Goodson on 4th-and-2.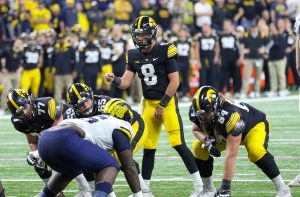 "I just thought we had something going on that drive," Padilla said. "We had a good rhythm going. We kind of mixed up the run and pass and kind of kept them off balance. I thought we had a good drive there, obviously, wasn't able to finish it and that's the most important part."
Kirk Ferentz now has nearly a month to address Iowa's offensive woes, but that probably won't be enough time to fix what is causing the offense to sputter, especially against elite opponents.
This isn't to say that Iowa's offense needs a complete overhaul, but something has to change in a hurry because the defense and special teams need help.
Football is considered the ultimate team sport and it takes three phases to be elite, but right now, Iowa is severely lacking on offense.
Petras has gotten most of the blame as the starting quarterback, and while some of that blame is deserved, Iowa's problems on offense go way beyond the deficiencies at quarterback.
The offensive line has struggled with run blocking and with pass protection, and there isn't much left after that.
Brian Ferentz's play calling has been scrutinized and criticized throughout the season, and that was certainly the case after Saturday's beat-down as fans vented on social media.
The fact that Brian Ferentz is Kirk Ferentz's son makes the situation even more awkward as some fans have accused Kirk Ferentz of coddling and protecting his son.
Brian Ferentz has also been criticized for being too conservative with his play calling, but what's hard to know is how much of that is due to his father's influence.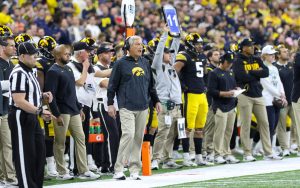 There was one situation in Saturday's game where Brian Ferentz appeared to want to go for it on fourth down in the second quarter, but Kirk Ferentz overruled him.
It's important to remember that while Brian Ferentz calls the plays, Kirk Ferentz still has final say, and it's Kirk Ferentz's offense.
Brian Ferentz is an easy target as the head coach's son, and with the offense struggling.
But there is plenty of blame to go around and the buck stops with Kirk Ferentz.
Brian Ferentz was aggressive early on with his play calling in Saturday's game, including attempting a halfback in the first quarter.
However, it didn't work as Gavin Williams overthrew fullback Monte Pottebaum, who was wide open in the end zone.
It was an aggressive call, but to target a 246-pound fullback in that situation didn't make a lot of sense. It would've made more sense to throw to a receiver as Michigan did with its halfback pass that scored a touchdown.
There were also play calls that left you scratching your head like the time Brian Ferentz chose to run on 3rd-and-20 when the game still was in doubt in the first half.
Or the time when Kirk Ferentz chose to punt from the Michigan 44-yard line trailing 14-3 in the second quarter.
Kirk Ferentz was clearly playing for field position, as he so often does, but his conservative approach backfired on Saturday and helped to contribute to a rout.
"I'm not sure the score is totally representative of the two teams, but that's just the way it went tonight," Kirk Ferentz said.
It's incredible that Iowa has managed to win 10 games with an offense that averages fewer than 300 yards per contest. The defense intercepting 24 passes has certainly helped win games this season, but you can't count on a defense intercepting two dozen passes every season.
So, you have to capitalize on it when it does happen, but Iowa couldn't do it against elite competition.
Defense and special teams have helped to lead the way against opponents that left something to be desired as Iowa hasn't defeated a team this season with fewer than four losses.
But against a team of Michigan's caliber, Iowa needed help from the offense, but it failed to meet the challenge.
It's a familiar script that's getting old, and that's proving costly.