By Pat Harty
IOWA CITY, Iowa – Iowa fans have had nearly 24 hours to digest what happened to their beloved football team in the Big Ten Championship game on Saturday in Indianapolis.
Michigan showed that it was vastly superior to Iowa, at least on this night, by cruising to a 42-3 victory.
Iowa fans have been venting ever since, and understandably so, because it was a shellacking, and yet another reminder that Iowa has serious flaws on offense where it averages fewer than 300 yards per game.
The defense wasn't very good against Michigan, either, and Iowa even had a punt blocked and missed field goal by the usually reliable Caleb Shudak on special teams.
The way in which the game played out was about as bad as it could get from Iowa's standpoint.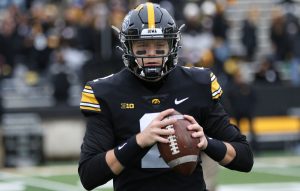 And to make matters worse, redshirt freshman quarterback Deuce Hogan on Sunday made what already had been reported that he had entered the transfer portal official by confirming it with a statement on Twitter.
The Texas native thanked his teammates and the Iowa fans and said that he was announcing his transfer with a heavy heart.
Hogan said his reason for leaving was "due to some unforeseen circumstances" without being more specific.
That makes you wonder if what Kirk Ferentz said after the victory at Nebraska on Black Friday helped to expedite Hogan's departure.
Ferentz joked after Iowa's 28-21 victory that he might have stayed in Iowa City if he would've had to use his third-team quarterback if Iowa's top two quarterbacks were unavailable because of health reasons, and he mentioned Hogan's name.
It was a bad look for a head coach who rarely says the wrong thing publicly.
Ferentz said he regretted making the comment four days later in a press conference, but Hogan is now at least the fifth Iowa player to enter the transfer portal since the start of 2021 season.
His departure, coupled with Iowa's horrible performance in the Big Ten Championship game, has really dampened the mood of fans, who watched Iowa climb all the way to No. 2 in the Associated Press before losing to Purdue, Wisconsin and Michigan by a combined margin of 93-17.
Hogan was the first player to commit to Iowa's 2020 recruiting class and he helped recruit other players to the class. That made him a fan favorite, as did his Texas roots and his success in high school.
But now he's gone after having appeared briefly in just one game this season, and he leaves behind a quarterback position that is struggling to produce for a sputtering offense.
The reaction to Saturday's loss to Michigan makes it easy to forget that Iowa is 10-3 and headed to another January bowl game in Florida where it will face Kentucky in the Citrus Bowl on New Year's Day in Orlando.
Kentucky's head coach is Mark Stoops, a former defensive back at Iowa under Hayden Fry, and the younger brother of former Hawkeyes Bob Stoops and Mike Stoops.
So, that'll make for a fun storyline heading into the bowl game.
"Mark's done a phenomenal job with the program there," Kirk Ferentz said Sunday. "So a little personal aspect to it. It's going to be a thrill for us to have a chance to compete against their football team and we'll have our hands full for sure."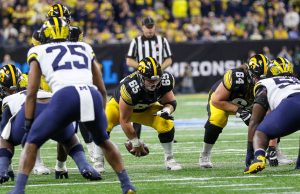 All-America junior center Tyler Linderbaum also said Sunday that he plans to play in the bowl game, so at least that's some good news.
There is speculation Linderbaum will declare for the 2022 NFL Draft as a fourth-year junior, and it would certainly make sense under the circumstances. However, the Solon native wants to finish what he started this season, and that probably should come as no surprise because Linderbaum loves being an Iowa football player.
Linderbaum will graduate in December, so in many ways it would make sense if he doesn't return.
But for now, his main focus is on being a Hawkeye.
"Graduating from the University of Iowa, that's important to me, getting a degree from here," Linderbaum said Sunday. "I've had a lot of people help me along the way in trying to get that accomplished in three-and-a-half years.
"And also I'm not really looking too far ahead. When the time comes, the time will come. I'm just more focused on our game coming up. I'll talk to the right people and get insight from the coaches and family members an people close to me and then when a decision has to be made, it'll be made and we'll worry about that later."
Fans certainly have a right to be upset and frustrated with Iowa's offense because it has performed woefully for most of this season.
But it's also easy to get carried away with the gloom-and-doom mentality and to overlook what's good about Iowa football.
Because despite how miserable it feels right now in the wake of Saturday's 39-point loss, there still is a lot to like about this Iowa team, and it starts with players  like Linderbaum, who are loyal to the team and dedicated to the task of being a Hawkeye.
With a future in the NFL waiting, Linderbaum could easily say no thanks to playing in the bowl game due to the risk of being injured, but it's important for him to finish the season with his teammates and coaches.
And as bad as the offense has performed this season, Iowa still could finish with 11 wins.
Some fans don't want to hear that right now because they're so upset with the lack of offensive productivity, but to win 11 games under any circumstance is impressive.
The glass-half-empty crowd has momentum right now, and to point out anything positive is risking being called a Kirk Ferentz apologist or a homer.
But sometimes, you also have to step away from the ledge, take a deep breath and at least try to put things in perspective.
The popular thing right now is to rip Iowa offensive coordinator Brian Ferentz and his sputtering offense, and insist that wholesale changes have to be made, including his dismissal.
But you're also asking Kirk Ferentz to fire his son following a double-digit win season, and that's asking for a lot, and just not realistic.
Kirk Ferentz had to realize when he promoted Brian Ferentz to offensive coordinator that he was putting both of them in an awkward situation.
The situation is about as awkward as it could get right now, even with Iowa having 10 wins.
A more realistic request would be for Kirk Ferentz to loosen his grip on how he believes Iowa should function on offense and let his son put more of his stamp on the offense.
Let's see what Brian Ferentz can do with more freedom of expression.
Maybe his offense won't look much different than Kirk Ferentz's offense, but on the other hand, maybe it will look different.
Whatever the case, something has to change on offense because the current approach isn't working.
It could be argued that Iowa won the Big Ten West Division this season despite the offense.
Defense and special teams were enough to beat mediocre opponents, but not nearly enough for Iowa to be elite.
And when you're in season No. 23 as head coach, as is the case with Kirk Ferentz, fans tend to be more impatient and expectations rise because even January bowls lose some of their luster over time.
The players are getting a couple days off to recover both physically and mentally because playing 13 games in 14 weeks is a physical and mental grind.
They probably would be smart to stay from social media because the narratives being pushed are pretty harsh in some cases.
A victory over Kentucky in the Citrus Bowl wouldn't erase the frustration and low points from this season, but it would be a nice distraction moving forward.
At some point, however, Kirk Ferentz will have to address the problems on offense, and it starts with stabilizing the quarterback position.
Spencer Petras played the entire first half against Michigan, and one series in the second half before being replaced by Alex Padilla because of what Kirk Ferentz described as an injury to Petras' torso.
But Kirk Ferentz said Sunday that Petras is going to be fine.
The last five games have shown that it doesn't really matter who plays quarterback for Iowa because the offense still struggled with both Petras and Padilla behind center.
So, it'll be interesting to see if Brian Ferentz adds any new wrinkles to the offense in preparation for the bowl game, because again, the current approach isn't working