By Pat Harty
IOWA CITY, Iowa – Under just about any circumstance, it would seem wrong to criticize a college football player for declaring early for the NFL draft, or for entering the transfer portal.
Every case is unique, and every decision is personal.
If Iowa running back Tyler Goodson doesn't want to risk being injured in the Citrus Bowl, that's certainly his right to skip the game now that he has declared for the 2022 NFL draft as a junior.
Goodson sacrificed his body for three seasons as Iowa's featured running back.
If he feels it's in his best interest to move on, even with a bowl game still left to play, then more power to the third-year junior from Suwanee, Georgia.
It makes sense why a college player that appears destined for the NFL would skip a bowl game because there is the risk of being injured, especially for a running back, and lots of potential money involved.
But that also makes what Iowa All-America center Tyler Linderbaum is doing all that more impressive, because if there is anybody on the current Iowa team that is destined for the NFL, it's Linderbaum, a fourth-year junior from Solon.
Linderbaum is widely regarded as the top center in college football, and arguably the top offensive linemen in the country regardless of position.
Centers don't always project high in the NFL draft, but the 6-foot-3, 295-pound Linderbaum appears to be an exception as a likely first-round pick.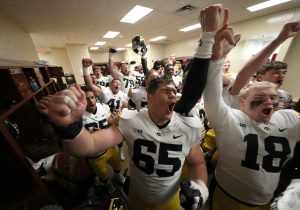 It would've been a shock if Linderbaum had decided to skip the Citrus Bowl knowing how much being a Hawkeye means to him.
But it would also, maybe not be a shock, but very surprising should Linderbaum decide to return for his fifth-year senior season.
It doesn't take a football genius to know that Linderbaum is ready to compete at the highest level and get paid a lot of money for it.
He is part of an offensive line that has struggled at times this season, but to no fault of Linderbaum, who has graded out exceptionally high in each game this season.
Linderbaum really has nothing left to prove in college.
Selfishly, it would be great if he came back for another season of dominance and blocking through the whistle.
And if anybody might defy the odds in a situation like this, it would be Linderbaum because he really seems to cherish being a Hawkeye.
While some might say that he is making a huge sacrifice and taking a risk to play in the Citrus Bowl, Linderbaum sees it simply as another chance to fight and scrap with his teammates, and to finish what he and his teammates and coaches started this season.
That doesn't make Linderbaum any better than Goodson, just different in this case.
Linderbaum showed a similar loyalty in the summer after his senior year of high school when he played for the Solon baseball team despite having already started his summer workouts as an incoming Iowa freshman.
He used to workout with Iowa in the morning and then play baseball in the afternoons and evenings, and did so pretty much on a daily basis.
"I've been playing with these guys since I was a young kid and they mean a lot to me, this team and these coaches mean a lot to me," Linderbaum said in the summer of 2108 when asked about his decision to play baseball as a high school senior. "I want to finish what I started with them."
The way in which Linderbaum embraced that grind made quite an impression on Iowa coach Kirk Ferentz because it took loyalty, hard work, focus and sacrifice to pull it off.
Linderbaum will graduate in December, and some might consider that another reason for him to skip the bowl game.
But for Linderbaum, the chance to represent Iowa in a bowl game is just too good and too important to pass up.
"Graduating from the University of Iowa, that's important to me, getting a degree from here," Linderbaum said. "I've had a lot of people help me along the way in trying to get that accomplished in three-and-a-half years.
"And also I'm not really looking too far ahead. When the time comes, the time will come. I'm just more focused on our game coming up. I'll talk to the right people and get insight from the coaches and family members an people close to me and then when a decision has to be made, it'll be made and we'll worry about that later."
The fact that Linderbaum grew up about 10 miles from campus, and has most of his family and friends nearby probably makes it easier for him to stay the course right now because he has the luxuries and conveniences of home.
More than anything, however, Tyler Linderbaum just loves being a Hawkeye and isn't ready for his incredible journey to end quite yet.
He wants to feel the joy and pride from wearing the black and gold and from being part of the Swarm at least one more time.
And that's pretty cool.