By Pat Harty
IOWA CITY, Iowa – As odd as it might seem, a strong case could be made for the Iowa men's basketball team having a better homecourt advantage on Saturday in Sioux Falls, South Dakota than it would at Carver-Hawkeye Arena.
Iowa will face Utah State at the Sanford Pentagon in Sioux Falls and before a sellout crowd that will consist mostly of Hawkeye fans.
It'll be Iowa's third game at the Sanford Pentagon where it has a 1-1 record. Iowa defeated Colorado 80-73 in 2017 and lost to Gonzaga 99-88 last December.
"They do a terrific job with how professional they are, with running an event like that," said Iowa coach Fran McCaffery. "The facility is first-class. The crowds are phenomenal. The people really, I think, enjoy those games, and support those games.
"For us to get up to that part of the country where we have so many fans is something that's important to us. So yeah, I think when you're evaluating it, it just makes a lot of sense. We're always going to play a really good team. Utah State is really good. We played Colorado, we played Gonzaga, really good teams."
Iowa sixth-year senior guard Jordan Bohannon played in the two previous games at the Sanford Pentagon and he knows what to expect from an atmosphere standpoint.
It's considered a neutral court, but that's misleading in this case.
"When you have the whole arena filled with Iowa fans it's going to be fun anytime you play, especially when you're away from home," Bohannon said. "So anytime you have Iowa fans like that show up and you're able to get a win, that makes it very memorable.
"So hopefully, we can do the same."
From Iowa's standpoint, playing in Sioux Falls is beneficial in ways beyond just creating a home-court advantage away from home.
The game also means a much shorter road trip for fans from the northwest part of the state, and that always helps in pushing your brand.
And it gives Iowa a chance for an impressive nonconference win, which have been few and far between this season.
Iowa has a 7-3 record, but its 75-74 victory at Virginia on Nov. 29 is its only quality nonconference win at this stage. Iowa failed to get a quality nonconference win at Iowa State in its most recent game, losing 73-53 on Dec. 9 at Hilton Coliseum in Ames.
Iowa has six nonconference wins against mid-level conference opponents that in each case were huge underdogs at Carver-Hawkeye Arena. Iowa won every game by at least 17 points, but the arena was more than half empty for most of those games.
The Sanford Pentagon only seats about 3,250, but there won't be an empty seat on Saturday. The fans will also be close to the court and loud.
Utah State at 7-3 isn't elite by any means, but it still would count as a quality win, and that's what Iowa needs right now after three consecutive losses.
Iowa will have had eight days off when it faces Utah State on Saturday; eight days to recover from the beat-down in Ames, eight days to fix its rebounding woes and eight days for Keegan Murray, its leading scorer and rebounder, to recover from an ankle injury.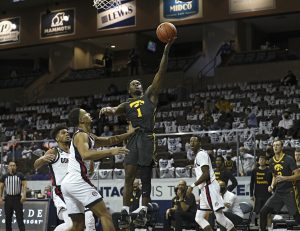 Iowa only has three nonconference games remaining and the other two both are at home against Southwestern Louisiana next Tuesday and against Western Illinois on Dec. 29.
Iowa should be heavily favored in both of those games, so neither would be considered a resume-building win.
A victory over Utah State, on the other hand, would help Iowa's cause in that regard.
After starting the season 6-1, Utah State has lost two of its last three games. Two of the Aggies' three losses have come by a combined five points (72-69 to UC Davis; 60-58 to Saint Mary's).
The Aggies finished second in the Mountain West with a 15-4 league record last season and earned their second straight trip to the NCAA Tournament. Texas Tech bounced No. 11 seed Utah State in the first round, 65-53.
Two Aggies average double figures in scoring: redshirt senior Justin Bean (21.1) and fifth-year senior transfer Brandon Horvath (12.7). Bean also ranks fourth in the country in rebounding (11.6), second in double-doubles (7), sixth in field goal percentage (.656); first on the team in steals (19) and free throw shooting (.833, 40-of-48).
Utah State ranks third in the nation in assists per game (19.9), 25th in assist-to-turnover ratio (1.49), and 36th in field goal percentage (.482).
Ryan Odom was hired last April to replace Craig Smith as head coach after Smith left for the head coaching job at Utah. Odom previously coached at Maryland-Baltimore County where last season he led the Retrievers to a share of American East regular-season title for the first time since 2008.
Horvath played for Odom at UMBC and then followed him to Utah State, as did R.J. Eytle-Rock.
Utah transfer Rylan Jones is also a key contributor.
"Ryan is a terrific coach," said Fran McCaffery. "He brought two of his best players with him. The kid, Bean, is as good as anybody we'll face all year long. He's tremendous. So, it's a veteran team. They've got some transfers, and they've got some veteran guys. Really share the ball, move the ball. They've got multiple shooters. Everybody understands how to play. Got the transfer, the kid Jones from Utah."
Even with the change at head coach, and with numerous personnel changes, Fran McCaffery knew that Utah State would pose a challenge,"
"It's like when you schedule a game like this — well, any game anymore, you really don't know who you're going to face until the season starts," McCaffery said. "But I think we all knew they would be good. Really good coach, really good players. It's an excellent program with a great fan base."
As for Keegan Murray's health status, the 6-f00t-8 sophomore, will have had a more than a week to get healthy for Saturday's game.
Fran McCaffery was asked on Tuesday about Murray's progress.
"Pretty good," McCaffery said. "Yeah, he's not there yet, but he's getting closer."
Murray was expected to spend much of the week shooting, lifting and getting treatment.
Some of his teammates also are battling with nagging injuries. So, the week off for finals came at a good time for Iowa.
"That's another thing, we've got some guys banged up, so that's another important component of this week," Fran McCaffery said. "Obviously, the primary focus is final exams, but I would say final exams and getting healthy more than anything else, and then kind of focus on yourselves and then shift to the next game."
Iowa vs. Utah State
When: Saturday, 8:10 p.m.
Where: Sioux Falls, South Dakota, Sanford Pentagon
TV: Big Ten Network
Radio: Hawkeye Radio Network
Series: Saturday will be the fourth all-time meeting between Iowa and Utah State. The Hawkeyes lead the series, 2-1. Iowa recorded victories over the Aggies in 1950 in Iowa City (62-58) and in the first round of the 1983 NCAA Tournament in Louisville, Kentucky (64-59). Utah State beat Iowa the last time the two schools played in 2007 (75-62), in a holiday tournament in South Padre Island.