By Pat Harty
IOWA CITY, Iowa – Shortly after the governing bodies of all three NCAA divisions passed a uniform interim name, image and likeness policy this past June, I reached out to the father of Iowa center Tyler Linderbaum.
I was curious to see if Tyler might be interested in selling t-shirts featuring his name, image and likeness on the Hawk Fanatic and Your Prep Sports websites.
One t-shirt that immediately came to mind was "The Baum Squad" and I shared that would Tyler's father, Todd Linderbaum.
I also suggested a shirt in which Tyler's connection to Hawkeye football and his Solon roots would be combined.
Todd Linderbaum said he would speak with Tyler and then get back to me.
However, Todd also sounded less than optimistic because he said Tyler wasn't interested in making money for himself.
Tyler already was working with some family members to sell t-shirts with his name and image when I reached out to Todd, but Todd said that Tyler had little to do with the day-to-day operation.
Tyler basically gave his relatives permission to use his name, and together they would embark on a noble cause that has since raised from the selling of t-shirts $30,000 for the University of Iowa Stead Family Children's Hospital.
I also had planned to donate part of whatever money we would raise on the websites to the UI Children's Hospital.
But my intent was also to make money for the two websites by creating a new revenue stream.
I spoke with Todd Linderbaum one more time in July, but it was clear at that point that Tyler wasn't interested in going outside of his family to sell t-shirts.
And now looking back at it, I can see why.
Tyler Linderbaum certainly doesn't need the money himself as he projects to be a first-round pick in the 2022 NFL draft should he decide to skip his senior season.
And if you know Tyler Linderbaum at all, you realize that attention and praise aren't things that he craves.
Tyler doesn't always need to be told that he's doing a good job to do a good job. He just quietly goes about his business and tries to consistently do the right things, on and off the playing field.
Tyler Linderbaum saw name, image and likeness as another chance to do the right thing by helping those less fortunate than him. And by having his relatives handle the operation, he kept it in the family, and kept the distraction to a minimum.
The Iowa football team, which is preparing to face Kentucky in the Citrus Bowl on New Year's Day in Orlando, Florida, has a special relationship with the children's hospital and Tyler Linderbaum has used NIL to build on that relationship.
Tyler has shown that NIL can impact lives in a positive way, and that it's not just a money grab despite what critics might say.
He has shown that not every student-athlete is consumed with trying to maximize their financial portfolio for self-serving purposes, which was a major concern when name, image and likeness was passed.
This isn't to say that name, image and likeness isn't without problems.
Critics seem convinced that it will only hurt college sports because it will cause student-athletes to pledge allegiance to the highest bidder.
And while there might be some truth in that, Tyler Linderbaum's situation is different because there is no highest bidder in his case.
A cynic might point out that it's easy for Tyler Linderbaum to donate money from NIL since he will almost certainly be a multi-millionaire in a few months, assuming he declares for the NFL draft.
But another way to look at it is that Tyler Linderbaum has used his star status, and the platform that comes with it, to raise money for a noble and worthy cause.
It's easy to forget that Tyler Linderbaum is only 21 years old because he seems mature beyond his years. Part of becoming an adult is learning to put the needs of others before your own needs, and also realizing that giving brings as much, or more joy, than taking.
The passing of name, image and likeness was long overdue because student-athletes had been exploited for decades while those around them got rich.
Very few student-athletes are in Tyler Linderbaum's situation in that many need money from NIL to help overcome financial difficulties. Most college football players also don't have a career in the NFL waiting.
Tyler Linderbaum is fortunate in so many ways and he knows it.
He is part of a close-knit family and grew up in a close-knit town with good health, a strong work ethic and rare athletics gifts.
One way for Tyler Linderbaum to show his appreciation is by helping those less fortunate, and NIL has allowed him to do that with assistance from his relatives.
It is a privilege to play football for Iowa, and one way to respect that privilege is to use your popularity and influence to help those less fortunate.
The patients in the children's hospital mean so much to the Iowa players. They share a special bond that has evolved into one of the greatest traditions in sports with the Wave being performed after the first quarter of every home game at Kinnick Stadium.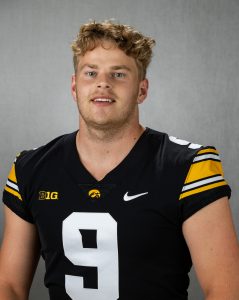 Sophomore punter Tory Taylor also has used his name, image and likeness for a noble cause. The Melbourne, Australia native has donated all the proceeds from his shirt "Punting is winning" to the "Count the Kicks" organization. It's an organization that provides educational resources to healthcare workers and expectant parents.
It's easy to get distracted by all the negativity surrounding name, image and likeness, and to assume the worst about it.
But there is a good side to this new landscape and Tyler Linderbaum and Tory Taylor are two shining examples of that.
I'd be lying if I said I wasn't trying to make money for the two websites when I reached out to Todd Linderbaum this past summer. I saw it as a chance to cash in on his son's success while there still was time.
So, in my case it was more about business, while the Linderbaums had something else in mind, something much more noble, and I respect them for that.
I admire the Linderbaum family for coming together to help those less fortunate.
Tyler Linderbaum knew exactly how he wanted to use his name, image and likeness, and now imagine how proud he and his relatives must feel to have raised $30,000 for the children's hospital.
Nice work young man.
He kinda did a thing. @UIchildrenspic.twitter.com/bgAjkhEOLl

— Lisa Linderbaum (@4lindys) December 19, 2021