By Pat Harty
IOWA CITY, Iowa – The Iowa men's basketball team headed to the holiday break with yet another gift from a nonconference home schedule that just keeps on giving.
The latest gift was an overmatched Southeastern Louisiana squad that entered Tuesday's game with a 4-8 record and was playing its eighth consecutive road game.
The Lions didn't put up much of a fight, besides a brief skirmish in the first half that led to one of their players being ejected, and fell to the Hawkeyes 93-62 on Tuesday at Carver-Hawkeye Arena.
It would've been hard enough for this Southeastern Louisiana team to beat Iowa under any circumstance.
But the hand it was dealt Tuesday, playing on the road for the eighth game in a row, made it mission impossible.
Iowa led 44-30 at halftime and then spent the second half building on the lead.
Sophomore forward Keegan Murray did what he usually does by leading Iowa in scoring with 20 points despite having scored just five points in the first half.
However, he left the game late in the second half and was accompanied by trainer Brad Floy.
Murray wasn't limping noticeably, but he motioned to the Iowa bench to take him out after he appeared to stumble.
It turns out he was just be cautious after having injured the same ankle earlier in the season.
"I just rolled my ankle again, but it's not anything crazy like last time," Keegan Murray said. "I just want to be precautious of staying on it more. So I thought someone else should get in the game for me and just take care of it."
Story continues below
Iowa improved to 9-3 overall and now has a week off for the holidays before facing Western Illinois on Dec. 29 at Carver-Hawkeye Arena.
The only downside to Tuesday's victory was a left ankle injury suffered by sophomore center Josh Ogundele in the second half.
Ogundele was running down the court in transition when he suddenly started limping. He then fell to the floor on the baseline near the Iowa bench with 10 minutes, 35 seconds left to play, and in obvious pain.
He was helped to the locker room by several of his teammates and didn't return.
"It's sore, a little swollen," said Iowa coach Fran McCaffery. "He turned his ankle so we'll see. Day to day, and he could be out a little while because it swelled pretty quickly.
"I felt bad for him. He was running the floor and he was about ready to get a dunk and he tweaked it."
Ogundele is from London, England, but he attended high school in Massachusetts and his plan was to spend part of the holiday break in Massachusetts.
It's uncertain how the injury will affect those plans.
"Right now, for the next two days it's going to be ice, ice, ice, ice, ice and keep it elevated and get the swelling out," Fran McCaffery said. "He's not going to be walking on it anytime soon."
Iowa improved to 7-1 at home this season with all seven victories by at least 17 points. Its lone blemish was an 87-83 loss to Illinois in the Big Ten home opener.
All seven nonconference opponents that Iowa has defeated at home this season had little chance of winning as huge underdogs, and the Hawkeyes will also be favored against Western Illinois, although, the Leathernecks are off to a surprising 10-2 start.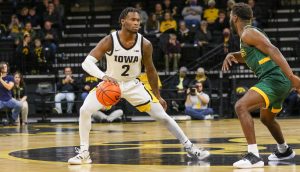 Tuesday's game was dull and uneventful for the most part as Iowa controlled both ends of the floor pretty much from start to finish.
There were a few tense moments late in the first half when Iowa point guard Joe Toussaint and Southeastern Louisiana guard Keon Clergeot both fell to floor while competing for a loose ball. They continued to battle for the ball on the floor and then Clergeot appeared to step on Toussaint before being pulled away by his teammates.
The officials reviewed the play and then called Clergeot for a flagrant two foul, which is an automatic ejection.
Clergeot was laughing as he walked by the Iowa bench to the locker room.
Fran McCaffery appeared to tell his players not to say a word right before Clergeot walked past the Iowa bench.
The fans, on the other hand, let Clergeot know how they felt as he left the court, booing loudly until he disappeared in the tunnel.
Fran McCaffery was pleased with how Toussaint stayed composed during the heat of the moment.
"They ran him right away," Fran McCaffery said of of Clergeot. "His teammates went over there and pulled the guy off him, which is important. And (Joe) kept his composure.
"You don't want anyone taking a swing. That's the kind of thing that can happen in a situation like that. But he was really composed in that situation."
Iowa had four players who scored in double figures, including sophomore forward Patrick McCaffery with 16 points. Senior guard Joran Bohannon scored 13 points, while freshman guard Payton Sandfort scored 10 points off the bench.