By Pat Harty
IOWA CITY, Iowa – Ivory Kelly-Martin, obviously, wouldn't go down in history as one of the greatest Iowa running backs of all time.
He wouldn't even be in the discussion as one of the best under Kirk Ferentz.
But Kelly-Martin is without question one of the most loyal, most respected and most admired running backs to play for Iowa.
In this age of the transfer portal in which college players are coming and going at an alarming rate, the soft-spoken Kelly-Martin is an exception, an outlier.
He is proof that the grass isn't always greener somewhere else, and that there is value in staying the course and finishing what you started.
While many college athletes bolt at the first sign of trouble or rejection, Kelly-Martin has withstood the temptation to leave Iowa, which says a lot about him, his upbringing and the Iowa program.
The Oswego, Illinois native is currently listed as the starting running back heading into the Citrus Bowl against Kentucky on New Year's Day in Orlando, Florida.
However, that's only because Tyler Goodson has decided to skip the bowl game to prepare for the 2022 NFL Draft.
Fellow running backs Gavin Williams and Leshon Williams also are expected to play in the bowl game, so it isn't that Kelly-Martin is being handed the starting position.
Kelly-Martin will have to fight and scrap for every carry he can get, but just to be in the position to start in a bowl game after everything he has been through is a testimony to his resolve and loyalty.
"I'm definitely really excited," Kelly-Martin said Thursday. "It's an opportunity that I haven't had in a little while just because some obstacles came up along the way. I'm doing everything I can to make sure that I'm ready to go by game time."
The obstacles to which Kelly-Martin referred include injuries and being passed on the depth chart. He also has struggled with ball security at times this season, but he just keeps competing and doing whatever he can to help the team, including embracing his role on special teams.
Kelly-Martin started six games as a sophomore in 2018, including the season opener, before injuries derailed his season.
He then only played in four games in 2019 due partly to injuries and fell behind Goodson on the depth chart. He appeared in seven games during the 2020 season, but missed the final game due to a serious knee injury. And he has been slowed by turf toe for much of this season.
Some players in Kelly-Martin's position might have left for a fresh start somewhere else, or because they were upset about losing their starting position.
Kelly-Martin also had to deal with the racial unrest from the summer of 2020 when multiple former Iowa black players accused the program of racial disparities.
But instead of transferring to a different school, Kelly-Martin has helped to unify the players and has been an important spokesperson for the program.
"You've got to give him a lot of credit," said Iowa coach Kirk Ferentz. "He's had disappointment. He's had competition, but he's never changed all the way through this. He has been steady, works hard and takes care of business. Had to deal with injuries throughout his career. But his attitude never wavered, at least from me watching him. And like a lot of stuff, I think it starts at home. Has great family. They reinforce, probably, the right messages, I'm guessing. I know he's hearing them here.
"So, it's a team effort by everybody. But it's what differentiates people sometimes. I'll go back a step on that, too. Depends on what you're looking for, as being part of the team and doing what you can to help the team first and foremost. Or is it just about your stats and what have you?"
Ferentz is correct in saying that Kelly-Martin's upbringing helped to make him the man he is today. Kelly-Martin was taught at a young age about loyalty and that quitting is the easy way out, and that it gets easier to quit the more you do it.
The hard part is staying the course when things don't necessarily go your way.
"The people around me are like people I've never had anywhere else, just humbleness and just nice and just the comfort they've been able to give to me has been a really big thing," Kelly-Martin said. "That's what has led me to stay here.
"And my dad has been a really big inspiration. He tells me never to quit, just keep pushing no matter what kind of situations or obstacles that come in front on you."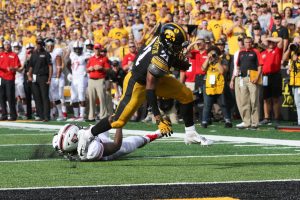 Kelly-Martin's parents recently moved to the Orlando area, so the bowl game will be special in so many ways.
Kelly-Martin hasn't ruled out returning for a sixth season, but he has time to make that decision.
He is on course to graduate this spring, and he already has started networking and building connections for life after football, which might include coaching the sport that has paid for his education.
Kelly-Martin is one of six seniors on the 2021 Player Council, and was one of three juniors named to the 2020 Leadership Group.
Only the most respected players get to fill that kind of leadership role.
"I've been able to get really good communication with my teachers and everything like that, teachers, coaches, friends, people all around campus, people that aren't on the football team," Kelly-Martin said. "Just the connections I've been able to make here is like no other. I couldn't find myself going anywhere else."
Kelly-Martin had at least 17 scholarship offers coming out of high school, including from Wisconsin, Illinois, Arizona, Syracuse and Vanderbilt.
Iowa, of course, had to sell him on the football stuff, but recruits are told to pick a school where they would feel most comfortable if their sport was taken away.
Kelly-Martin appears to have used that approach when picking Iowa.
The football side of things has been filled with more than his share of setbacks, but from a total college experience, Iowa has been the ideal place for Kelly-Martin to grow from a teenager to a young man.
"There's more to life than just football," Kelly-Martin said. "Football is going to take you to a certain point. But there's going to be a certain point where football is going to be over in your life and you're going to have to step into that degree and be able to make those connections, make those friendships and be able to build a network for yourself.
"It's really important."
As for the transfer portal, which has had as many as 1,500 student-athletes looking for new homes, Kelly-Martin just sort of looks on with disbelief.
"I remember back when the transfer portal was just starting to get out of hand right before Covid and now look at the numbers," Kelly-Martin said. "It's just insane. It's still going up.
"Honestly, I think it's a crazy situation to have all those college athletes in there. Hopefully, they'll start to figure out some new stuff and how they can fix that. But it is a pretty insane situation looking at it now."