By Pat Harty
ORLANDO, Florida – Change isn't always the answer.
But there also comes a point in which refusing to change, or to budge just a little, can be a problem.
It could be argued that the Iowa offense under Brian Ferentz has reached that critical point.
Iowa, despite being ranked 123rd nationally in offense, will face Kentucky in the Citrus Bowl on Saturday with a chance to win 11 games for just the fourth time in program history.
That's impressive under any circumstances, but even more so in this case because the offense has performed woefully for much of this season.
From the inability to sustain a rushing attack to poor quarterback play to predictable and conservative play calling, the Iowa offense under Brian Ferentz has struggled to do its part.
If it weren't for Iowa's success on defense, and on special teams, the team wouldn't be in position to win 11 games.
Kentucky defensive coordinator Brad White said something on Wednesday that spoke volumes when asked when the last time he faced an offense with Iowa's old-school mentality.
"Probably inside the five-yard line," White said without naming a team. "And it's true in this day and age, I joked in a previous deal back home, is that for some of our younger players that haven't been around and have only seen spread offenses, especially in high school, they don't even know what a fullback is. But that creates two-back run fits that create problems, and it stresses your rules.
"What you have to do is have to key on that fullback — and our guys have to do a great job of understanding. Hey, it's creating two-by-two formations or three-by-one formations, depending which way he goes. But you have to identify flow early, and then you understand your run fit, where your support is."
White wasn't trying to be critical of the Iowa offense. He was just being truthful.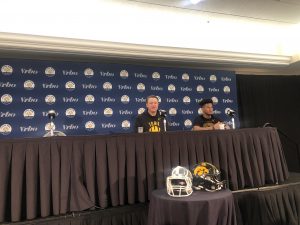 Iowa is part of dying breed in college football in which the philosophy and approach on offense has changed very little over the past 23 seasons under head coach Kirk Ferentz, who is Brian Ferentz's father.
As more and more teams continue to evolve into spread offenses, Brian Ferentz seems proud to be an outlier.
"I know we are trying to take it out of the game desperately, but there's a physical aspect of football," Brian Ferentz said at a Wednesday press conference. "And the last time I checked on Saturday we'll be wearing full pads. We'll have shoulder pads on, helmets, pants, the thigh pads, the knee pads — maybe not the knee pads, but at least the thigh pads, right, the whole deal.
"They try to create rules where we can't practice with pads on. They try to create rules where we can't practice at all. But at the end of the day, this is a physical game."
Brian Ferentz seems to be saying that football was meant to be played a certain way, and that Iowa is determined to play that way on offense.
Instead of spreading the field and relying more on the pass than the run, Iowa wants to play the way football was played 20 and 30 years ago, using a low-risk and smash-mouth mentality to move the chains.
Iowa takes pride in still using a fullback because the fullback represents toughness and an old-school mentality in which asserting your will is the main objective.
"It's a scheme that in a world of spread offenses, and that's how you sort of build your defense, now it is a little bit more old school," White said. "You have to get physical, and you have to get nasty.
"Our defensive front is going to have to play really well. Our linebackers are going to have to take on backs and lead blockers. It presents a completely different challenge than something we have really faced all season."
Football always has and always will be a violent sport in which large bodies collide on every play.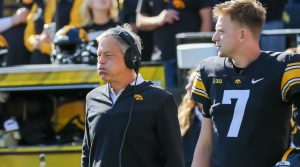 But the times are changing, partly due to a heightened awareness about head injuries and because so many teams are now thriving in spread offenses.
Iowa had no answer for Purdue's spread offense when the teams met on Oct. 16 at Kinnick Stadium. The Boilermakers maybe weren't as physical as Iowa, but they still prevailed 24-7 and finished with 463 yards, while Iowa only had 271 yards, including just 76 rushing yards.
Iowa is known for being tough and physical on both offense and defense, and yet, in all three of its losses to Purdue, Wisconsin and Michigan, Iowa was held to fewer than 300 yards.
Saying that you want to be physical and actually being physical are entirely different.
Kirk Ferentz is 66 years old and believes strongly that football should be played a certain way. He wants to control tempo by methodically moving the chains and by taking few risks.
He doesn't deny that his offense is predictable and conservative, but he is also quick to say that it doesn't matter if you execute.
The problem is that Iowa often fails to execute on offense, especially against quality opponents.
This season isn't an aberration, but rather a continuation of previous seasons when the offense has sputtered.
Some people will excuse the problems on offense by pointing to Iowa's 63-24 record since the start of the 2015 season.
That is certainly an impressive record, but imagine what Iowa's record might be with a more productive offense.
It seems highly unlikely that Kirk Ferentz will make any drastic changes at this stage in his career.
Brian Ferentz was asked Wednesday about having nearly a month to prepare for Saturday's game and whether that has allowed for him to tinker with the offense, or to makes changes with Iowa's identity on offense.
Judging from his answer, Brian Ferentz doesn't seem too interested in making changes. His narrative is more about just getting better at what you do.
"You certainly have a lot more time to dive into some of the self-scout and the tape," Brian Ferentz said. "Then, you have a lot more time to go back and work on some things. But you are not going to change your identity overnight, and not that you want to, either, right.
"What we have really tried to do over the last four weeks is focus on things that we have been successful doing, things that we feel like we can match up against Kentucky and move the ball and change field position and score points when we have those opportunities."
There have been times when the Iowa offense has helped pave the way for success. The 2015 season is one example, as were the 2008, 2004 and 2002 seasons.
Iowa won a share of the Big Ten title in 2004 despite having hardly any semblance of a running game.
But Iowa also had Drew Tate performing at an All-Big Ten level at quarterback to help compensate, and that was also 17 years ago.
The game has changed a lot since then with teams playing more in space.
Iowa, on the other hand, hasn't changed.
Kirk Ferentz tried to recruit dual-threat quarterbacks after Brad Banks finished runner-up for the Heisman Trophy in 2002 as a dual-threat quarterback.
But it didn't last long due to recruiting failures, but also because Kirk Ferentz seems more comfortable with a traditional pocket passer.
Spencer Petras certainly fits the mold of a pocket passer, and he has a 13-5 record as Iowa's starting quarterback.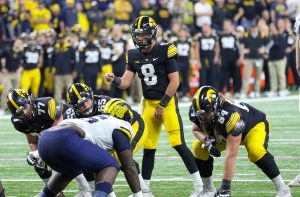 But almost all his wins can be attributed to how well Iowa played on defense and on special teams because Petras has only been average on his best day.
Sophomore Alex Padilla has flashed at times while starting three games this season when Petras was injured, and he is also more mobile than Petras.
But Padilla is completing less than 50 percent of his passes.
So, neither quarterback has flourished in this offense.
It seems that either Brian Ferentz, Kirk Ferentz or Petras gets blamed for most of the problems on offense, and some of that is deserved.
But until Iowa shows that it can sustain a running game to help create play action, this offense will continue to struggle no matter who plays quarterback.
Brian Ferentz takes great pride in being tough and physical on offense, and he doesn't seem to care that the game has changed, or that his offense is predictable and conservative at times.
He certainly has a right to feel that way, but the product on the field would suggest that Iowa's old-school philosophy on offense isn't working anymore.
The lack of a running game combined with an immobile quarterback and conservative play calling has made this offense borderline dysfunctional at times as evidenced by the 42-3 loss to Michigan in the Big Ten championship game.
Albert Einstein described insanity as doing the same thing over and over again and expecting different results.
In many ways, that describes Iowa's old-fashioned approach to offense.