By Pat Harty
ORLANDO, Florida – History will be made on Saturday when 10-3 Iowa faces 9-3 Kentucky in the Citrus Bowl as it will be the first meeting between the two schools.
The game looks very even on paper, and the oddsmakers apparently feel the same with Iowa favored by anywhere from 1 1/2 to three points.
Kentucky has a statistical advantage on offense, while Iowa has an edge on defense and on special teams.
The Wildcats should have plenty of incentive with head coach Mark Stoops having played defensive back at Iowa under Hayden Fry in the late 1980s.
Kentucky also has a chance to win 10 games for the first time since 1977, while Iowa has a chance to win 11 games for the fourth time in program history.
If Saturday's game is as competitive on the field as it is on paper it should be close throughout.
Here is a look at which team has the advantage at nine different positions:
Quarterback: Kentucky senior Will Levis has more yards by himself (2,980) than Iowa quarterbacks Spencer Petras and Alex Padilla have combined (2,181). Levis, who transferred from Penn State, has passed for 2,593 yards and 23 touchdowns in 12 games while completing 66.5 percent of his passes.
He is also a threat to run with 387 net rushing yards, while Petras and Padilla both have negative rushing yards for Iowa with a minus-109 and a minus-25, respectively.
Padilla is more mobile in the pocket than Petras, but Padilla isn't in the same category as Levis as a runner.
So, from a statistical standpoint, this position isn't even close.
Advantage: Kentucky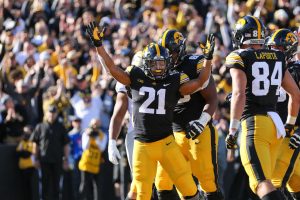 Running back: This would've been closer if Tyler Goodson hadn't opted out of playing in the Citrus Bowl to prepare for the 2022 NFL Draft. Goodson led Iowa with 1,151 rushing yards in the regular season.
But Kentucky still would have an edge based on averaging 206.1 rushing yards per game, while Iowa averages just 119.8 rushing yards per game.
Chris Rodriguez leads the Wildcats with 1,238 rushing yards and eight touchdowns. He is also averaging an impressive 6.3 yards per carry, which is two more yards per carry than any running back averages for Iowa.
Redshirt freshman Gavin Williams and fifth-year senior Ivory Kelly-Martin have rushed for 207 and 190 yards, respectively for Iowa. They along with redshirt freshman Leshon Williams are expected to carry the load on Saturday.
Advantage: Kentucky
Wide receivers: Nebraska transfer Wan'Dale Robinson is on the verge of capping a spectacular season for Kentucky in which he has 94 catches for 1,164 yards and seven touchdowns.
To help put that in perspective, true freshman Keagan Johnson leads Iowa with 352 receiving yards on just 18 receptions. No receiver for Iowa has more than 31 catches or more than three touchdown receptions.
In addition to having good hands, Robinson also excels at gaining yards after the catch. He is shifty in open field and will challenge the Iowa defenders to make tackles in space.
Kentucky suffered a blow when receivers Josh Ali and Isaiah Epps both were injured in a car accident that will cause them to miss the Citrus Bowl. Ali is Kentucky's second leading receiver with 601 receiving yards.
But even without Ali, the Wildcats still have an edge on paper due to Robinson's enormous productivity.
Advantage: Kentucky
Tight end: Junior Sam LaPorta leads Iowa in both catches (46) and receiving yards (548) while starting all 13 games.
Kentucky doesn't have a tight end that comes close to matching LaPorta's productivity, with exception to scoring touchdowns.
Justin Rigg has four touchdown catches in 12 games for Kentucky, which is two more than LaPorta has in 13 games, but Rigg only has 18 catches for 178 yards overall
Advantage: Iowa
Offensive line: Kentucky's biggest strength on offense might be its veteran offensive line, which excels in both run and pass blocking.
The fact that Kentucky is averaging over 200 rushing yards per game is proof of how effective the offensive line has been this season.
Iowa, on the other hand, is led by the top center in college football in junior Tyler Linderbaum. However, as a group, Linderbaum and his cohorts have struggled with both run and passing blocking as evidenced by the statistics, namely Iowa's 119.8 per-game rushing average.
Advantage: Kentucky
Defensive line: Both groups have been pretty solid throughout the season in stopping the run and with applying pressure in the pocket.
Defensive end Josh Paschal leads Kentucky with 15.5 tackles for loss, while defensive end Zach VanValkenburg leads Iowa with 12.5 tackles for loss.
Iowa might have a slight edge in depth due to players such as defensive end Joe Evans and defensive tackle Lukas Van Ness. They both lead Iowa with six sacks despite not starting.
Advantage: Iowa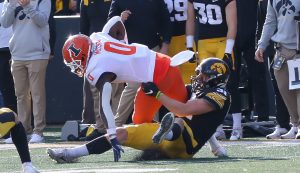 Linebacker:  This is another case in which both groups have performed well throughout the season.
Jaquez Jones leads Kentucky with 86 tackles, while DeAndre Square leads the Kentucky linebackers with nine tackles for loss, and with three sacks.
Together, they form a solid one-two punch that is similar to what Jack Campbell and Seth Benson give Iowa.
Campbell leads Iowa with 129 tackles, while Benson is second on the team with 95 tackles. Benson also leads the Iowa linebackers with 5.5 tackles for loss.
Sophomore Jestin Jacobs ranks fifth for Iowa with 49 tackles despite only playing when Iowa uses a 4-3 alignment. Iowa often uses five defensive backs against spread offenses, and that leaves Jacobs on the bench.
Kentucky might be more athletic at these positions, but Iowa, largely due to Campbell, is more productive. Campbell also has six pass breakups, six quarterback hurries and has recovered two fumbles. He also returned a fumble that Jacobs forced against Iowa State for a touchdown.
Advantage: Iowa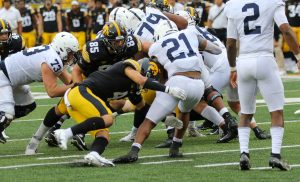 Secondary: Iowa leads the country with a school-record 24 interceptions and ranks third nationally in takeaways (30) mostly because of these guys.
Junior safety Dane Belton, who also plays linebacker in Iowa's 4-2-5 alignment, is tied for second in the NCAA and shares the Big Ten lead with five interceptions. The Tampa, Florida native also leads Iowa with seven pass breakups.
Senior cornerback Riley Moss has four interceptions and was named the Big Ten Defensive Back of the Year despite missing three games with a knee injury. Moss returned two interceptions for touchdowns against Indiana in the season opener.
Cornerbacks Matt Hankins and Jermari Harris both have three interceptions. However, Iowa will be without Hankins in the Citrus Bowl due to an injury.
Senior free safety Jack Koerner, who began his career as a walk-on, has 212 career tackles for Iowa.
Junior Kaevon Merriweather starts at strong safety when Iowa uses five defensive backs and has 39 tackles and four pass breakups.
Kentucky's secondary is led by senior safety Yusef Corker, who has 73 tackles, including 3.5 for losses. Carrington Valentine ranks second amongst the Kentucky defensive backs with 59 tackles.
Kentucky only has six interceptions as a team, which is 18 fewer than Iowa's total.
Advantage: Iowa
Special teams: Both teams have standout punters, but Iowa has the edge in the kicking game and in the return game.
Kentucky punter Colin Goodfellow is averaging 46.0 yards on 31 attempts, while Tory Taylor is averaging 45.9 yards on a whopping 76 punts for Iowa. Taylor has 25 punts of at least 50 yards, and he also has 38 punts that have been downed inside the opponent's 20-yard line.
Iowa kicker Caleb Shudak has made 23-of-27 field-goal attempts, while Matt Ruffolo has converted on 8-of-11 attempts for Kentucky.
The fact that Shudak has attempted 27 field goals shows how much Iowa has struggled to score touchdowns in the red zone.
Senior Charlies Jones ranks among the top kick and punt returners in the Big Ten. He returned a kick 100 for a touchdown against Illinois and is averaging 26.3 yards on 23 returns.
Advantage: Iowa