By Pat Harty
IOWA CITY, Iowa – My latest trip to an Iowa bowl game will be remembered mostly for a second-half comeback against Kentucky that fell short, Spencer Petras delivering a heart-felt message to his critics and the worst turbulence that I've ever experienced on the return flight from Orlando to Atlanta.
It was tough watching Iowa lose 20-17 to Kentucky on a late touchdown in the Citrus Bowl, and then listening afterwards to Petras talk about how the criticism directed at him as Iowa's starting quarterback has affected his parents.
The flight from Orlando to Atlanta was frightening for about 15 to 20 minutes because of turbulence that had passengers screaming and blessing themselves during and after the flight. Turbulence is common on flights, and I've experienced plenty of it, but this was different due to the intensity.
But there were also some positives to take from the Citrus Bowl trip, besides the incredible work by the Delta pilots, and here's five:
Williams & Williams: Yes, it was just one game.
And they were part of an Iowa offense that only scored 17 points against a Kentucky defense that was gutted with more than half its starters out for various reasons.
But even with all of that, you still had to be impressed with the performance of Iowa redshirt freshmen running backs Gavin Williams and Leshon Williams. They filled the void left by Tyler Goodson's decision to skip the bowl game to prepare for the 2022 NFL Draft by rushing for 98 and 42 yards, respectively.
And it wasn't just how many yards that they had that was impressive, but how they gained them.
Besides having the same last name, Iowa's two redshirt freshmen running backs have similar running styles in that they both run extremely hard between the tackles, don't go out their way to avoid contact and always seem to fall forward after absorbing contact.
It was a change from Goodson, who prefers to make tacklers miss in space, and he did a lot of that as a Hawkeye while rushing for 2,551 yards.
Goodson is more likely to rip off a long run than either of the redshirt freshmen, but Gavin Williams and Leshon Williams are more likely to turn a two-yard gain in traffic into a five- or six-yard gain.
Both styles work, and that's reason to be optimistic about the running back situation, even with the talented Goodson having departed.
Gavin Williams also had two receptions for 14 yards on screen passes in the Citrus Bowl, and nine catches on the season.
With fifth-year senior running back Ivory Kelly-Martin apparently moving on based on what Kirk Ferentz said in his Citrus Bowl press conference, Gavin Williams and Leshon Williams should get the bulk of the carries next season, and based on what they accomplished in the Citrus Bowl, that's reason to be encouraged.
Former Iowa offensive coordinator Don Patterson said Monday on the Hawk Fanatic radio show and podcast that Gavin Williams sort of reminds him of former Iowa running back Sedrick Shaw in how he can run through or around tackles.
Shaw is Iowa's all-time leader rusher with 4,156 yards, so that's incredibly high praise.
2. Iowa's next great tight end: The fact that junior tight end Sam LaPorta led Iowa with seven catches for 122 yards in the Citrus Bowl shouldn't come as a surprise since he led Iowa in receiving yards throughout the season.
LaPorta finished the season with 53 receptions for 670 yards and three touchdowns, including a 36-yarder against Kentucky on a tight end screen that gave Iowa the lead in the fourth quarter.
To help put that in perspective, T.J. Hockenson had 49 catches for 760 yards and six touchdowns in 2018 when he won the John Mackey Award as the nation's top collegiate tight end.
LaPorta did play in 14 games this season, while Hockenson played in 13 games in 2018.
But still, LaPorta's statistics are impressive, and he is now clearly Iowa's next great tight end.
That was apparent when a reporter asked LaPorta in the Citrus Bowl press conference about the possibility of declaring for the 2022 NFL Draft as a junior.
"I've really been focused on the bowl prep these last three weeks," LaPorta said. "It's something to look towards, I guess, in the future. I'll consult with my family with that decision, of course, and make the best decision based on that."
I've been told by some pretty good sources that LaPorta plans to return for his senior season, but you never say never, especially after how well he performed in the Citrus Bowl.
Assuming LaPorta returns next season, Iowa will be in good shape at tight end where Luke Lachey also showed promise this season as a redshirt freshman.
3. Aggressive play calling: After a first half in which Brian Ferentz was mostly conservative with his play calling in the Citrus Bowl, he came out more aggressive in the second half, and that played a significant role in Iowa erasing a 13-3 halftime deficit.
Iowa used more screen passes with the running backs, and with LaPorta, in the second half, and Kentucky struggled to defend against it.
Iowa also played more up tempo in the second half on a hot and steamy day, and against a tired and depleted defense, and Brian Ferentz deserves credit for that.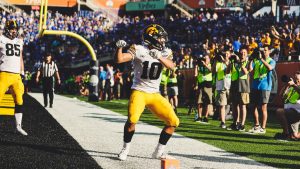 It seems that Iowa has more success on offense when Brian Ferentz gets aggressive and thinks more outside the box.
The reverse to freshman Arland Bruce that Bruce turned into a 20-yard touchdown in the third quarter was a thing of beauty. Kentucky was caught completely off guard, allowing Bruce to almost walk into the end zone untouched.
Brian Ferentz is being heavily criticized for Iowa's offensive woes, and there's reason for it with Iowa having scored 20 or fewer points in five games this season.
"I mean, obviously we have to score more points, and we are well aware of that," said Kirk Ferentz, who is also Brian Ferentz's father. "You know, that's part of the next couple months here, this coming month, or this month, I should say, present month, be focused mostly on recruiting. Our guys get back at the end of the month, and we'll start working towards next year. Once, we get off the road from recruiting, that is when we get introspective and study things we are doing and look at things we need to do."
4. Harris shines: Sophomore cornerback Jermari Harris became a starter maybe earlier than he had expected due to injuries to Riley Moss and Matt Hankins.
And though he struggled at times, Harris also performed better as the season progressed and had arguably his best game in the Citrus Bowl with six tackles, one interception and two pass breakups.
The Chicago native will step into more of a leadership role in the secondary next season with Hankins moving on, and with Moss almost certainly moving on to what they both hope is a career in the NFL.
Senior safety Jack Koerner also announced on Twitter Sunday that he would bypass his Covid year to pursue an NFL career.
Harris and safeties Dane Belton and Kaevon Merriweather all return, although, there is speculation Belton might declare for the NFL Draft. The Tampa, Florida native led Iowa with five interceptions this season.
"This is sad, we really wanted this one for the seniors, just to end 2021 season off right," Harris said after the Citrus Bowl. "Sad that the seniors are leaving, but the underclassmen, we've got work to do, and hopefully, come back in 2022 stronger."
5. Defensive line upside: Iowa will certainly miss having Zach VanValkenburg anchor the defensive line from his defensive end position.
VanValkenburg has been a model of consistency the past two seasons, excelling against both the run and pass. Finding an adequate replacement for him will be top priority this spring.
John Waggoner returns at defensive end after having started this season, as does Joe Evans, who is one of Iowa's best pass rushers.
So, Iowa will have talent and experience at defensive end, even without VanValkenburg.
The situation also looks promising at defensive tackle where Noah Shannon, Logan Lee, Lukas Van Ness and Yahya Black all have extensive playing experience.
All four of them rotated throughout the season, gaining valuable experience.
Van Ness entered the Citrus Bowl tied with Joe Evans for the team lead in sacks with six despite barely playing one-third of the time, while Lee and Shannon entered the bowl game with 43 and 42 tackles, respectively.
Even without VanValkenburg, the defensive line could be a strength next season.
Redshirt freshman Deontae Craig also had his moments at defensive end this season.
So, there is a strong nucleus of players returning on the defensive line and stopping the run is a big part of playing winning football.
Of course, the depth chart could always change in this age of the transfer portal.
But for now, these are five positives to take into the offseason.