By Pat Harty
IOWA CITY, Iowa – Wednesday will mark 29 years since Chris Street was killed in an automobile accident on Jan. 19, 1993 on the outskirts of Iowa City.
I remember parts of that horrible day as if it were yesterday, especially from the moment hearing on a police scanner that Street's car had possibly been involved in an accident.
I've written about my account of Street's death several times before on the anniversary of his death because in some ways, it's good therapy and a way to pay tribute, and because I have a unique perspective from having been so close to the tragedy in both a literal and figurative sense.
I was working for the Iowa City Press-Citizen when Street was killed. It was my first year on the Hawkeye beat and I was in the office when the police scanner started reporting about an accident that had occurred just down the road from the Press-Citizen on Highway 1 near the old Highlander Inn.
Remember, this was before the Internet and social media so it took a while for the facts to be revealed.
But as we kept hearing more about what appeared to be Street's car being involved in the accident, and after taking a phone call in the office asking what we had heard, I rushed to my car in the Press-Citizen parking lot and then drove probably less than a half mile on Dodge Street and parked as close to the accident scene as I could get without being intrusive.
I then climbed up a frozen embankment and walked towards the accident scene and stopped about 20 feet away from a group of cars and emergency vehicles and just stood there, frozen in fright and because it was bitterly cold that January night.
Upon arriving at the accident scene, I was almost certain that Street was the person killed in the accident, and then it was confirmed to me just seconds later.
The car he had been driving was struck by a snowplow heading north on Highway 1 as Street attempted to make a left-hand turn from the Highlander Inn parking lot on to Highway 1.
Street had just attended a team meal and was killed instantly, while his girlfriend at the time, survived the accident.
I remember feeling numb after confirming the news and thinking back to just three days earlier when Street played against Duke in Cameron Indoor Stadium in what would be his final game.
He was on top of the world, a 6-foot-8 homegrown Hawkeye living out his childhood dream and emerging as a star power forward.
Even the Duke fans took to Street that afternoon, impressed by how he played with so much energy and emotion, and with how he just kept competing.
That all flashed before me as I tried in a matter of seconds to come to terms with what was unfolding.
The kid who I had just watched play with so much passion and zeal from a front row seat at legendary Cameron Indoor Stadium was dead.
Gone.
Forever.
I'll never forget the devastation on the face of then Iowa coach Tom Davis as he walked towards an automobile that would take him away from this tragic scene.
He seemed in shock, and probably was after having observed the nightmare up close.
Davis doesn't remember this, because I've asked him before, but he reached out and grabbed my arm briefly as he walked past me. It was if he needed something to help keep his balance after having his world turned upside down.
Davis and Street were extremely close, and they had so much left to accomplish together as Street was only midway through his junior season when he was killed.
I returned to the office and started describing what I had witnessed to co-workers and then spent most of the night writing about the tragedy.
Bryce Miller was one of my co-workers at the time, and I'll never forget his reaction when told that Street had been killed.
He rose from his chair and walked down a hallway and then stopped and put his arms up against a wall and started crying uncontrollably.
It was an image that described Hawkeye nation at the time, fans dealing with life's cruelty.
Street was living his life to the fullest, and emerging as a star when it all ended.
He had made 34 consecutive free throws when he was killed, and that program record still stands with Street tied with current Iowa senior guard Jordan Bohannon.
Bohannon had a chance to break Street's record against Northwestern in 2018, but he missed a free throw on purpose. Bohannon then said afterwards that the record belongs to Street and that he was honored to share it with him.
Iowa was only leading 73-65 with just over two minutes to play when Bohannon missed the free throw on purpose. That just shows how important Street's legacy is to Bohannon, and to Iowa coach Fran McCaffery because he allowed Bohannon to miss the free throw despite leading by only single digits.
I still think about that horrible, frigid night in 1993, how the lights from the emergency vehicles shined brightly in the dark ,frozen air.
I think about the hurt and devastation on Tom Davis' face.
And I still think about how word of Street's death basically shutdown the Iowa City bar and restaurant scene that night.
People immediately started mourning the loss of somebody who is now a Hawkeye legend. The Iowa City community just felt numb and empty, and that feeling lasted for a while.
Fran McCaffery held a zoom conference with the media on Tuesday in preparation for Wednesday's game at Rutgers and he was asked about Street's legacy.
"It's something that we will never forget and we will constantly remind our players," McCaffery said. "I think the way we celebrate him at our banquet, the way we celebrate his life at the Chris Street gold out with all the former players coming back, and so many community members, and all of our players, just remembering how great a person he was, and the way we have stayed connected as a program to his parents."
McCaffery said that Street's parents, Mike and Patty, traveled to Iowa City last week to watch the Iowa City West boys basketball team play a game.
The West High boys team is filled with players that have connections to the Iowa basketball program, including freshman forward Jack McCaffery, who is Fran McCaffery's son.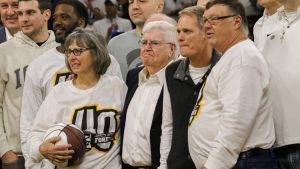 "That's just who they are," Fran McCaffery said of Street's parents "And I just think it's absolutely critical. Chris stood for everything that you want in a student-athlete, and it's somebody that we want our guys to try and emulate."
There are constant reminders of Chris Street at Carver-Hawkeye Arena, including his jersey hanging in the locker room and a plaque in his honor prominently displayed on a wall just outside the locker room.
"We will never forget, and as I say that, we just constantly want to celebrate who he was and stay connected to his family," Fran McCaffery said.
I will never forget.
I didn't have time to get to know Street very well before he was killed with it being my first year on the beat.
But he was fun to interview because he liked to have fun and because he didn't take himself too serious, even though his ascent to stardom had started to become pretty serious.
I will always sort of feel a connection to Street after having been so close to one of his shining moments in a loss at Duke, and to his tragic death.
Over the next few days, Iowa fans will be reminded of that horrible night in 1993 when Street was killed and they will pay tribute with prayers and good thoughts.
And as Fran McCaffery said, Street's legacy lives on with the annual Chris Street Award that is given to an Iowa player that best exhibits his qualities, and with the annual golf tournament.
For me personally, Street's legacy lives on through the connection that I feel to him.
Hardly ever do I drive by the accident scene without thinking of Street, even now almost 30 years later.
He's gone, but never will be forgotten.
RIP, Chris Street.