By Pat Harty
IOWA CITY, Iowa – Iowa forward Patrick McCaffery is more than halfway through his sophomore season, and yet, he still hasn't played in a Saturday home game.
Why?
Because there haven't been any.
Iowa hasn't had a Saturday home game since facing Penn State on Feb. 29, 2020, but that finally will change when the Hawkeyes face Penn State on Saturday at Carver-Hawkeye Arena.
Patrick McCaffery was asked Friday at a press conference if he thinks there is an advantage to playing on Saturday rather than on a week day, and he struggled to answer at first because he has no previous experiences from which to draw.
Former Iowa basketball player Adam Haluska had said earlier on Friday on the Hawk Fanatic radio show and podcast that he always preferred to play on Saturday because it was more convenient.
Patrick McCaffery was told about Haluska's comment, and the more Patrick McCaffery talked about playing on Saturday, and the more he thought about it, the more he liked it.
"I haven't played in one yet, so I don't really know," Patrick McCaffery said. "But if you think about it, there's millions of college basketball games every Saturday, so it' something that I think is real cool. There's no school, and that makes everything easier.
"So, yeah, the more that I think about it I agree with (Haluska). I just haven't played in one."
It's crazy to think that Patrick McCaffery is nearly halfway through his college career, but still hasn't played in a Saturday home game. The same could be said for twin brothers Keegan Murray and Kris Murray, both of whom are sophomore forwards, and sophomore guards Tony Perkins and Ahron Ulis.
Saturday's home will be a first for all of them.
Television was supposed to make everything better in college sports, and while it generates an enormous amount of revenue for football and men's basketball, it also comes at a price.
And that price is having to deal with a scheduling process for men's basketball games that is unfair and just doesn't make a lot of sense besides the money angle.
Iowa will host Penn State on Saturday in what will be Iowa's only Saturday home game this season, and one of just two games on Iowa's 31-game schedule that is on a Saturday.
Michigan State, on the other hand, has 10 games scheduled on Saturday this season, including eight at home, while Wisconsin has five games on Saturday, including three at home.
And though it's true that Michigan State and Wisconsin have been more successful than Iowa over the past few decades, and that certainly matters when scheduling games for prime-time television, it still shouldn't cause this big of a discrepancy.
Iowa's game against Penn State is sold out, and perhaps the biggest reason is because it's being played on a Saturday when kids don't have to attend school and when many adult fans don't have to work.
The Penn State game will also start at 3:30 p.m., and that should make it easier for fans from central and western Iowa to attend the game as opposed to an 8 p.m. tip-off on a school night.
"It's something that's really important because we go to a lot of other places and that's how it is every game," Patrick McCaffery said of having a full house on Saturday. "So, I'm excited that our fans are able to get behind us. It means, that we have a pretty good team, right, if the fans are going to come and support us. So that's exciting.
"Just having the fans there makes a big difference. It we make a shot it's crazy. It get loud in Carver. So I'm excited. It's awesome to play in front of a lot of people."
It's also advantageous from a financial standpoint for obvious reasons as more fans in the stands means more items get sold at the concession stand.
Iowa's other game on Saturday this season was against Utah State on Dec. 18 in Sioux Falls, S.D., a game in which Iowa prevailed 94-75 thanks partly to a raucous sellout crowd at the Sanford Pentagon in Sioux Falls.
But with just two Saturday games on Iowa's current schedule, the Iowa athletic department is losing a chance to generate additional revenue, and that just isn't fair.
Iowa coach Fran McCaffery was asked on a zoom conference earlier this week if the Big Ten's scheduling process should be adjusted, or at least evaluated.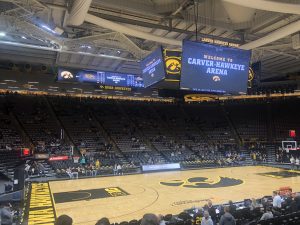 "There's a lot of stuff I could say about that, but I think your question was should it be looked at and the answer is very definitely that it should be," Fran McCafffery said. "It's not right."
Football doesn't have the same problem because most Big Ten football games are played on Saturday, while some games are played on Friday night, but not enough to create an advantage or disadvantage for any team.
Adam Haluska said Friday that the current circumstance with scheduling is much different than when he played at Iowa from 2004-07, and Haluska believes that having so few Saturday games puts the current Iowa players at a disadvantage.
Haluska said a majority of his games at Iowa were played either on Wednesday or Saturday.
"I loved Saturday's games and the crowd was usually a sellout and there were a ton of students there," Haluska said. "It was a good schedule to have. Now these guys can play on any given night of the week, and eight o'clock at night. You name it, I mean they're all over the place."
Thursday is Iowa's busiest day for games this season with nine, followed by six games on Monday.
Wednesday and Saturday are the slowest days on Iowa's schedule with just two games each on those two days.
"I just liked the prep of Friday, we'd always have a shootaround and go have dinner and usually stayed in a hotel just to keep everybody under control and make sure that everybody got to bed at a good time," Haluska said of what he liked about playing on Saturday. "I mean it's business, right? We're trying to win a game."
Haluska remembers playing many games on Saturday that started either late in the morning or early in the afternoon.
"So we'd get up and have breakfast and go to shoot and have a quick little walk through and then we were there ready to play," Haluska said.
Iowa does have four Sunday games on its 2021-22 schedule, but even a Sunday game isn't as convenient or as easy to sell as a Saturday game because there is school the next day, and the start of another work week.
College basketball is meant to be played on Saturday as it used to be played.
Unfortunately, the thirst for television revenue has created an unequal playing field, and right now the Iowa men's basketball team is getting the short end of the stick.
Iowa vs. Penn State
When: Saturday, 3:31 p.m.
Where: Carver-Hawkeye Arena
TV: Big Ten Network
Radio: Hawkeye Radio Network
Series: Iowa holds a 32-18 advantage in the series versus Penn State. The Hawkeyes have won 12 of the last 19 meetings. The Hawkeyes won last season's only meeting, 74-68, in Iowa City on Feb. 21, 2021. Iowa holds a commanding 19-4 advantage in games played at Iowa City, with all 23 meetings taking place in Carver-Hawkeye Arena. The Hawkeyes have won 14 of the last 15 games in Iowa City.