By Pat Harty
IOWA CITY, Iowa – Just moments before Fran McCaffery met with the media on Tuesday, it was announced that approximately 3,500 tickets still remain for Thursday's men's basketball game between Iowa and No. 6 Purdue at Carver-Hawkeye Arena.
That total didn't really come as a surprise because sellouts are few and far between at Carver-Hawkeye Arena these days, especially for a game that starts at 8p.m., as is the case with Thursday's game.
It certainly helps from an interest and hype standpoint that Purdue is ranked so high, but an 8 p.m. tip-off on a school night still is a tough sell, and that's unfortunate because the Iowa players could sure use a strong homecourt advantage against the deep and talented Boilermakers.
Purdue used its homecourt advantage to help withstand a spirited Iowa rally in the Big Ten opener on Dec. 3 at Mackey Arena in West Lafayette, Indiana. The Boilermakers hung on to win 77-70 after having let a 63-44 lead lead dwindle to 70-68 with just over three minutes left to play.
The fact that Iowa stormed back down the stretch, and did so without leading scorer Keegan Murray, who missed the first game against Purdue due to an ankle injury, was cause for optimism back when it happened nearly two months ago, and also cause for optimism heading into Thursday's game.
"I think, it's something we can carry into every game, " Fran McCaffery said. "We recognize how good they are. They were ranked No. 2 at the time. It was a hostile environment. Our kids kept their composure. There was probably three times in that game where we could have folded and could have gone to 25 and it didn't, but this team is really explosive offensively, and a handful in the glass. Anything less than your best effort makes it hard, so we got to be ready to compete."
Purdue has one of the Big Ten's most hostile environments for visiting teams, and that can make a big difference down the stretch of close games.
It has been earned from year's of success, and the Purdue students, who are seated on both ends of the court, are a big part of the hostile environment.
The Iowa student section also produces a lot of energy when it's close to being full, and energy is what the Iowa players will need on Thursday against Purdue's veteran roster.
Iowa blasted Penn State 68-51 last Saturday before a sellout crowd at Carver-Hawkeye Arena, but that game also started at 3:30 p.m. and was the only Saturday home game on Iowa's schedule this season.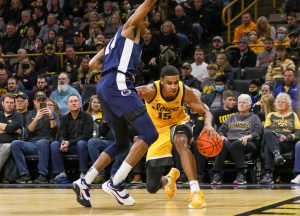 To have approximately 3,500 tickets still available just two days before a game against the sixth-ranked team in the country is kind of disappointing, but again, hardly a surprise given the circumstances.
It isn't easy getting fans in the seats these days, not with all the late starts on school days, and with how convenient the home viewing experience is now.
But this Iowa team, which has been hovering around .500 in conference play, would sure benefit if some of those 3,500 tickets were sold between now and the tip-off on Thursday.
"We know that we can compete with them, and we know that's probably one of the toughest places to play," Keegan Murray said of Mackey Arena. "So for us to get a good crow on Thursday night would be big for us, just like when we played there. That would just drive us even more to have the support of our fans show up and root us on."
Iowa (14-5, 4-4 Big Ten) still hasn't recorded a Quad 1 victory this season, and that's what will be on the line Thursday.
Carver-Hawkeye Arena's structural flaws have been well documented, and some of them can't be fixed.
But when the arena is close to being full, it can turn hostile for the visiting team.
This Iowa team, which leads the Big Ten in scoring, is fun to watch and also features one of the best players in the Big Ten in Keegan Murray, a 6-foot-8 sophomore forward. It plays at a frenetic pace on offense, and is coming off arguably its two best defensive performances.
And now here comes Purdue and 7-4 center Zach Edey, a Quad 1 victory there for the taking if Iowa can rise to the occasion.
So much goes into winning a game like the one coming up on Thursday, not the least of which is having homecourt advantage.
Iowa was 1-3 in the Big Ten just a couple weeks ago, but has since won three of its last four conference games to build momentum.
What people do with their own time and money is their business.
And, yes, 8 p.m. starts on a school night are annoying.
But this Iowa team seems so close to getting over the hump, and a strong homecourt advantage on Thursday could help to accomplish that.
Iowa vs. Purdue
When: Thursday, 8:01 p.m.
Where: Carver-Hawkeye Arena
TV: Big Ten Network
Radio: Hawkeye Radio Network