By Pat Harty
IOWA CITY, Iowa – The Iowa men's basketball team has figured out how to make second-half comebacks against Purdue.
It just hasn't figured out how to start fast against Purdue, or how close the deal.
After trailing by 18 points early in the second half, Iowa sliced the deficit to four points, but couldn't get any closer as Purdue hung on to win 83-73 on Thursday at Carver-Hawkeye Arena.
This game was similar to Iowa's first game against Purdue on Dec. 3 at Mackey Arena in what was the Big Ten opener for both teams. That game was in danger of becoming a Purdue blowout before Iowa trimmed a 19-point deficit to just two points with slightly more than 3 minutes to play.
Purdue would go on two win, 77-70 but the way in which Iowa battled back in a hostile road environment, and without leading scorer Keegan Murray, was cause for optimism then, and was also cause for optimism heading into Thursday's game.
And despite Purdue being ranked sixth nationally, Iowa only trailed the Boilermakers by one game in the loss column heading into Thursday's matchup.
So, this game was big for Purdue in its quest to live up to its high ranking and its status as a Big Ten contender, and was huge for Iowa in its quest to climb above .500 in conference play and to get its first quad1 win of the season.
But oddly enough, Iowa didn't come out with enough energy in Thursday's game according to Keegan Murray and then quickly fell behind.
"I just think it was the energy in the first half for whatever reason wasn't there," Keegan Murray said when asked what the difference was in Iowa's performance in the two halves. "In that second half, we picked it up, and that was the same occurrence in the first game.
"To beat a good team like that you have to have energy for the full forty minutes. And we didn't do that in the first half, and that's how we got behind."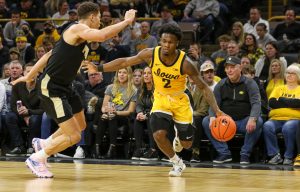 Iowa coach Fran McCaffery didn't have a problem with his team's effort in the first half. He thought his players gave great effort, but for some reason, they just weren't connected on either end of the floor.
"I don't think we competed in the first half the way you have to compete to beat a team of this caliber," Fran McCaffery said. "That doesn't mean we didn't play hard. You have to play hard and you have to be connected, you have to pay attention to the game plan, and we were late on stuff and we tried to do it all on our own offensively."
McCaffery pointed out that Iowa only had 10 assists on its 24 made baskets. That statistic alone shows how discombobulated Iowa was on offense, especially in the first half.
Purdue, on the other hand, played like a Big Ten contender down the stretch after Iowa had seized the momentum and reignited the crowd with its comeback.
The Boilermakers found a way to win on the road despite missing 12 of 22 free throws, despite committing 15 turnovers and despite taking 15 fewer shots than Iowa attempted from the field.
From getting key defensive stops to making a critical baskets down the stretch, the Boilermakers had an answer for Iowa's second-half comeback just as they did nearly two months ago.
Purdue also made 13-of-22 shots from 3-point range in Thursday's game, while Iowa only hit on eight of its 27 attempts from behind the arc.
"Everybody is going to give us their best shot," said Purdue guard Jaden Ivey. "So we've just got to keep fighting on the road and keep playing with intensity."
Iowa (14-6, 4-5 Big Ten)  now has to regroup as it prepares to hit the road for back-to-back games at Penn State on Monday and at Ohio State on Thursday.
Sophomore forward Kris Murray finished with a game-high 23 points, including 17 in the second half, while his twin brother, Keegan Murray, scored 14 points despite sitting out for a long stretch in the first half with two fouls.
Kris Murray had a chance to cut the lead to three points in the second half, but he missed a layup.
"We were close," Kris Murray said. "I had a layup that I should have just dunked."
Carver-Hawkeye Arena still was close to empty just an hour before the 8 p.m. tip-off, but it proved to be a late-arriving crowd, because by the time the game started, the arena was about three-fourths full, and the fans were energized.
However, that quickly changed as Purdue bolted to a 19-9 lead and led by double figures for most of the half, including 48-33 at halftime.
Keegan Murray picked up two early fouls and played less than nine minutes in the first half.
He was asked after the game if he would've preferred that Fran McCaffery put him back in the game in the first half.
"Obviously, you want to go back in the game in the first half, but obviously, I got a couple fouls," Keegan Murray said. "But as a competitor, you want to stay in the game. I feel like I can stay without fouling.
"But he's the coach for a reason, and I respect anything that he does."
The best moment in the first half came during a timeout when the first responders that saved the life of Maryland fan Stan Goldstein were honored. Goldstein twice went into cardiac arrest during the Iowa-Maryland game on Jan. 3 while seated near the Maryland bench at Carver-Hawkeye Arena.
Goldstein thanked the first responders in a video tribute in which he ended by saying "Go Hawkeyes."
The fans gave the first responders a well-deserved standing ovation, but that was about all the fans had to cheer about in the first half, which saw Iowa make just 14-of-37 field-goal attempts.
Purdue also had 22-16 advantage on the boards in the first half and a 13-5 advantage in assists.
It was reasonable to think that Iowa would make a run or two in the second half with Keegan Murray back in the lineup, and that's what happened as the 15-point halftime deficit was sliced to four points (57-53) on a 3-point basket by Kris Murray with 12:20 left to play.
Purdue then answered with a 3-pointer by Jaden Ivey on its next possession, pushing the lead back to seven points at 60-53.
It was clear at that point, however, that Iowa wouldn't go down easy.
The game was close the rest of the way and it ultimately came down to which team made the most plays down the stretch, and that was Purdue, which has four players who scored in double figures.
"Everybody they have is a veteran guy who can score," Fran McCaffery said of Purdue. "So it takes a team to be more connected than we were.
"But we were in the second half. So you're proud of the guys for fighting the way they did. But then you're disappointed because they know better. So hopefully, we'll learn from it."