By Pat Harty
IOWA CITY, Iowa – With his team 4-5 in the Big Ten, and with 11 conference games still left to play, now is not the time for Fran McCaffery to panic, or to overreact.
But it might be time for McCaffery to change his starting lineup by making 6-foot-8 sophomore forward Kris Murray a starter.
The problem with that, however, is that there is no way to make Kris Murray a starter without benching somebody else.
And that could create hard feelings and disrupt team chemistry.
From a performance standpoint, Kris Murray is arguably Iowa's second-best all-around player behind his twin brother, Keegan Murray, and sometimes, Kris is the best player on the team, as was the case in Thursday's 83-73 loss to Purdue when he came off the bench to score 23 points and grab six rebounds.
Kris Murray also made all nine of his free throw attempts and had one steal and one block against Purdue.
In a perfect world, Kris Murray would play small forward, but he rarely has that luxury right now due to the makeup of Iowa's roster.
Kris has spent much of his time as the backup center behind Filip Rebraca, and while Kris can use his quickness and perimeter skills to his advantage, he still isn't a center.
The Murray twins and sophomore forward Patrick McCaffery, who is Fran McCaffery' son, have developed into Iowa's top three players, or, they are at least the three most consistent players heading into Monday's game at Penn State.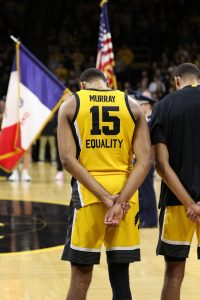 Keegan Murray, who is also 6-8, has led the nation in scoring at times this season, and is considered a potential lottery pick in the 2022 NBA draft.
Kris Murray has gone from being mostly unproven at this level when the season started to an emerging force with a scorer's mentality.
He and his twin brother, who are the sons of former Iowa basketball player Kenyon Murray, are hard to tell apart until they start playing the game they love.
Kris shoots left-handed, while Keegan shoots right-handed.
Keegan Murray was more ready to play when he and Kris became Hawkeyes last season, and Keegan has since lifted his performance to another level this season.
And now Kris Murray is doing the same thing.
Kris led the second-half comeback against Purdue by scoring 17 points in the final 20 minutes.
"I thought his aggressiveness at both ends was really good," said Fran McCaffery. "And just to see him playing with that level of comfort and confidence is really important for him, and for us."
The question is who should lose their starting position to make room for Kris Murray?
Some might say shooting guard Jordan Bohannon, because he has struggled for much of the season, even as a shooter.
But you're also talking about arguably the most statistically accomplished guard in program history who agreed to shift from point guard to shooting guard so Joe Toussaint could start at point guard this season.
Bohannon is also the Big Ten's all-time leader in 3-point field goals made, and a sixth-year senior who has won his share of games for Iowa by making big shots at critical times.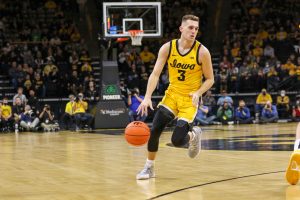 It's easy to say bench Bohannon when you're not the person that has to do it.
Fran McCaffery would have to make that call.
But even if the starting lineup doesn't change, it would be interesting to see, any maybe beneficial, if Kris Murray played more with his twin brother, and with Patrick McCaffery, Rebraca and Toussaint.
It would be interesting, and maybe beneficial if Kris Murray played more on the perimeter where he could use his unique blend of size and finesse on both ends of the floor.
And it would be interesting, and maybe beneficial, if Kris Murray played alongside Bohannon at times because that would give Iowa two proven 3-point shooters.
Whether a player starts means more to some players than others.
Fran McCaffery, obviously, knows his players better than anyone else, and he has his reasons for sticking with the same starting lineup throughout the season.
Some might accuse him of being too stubborn or of playing favorites.
But in fairness to Fran McCaffery, he has shown his willingness to adjust with how he has handled the playing time for his son, fifth-year senior Connor McCaffery.
Connor, a 6-5 guard, has gone from being a two-year starter to a reserve who barely played 10 minutes against Purdue on Thursday.
A starting lineup consisting of the Murray twins, Rebraca, Patrick McCaffery and Toussaint looks pretty good on paper, and then Iowa would also have arguably the greatest 3-point shooter in program history coming off the bench in Bohannon.
Should Bohannon get hot, then leave him in the game and let him keep shooting.
But even if Kris Murray doesn't start, he now deserves starter's minutes on a regular basis, and Fran McCaffery realizes that.