By Pat Harty
IOWA CITY, Iowa – This was college wrestling at its finest, and at it's loudest.
The two top ranked teams in the country in Penn State and Iowa squared off on Friday before a raucous sellout crowd at Carver-Hawkeye Arena and the competition on the mat lived up to the enormous hype.
Penn State bolted to a 10-0 lead after three matches, but then had to withstand a Hawkeye rally at the middle weights to prevail 19-13 in what truly was a hostile road environment for the top-ranked Nittany Lions.
The sellout crowd was loud and locked in throughout the match, cheering loudly anytime No. 2 Iowa did something positive and screaming loudly and booing anytime something didn't go Iowa's way.
All but one of the ten matches included at least one wrestler ranked in the top 10 nationally and the matches at 141 pounds and 174 pounds featured the top two ranked wrestlers nationally.
Friday's dual didn't settle anything long term as Penn State and Iowa will meet again at the Big Ten Championships and in the NCAA Championships as the two favorites.
But it showed that this rivalry is red hot right now and that both teams are pretty evenly matched.
And remember, Iowa is without three-time national champion Spencer Lee at 125 pounds due to injury, and his absence clearly impacted the team score.
Iowa finished the dual on a high note as fifth-ranked Tony Cassioppi defeated No. 3 Greg Kerkvliet 7-2 at heavyweight.
But it wasn't enough as Penn State won six of the 10 individual matchups to snap Iowa's 28-match winning streak.
Penn State was also the aggressor in some of the key matches that were decided late in the third period.
"Fortunately, it's January still even though it's close to February," said Iowa coach Tom Brands. "We're getting to the end and we have to do a better job. We know that. Little things make a big difference."
Penn State is trying to reclaim its status as the king of college wrestling after finishing runner-up to Iowa at the 2021 NCAA Championships, and Friday's victory was a step in that direction.
The Iowa wrestlers now have to regroup and put the disappointment of Friday's loss behind them and also realize that there isn't much separating them from Penn State right now.
"We just have to get better at finishing," Tom Brands said.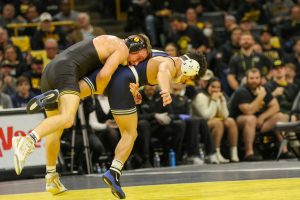 Iowa senior Alex Marinelli worked the sellout crowd into a frenzy with a 10-2 victory over Brady Berge at 165 pounds that evened the team score at 10-10 after six matches.
Marinelli was clearly the aggressor throughout the match, and when it ended, he turned to the crowd and flexed.
It was an emotional high just a week after Marinelli had suffered an emotional low with a loss at Ohio State.
"I'm very thankful and blessed to have just a couple days to avenge a loss and sort get back to where I wanted to be," Marinelli said. "It just fueled me. I'm moving on from that, not really talking about that much. But yeah, it just fueled me."
That set the stage for the much-anticipated showdown at 174 pounds between top-ranked Carter Starocci from Penn State and second-ranked Michael Kemerer.
Starocci prevailed 2-1 in sudden victory, and in a match in which neither wrestler had much success on offense.
It was also a rematch of last season's national title match in which Starocci also prevailed.
Kemerer had his chances in Friday's match, but he just couldn't mount any offense.
"Here's the thing, Kemerer is in at least twice and we're pretty good there," Tom Brands said. "And so we're going to have opportunities in the future there as well. We've just got to get better at finishing."
Penn State jumped to a 4-0 lead as Drew Hildebrandt defeated redshirt freshman Jesse Ybarra 9-0 in the opening match at 125 pounds. Ybarra replaced starter Drake Ayala, who was ruled out of Friday's dual for what is believed to be an undisclosed health reason.
Tom Brands gave very few details when asked about Ayala's status.
"Does it really the matter, the status of him is he's ready to go when he's ready to go," Tom Brands said Ayala, who has a 13-4 record. "Medical and coaches, and more importantly, Drake Ayala will be the one that makes that call.
"I love him in our program. I'll tell you that. I love him in our program. And we know our team is good with him in there."
Iowa senior Austin DeSanto was the aggressor throughout his match with top-ranked Roman Bravo-Young at 133 pounds. However, Bravo-Young recorded the only takedown in the match and that proved to be the difference in his 3-2 win that expanded Penn State's lead to 7-0 after the first two matches.
The top two ranked wrestlers at 141 pounds then squared off in the next match and it wasn't decided until top-ranked Nick Lee from Penn State scored two points in overtime to defeat second-ranked Jaydin Eierman, 6-4.
Eierman had forced overtime by recording a takedown late in the third period.
His takedown caused the sellout crowd to cheer wildly, but the jubilation didn't last long as Lee scored just seconds into overtime.
Iowa was suddenly behind 10-0 after just three matches, and clearly in trouble as Penn State had wrestlers ranked no lower than third nationally competing in the final four weights, including the top-ranked wrestler at 174 and 184 pounds and the second-ranked wrestler at 197 pounds.
Pennsylvania native Max Murin finally scored three team points for Iowa with a 3-1 victory over Beau Bartlett at 149 pounds.
Fellow Pennsylvania native Kaleb Young made it two victories in a row for Iowa by edging Terrell Barraclough 2-0 at 157 pounds.
Young's victory narrowed the deficit to 10-6 at the break, but the Hawkeyes still had to face the strength of Penn State's lineup.
And that proved to be too much for Iowa on this late January night.
Penn State 19, Iowa 13
125 – Drew Hildebrandt (P) major dec. Jess Ybarra (I), 9-0
133 – Roman Bravo-Young (P) dec. Austin DeSanto (I), 3-2
141 – Nick Lee (P) dec. Jaydin Eierman (I), 6-4 SV1
149 – Max Murin (I) dec. Beau Bartlett (P), 5-1
157 – Kaleb Young (I) dec. Terrell Barraclough (P), 2-0
165 – Alex Marinelli (I) major dec. Brady Berge (P), 10-2
174 – Carter Starocci (P) dec. Michael Kemerer (I), 2-1 TB1
184 – Aaron Brooks (P) dec. Abe Assad (I), 8-3
197 – Max Dean (P) dec. Jacob Warner (I), 8-3
285 – Tony Cassioppi (I) dec. Greg Kerkvliet, 7-2