By Pat Harty
IOWA CITY, Iowa – Not even halfway through her college career, and yet, Caitlin Clark is already arguably the greatest player in the history of the Iowa women's basketball program.
And that's saying a lot considering Iowa's rich tradition in women's basketball.
From Michelle "Ice" Edwards to Franthea Price to Tangela Smith to Sam Logic to Megan Gustafson, the list of star players for the Iowa women's basketball team is long and distinguished.
Edwards helped to lift Iowa to national prominence under C. Vivian Stringer in the 1980 as an electrifying All-America scoring guard, while Gustafson was one of the most dominant post players in Big Ten history.
Franthea Price was a high-scoring forward, while Tangela Smith and Sam Logic were a force at center and point guard, respectively.
It could be a case in which I'm a prisoner of the moment after having watched Clark score 46 points and dish out 10 assists in Sunday's 98-90 loss at No. 6 Michigan.
But no Iowa player, man or woman, has ever been as dominant as Clark has been since she joined the Iowa team as a heralded recruit from West Des Moines Dowling High School.
Iowa trimmed a 25-point deficit against Michigan to just five points down the stretch, and it was due mostly to Clark putting on a Steph Curry-like shooting performance.
Clark scored 23 points during a nine-minute stretch in the second half, and hardly any of her baskets came easy as Michigan tried to surround her with defenders.
She scored in transition. She scored in half-court sets. And she scored from where most would only attempt to shoot in a game of horse.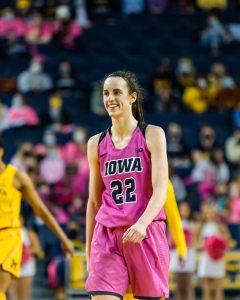 Clark made two 3-point baskets during the second-half comeback that were close to the mid-court logo. And she made them in transition and with defenders draped all over her.
Clark's ability to see the floor, coupled with her quick release and pin-point accuracy makes here unstoppable at times.
There was a stretch in Sunday's game in which the 6-foot Clark was unstoppable and it was fascinating to watch.
She eventually wore down as Iowa only had seven available players. But from an effort and execution standpoint, Clark's performance was the stuff of legends and more proof that she is the best women's basketball player in the country.
Clark already has recorded five triple-doubles this season and leads the country in most career triple-doubles by an active player with six. Clark's six career triple-doubles ties former Hawkeye Sam Logic's Big Ten record (2011-15) for most in their career and ties fifth most single season (5) and career (6) triple-doubles in NCAA Division I history.
Clark also joins the likes of Kobe Bryant, LeBron James, Russell Westbrook, James Hardin, Luka Dončić and Giannis Antetokounmpo as the only NBA, WNBA, Division I men's and women's basketball to record back-to-back 30-point triple doubles since 2000. She is one of 10 women's basketball players (15 times) to register back-to-back triple doubles in their careers — the only to do so with 30-plus points in the pair.
As a freshman, Clark led the NCAA in scoring (26.6 points per game) and 3-pointers (116) and was second in assists per game (7.1).
Clark also won the Dawn Staley Award last season after leading the nation as a freshman in total assists (214), total points (799), points per game (26.6), field goals made (266), 3-pointers made (116), and ranked second in assists per game (7.1) and 3-pointers per game (3.87).
These are the kinds of statistics and accomplishments that you wouldn't believe without having seen it with your own eyes.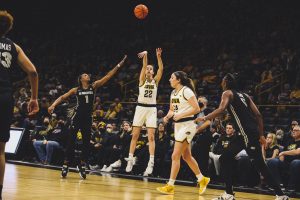 Clark makes the extraordinary look ordinary, and that is truly a gift.
And now she's catching the nation by storm with each jaw-dropping performance.
NBA superstar Kevin Durant is a huge Clark fan and he recently said that Clark should be in the league right now in reference to the WNBA.
There is no doubt that Clark is ready for the WNBA right now, but unlike the men's game, there isn't near the rush or the financial incentive in women's basketball to get to the league ASAP.
It's crazy to think that Clark isn't even halfway through her college career.
Clark was entering the ninth grade when I first heard mention of her.
I also graduated from Dowling, and was told nearly six years ago that a young phenom was about to burst on the scene.
That young phenom was Caitlin Clark, whose uncle is a former high school basketball teammate of mine.
I was told that Clark was destined for greatness, but didn't really think much about it at the time.
The next thing I know Clark is one of the top high school players in the country with her pick of colleges.
She ultimately picked Iowa over Iowa State and Notre Dame, and the rest is history being made with each stat-sheet-stuffing performance.
But as great as Clark is as a player, she can't do it alone.
Clark is a heavy volume shooter, but also a willing and able passer.
She has incredible vision and anticipation and that leads to assists, including some that are spectacular.
Statistics only tell part of Clark's story, though, as she is also a winner. She thrives on competition and knows that team success is always the top priority.
Iowa advanced to the NCAA Sweet 16 last season with Clark leading the way, and is on course to make the NCAA Tournament again this season under veteran head coach Lisa Bluder, who deserves credit for how she has handled Clark's legendary ascent.
Clark has good size for a point guard and that allows her to score in a variety of ways, and to see the court.
She also plays with a high motor and with moxie and grit.
And while you never say never, I feel safe in saying that we'll never seen another player like Caitlin Clark on the Iowa women's basketball team, or on any team for that matter.
She's that good.