By Pat Harty
IOWA CITY, Iowa – It could be argued that the 2002, 2004 and 2015 seasons were Kirk Ferentz's best seasons as the Iowa head coach.
The 2002 and 2004 teams both won a Big Ten title, while the 2015 team won the Big Ten West Division, set a school record with 12 victories and made Iowa's first Rose Bowl appearance in a quarter century.
Each team was unique in its own way, but what they all had in common was an All-Big Ten quarterback with mobility leading the offense.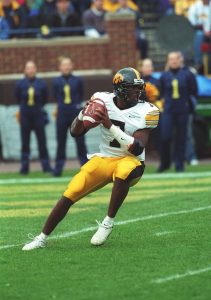 Brad Banks basically came out of nowhere as a senior to finish runner-up for the 2002 Heisman Trophy as a dual-threat quarterback.
Drew Tate was named the Big Ten Offensive Player of the Year as a sophomore quarterback in 2004, while C.J. Beathard made second-team All-Big Ten as a junior in 2015.
And though Tate and Beathard weren't by definition dual-threat quarterbacks, they both had enough speed, quickness and mobility to be threats as runners.
In fact, one of Beathard's most impressive plays in 2015 was when he escaped from near his own end zone against Iowa State and ran to midfield.
Tate had a gift for dodging defenders in the pocket and for throwing on the run, while Banks was a dangerous runner with a soft touch.
Banks executed a draw play against Purdue in 2002 that helped to shift field position and was a key moment in Iowa's 31-28 victory at Kinnick Stadium.
The game of football has changed at every level over the past two or three decades, and one of the biggest changes has been a rise in mobile quarterbacks.
The game is more spread out these days on offense and defenses are quicker and more aggressive.
Teams with a mobile quarterback have more flexibility, especially when a play breaks down.
That's one reason why Kirk Ferentz should put more emphasis on recruiting mobile quarterbacks to give his struggling offense more flexibility.
While some say that Ferentz should overhaul his sputtering, ball-control offense, that seems highly unlikely at this stage in his career.
Ferentz believes that football should be played a certain way, and running a spread offense is not part of that belief.
And fair enough. But then why not compromise?
Even Kirk Ferentz's offense looks different with a mobile quarterback running it. We've seen it with Banks, although, that was 20 years ago.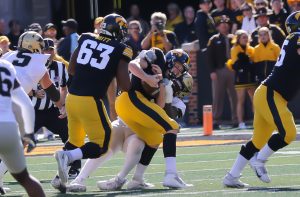 The fact that current Iowa quarterback Alex Padilla is clearly more mobile than fellow Hawkeye quarterback Spencer Petras is probably the biggest reason some fans feel that Padilla should be Iowa's starting quarterback.
Because from a statistical standpoint, Padilla hardly distinguished himself while starting three games this past season when Petras was injured.
Padilla completed less than 50 percent of his passes, but he showed the ability to escape from the pocket and to extend plays, which is something that the 6-foot-5, 233-pound Petras has struggled to do.
Opposing defenses know that Petras is no threat to run, and they play that way.
It almost seems that a team with a mobile quarterback has an extra player on offense compared to a team like Iowa.
Iowa caught lightning in a bottle with Banks, the way he went from being a backup in 2001 to the Heisman Trophy runner-up in 2002.
His success convinced the Iowa coaches to pursue more dual-threat quarterbacks, but it didn't last for long.
But it's time to rethink that strategy and to make more of an effort to recruit mobile quarterbacks because the offense obviously needs an upgrade.
Petras told the media after the Citrus Bowl that his top priority in the offseason would be to improve his mobility.
But there is only so much that Petras can do at this stage in his career. He is what he is, which is strong-armed quarterback with very limited mobility.
Iowa offensive coordinator Brian Ferentz, who is Kirk Ferentz's son, has been widely criticized and blamed for the deficiencies on offense.
And while some of the blame is deserved, Brian Ferentz is also in a tough situation that is caused by a struggling running game and by a lack of mobility at quarterback.
Kirk Ferentz said every position is wide open heading into spring practice, but Petras as a two-year starter still has a huge edge in experience over Padilla.
But Padilla is more mobile than Petras and that could give Padilla an edge.
Redshirt freshman Joey Labas will also be in the mix, and from a mobility standpoint, he seems somewhere in the middle between Padilla and Petras.
Iowa also will add a quarterback next season with Oklahoma native Carson May part of the 2022 recruiting class, while New Jersey native Marco Lainez has committed to Iowa's 2023 class.
They both are classified as pro-style quarterbacks.
The game of football is forever evolving, and while there still is room for pocket passers, mobile quarterbacks are on the rise because the demand for mobile quarterbacks is on the rise.
Iowa needs to become part of that growing demand.