By Pat Harty
IOWA CITY, Iowa – This past weekend was devastating for two families with Hawkeye ties.
First came the death of former Iowa baseball player Skyler Moss after a lengthy battle with cancer followed by the death of former Iowa men's basketball player and longtime radio and television color analyst Mac McCausland.
Moss, a graduate of Iowa City High School, was only 39 years old and was married and raising three children in Iowa City when he passed away on Saturday.
He was originally diagnosed with testicular cancer that spread to his lungs. He fought courageously to beat the dreaded disease, and had the support of family, friends and the Hawkeye community to help him withstand the daily struggle.
Moss leaves behind a family and a community in grief, and his death is a cruel reminder that life is so precious and unpredictable.
McCausland reportedly died from natural causes at the age 75 this past Saturday at his home in Las Vegas. And just like with Moss, he leaves behind a family and a Hawkeye community in grief.
In addition to his work as a television color analyst, McCausland was the father of former Iowa basketball player Kent McCausland, who was a key member of Iowa's 1999 NCAA Sweet 16 team as a sharpshooting senior guard.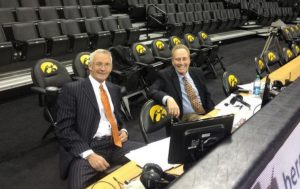 Mac played a key role in his son's rise as a basketball player, coaching him from a young age on the AAU circuit.
Kent McCausland was an unheralded recruit coming out of high school in Waterloo.
But Tom Davis gave him a chance at Iowa, and to say that Kent took advantage of the opportunity, with help and encouragement from his father, would be an understatement.
Kent McCausland would go on to become one of the greatest 3-point shooters in program history, much to the joy of his father.
Mac was always so proud of his son for how he proved the doubters wrong as a Hawkeye.
Mac also loved Hawkeye basketball and he considered it a privilege to call Iowa games on the radio and on television.
Mac was a conversation waiting to happen and his interest stretched far beyond the court. He was just a good guy who liked to have a good time and who treated people with respect.
Skyler Moss also considered it a privilege to be an Iowa baseball player. He grew up cheering for the Hawkeyes, and lived out a childhood dream by playing baseball at Iowa, and in front of his family.
Moss was known for his competitive nature and for never backing down to a challenge in sports. And that same courage helped him battle cancer until his body finally succumbed to the disease.
It's times like this when you appreciate the little things in life because you're reminded about how easily they could be taken away.
RIP to two beloved Hawkeyes.