By Pat Harty
IOWA CITY, Iowa – What should come as no surprise, the Iowa men's basketball team has struggled to win on the road this season.
The 20-game Big Ten grind would be hard enough if each game were played at home, or at a neutral site. But with half of them played on the road, the conference schedule can be brutal and costly.
Iowa is 1-4 in Big Ten road games, and now faces another daunting task at Maryland on Thursday.
But it's also a very winnable game.
Maryland is talented and dangerous, especially at home, but Maryland is also just 3-9 in the Big Ten and 11-12 overall.
In other words, this is not one of Maryland's best teams.
Iowa already has defeated Maryland once this season, winning 80-75 on Jan. 3 at Carver-Hawkeye Arena.
The ability to win on the road, or the inability, is what ultimately defines a team perhaps more than anything else.
Iowa, like almost every team, plays better at home.
But at some point, a team has to win on the road if it hopes to accomplish anything special, and that point has arrived for Iowa.
In addition to Thursday's game in College Park, Maryland, Iowa still has road games at Nebraska, Ohio State, Michigan, and Illinois.
Iowa will likely be underdogs in three of those four games, with Nebraska the exception.
But the good news is that following Thursday's game at Maryland, Iowa will play four of its next five games at home, including a matchup with last-place Nebraska on Sunday.
"It's why you want to play in the Big Ten, for big stretches like this," said sophomore forward Patrick McCaffery. "That's why you sign up to play in the Big Ten. That's what you want to to do. You want to big-time games against Big Ten teams with big-time players."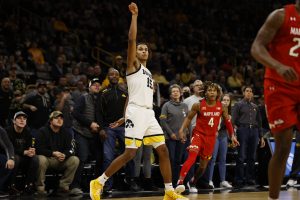 Maryland is a difficult team to read due to its lack of consistency on offense.
The Terrapins under interim head coach Danny Manning have lost five of their last seven games, including three straight. However, the two victories during that stretch are proof of Maryland's potential as it defeated nationally-ranked Illinois by 16 points at home and Rutgers by eight points on the road.
Maryland is just 7-7 at home this season, with five of the seven losses coming by six points or less, including two setbacks decided by one possession (Wisconsin; Michigan State).
So again, this is a winnable game for Iowa.
Fran McCaffery is expected to return for the Maryland game after having missed the Minnesota game this past Sunday due to Covid-19 health and safety protocols.
Assistant coach Billy Taylor served as head coach for the Minnesota game in McCaffery's absence.
After using the same starting lineup for the first 21 games, Iowa changed its starting lineup for the Minnesota game as sophomore shooting guard Tony Perkins replaced junior point guard Joe Toussaint.
Sixth-year senior Jordan Bohannon also shifted in the starting lineup from shooting guard to point guard where he played almost exclusively until this season.
Perkins and Bohannon are listed as the two starting guard heading into the Maryland game.
Billy Taylor met with the media on Tuesday and when asked if Perkins would start again, Taylor said the next two days practice could help decide that.
"We have the mentality, all hands on deck," Taylor said. "Everybody be ready to go. So when your name is called, step up and perform. And if guys continue to have a good attitude whatever their role is for that particular game, that will go a long way for us."
Toussaint actually had one of his best games in the first contest against Maryland as he finished with nine points and nine assists.
His quickness and his ability to defend at the point of attack could help against Maryland point guard Fatts Russell.
Sophomore point guard Ahron Ulis is coming off one of his best games as a Hawkeye as he came off the bench and scored nine points against Minnesota and was a key factor in the second half when Iowa erased a deficit and pull away.
Iowa (15-7, 5-6 Big Ten) has been hovering around .500 throughout most of the conference schedule, but also has lost two Big Ten games at home, and suffered a costly double-overtime loss at Penn State.
The only way to make up for a home loss is to win on the road in conference play.
Iowa will have a chance to meet that challenge on Thursday.
Iowa vs. Maryland
When: Thursday, 6:01 p.m.
Where: College Park, Maryland, Xfinity Center
TV: ESPN2
Radio: Hawkeye Radio Network
Records: Iowa is 15-7 overall and 5-6 in the Big Ten. Maryland is 11-12 and 3-9
All-time series: Thursday will be the 14th all-time meeting between Iowa and Maryland. The Terrapins own a slim 7-6 advantage in the series. The teams have split the last six overall meetings, dating back to 2018. Maryland holds a 3-2 advantage against Iowa in games played at the Xfinity Center. The Terrapins recorded wins over Iowa in 2016 (74-68), 2018 (91-73) and 2020 (67-49), while the Hawkeyes beat Maryland in 2017 (83-69) and 2021 (89-67)