By Pat Harty
IOWA CITY, Iowa – The Iowa football team now has a one-in-seven chance of landing 5-star offensive lineman Kadyn Proctor.
The junior from Southeast Polk High School recently adjusted his list of top seven schools, and Iowa made the cut along with Alabama, Penn State, Georgia, Notre Dame, Michigan and Oregon.
Proctor hasn't identified a favorite among his top seven schools, but veteran recruiting analyst Tom Lemming believes a strong case could be made for Iowa being the favorite.
Lemming posted on Twitter Friday morning that he believes Iowa is currently the leader for Proctor, and I responded to his tweet by saying it was very optimistic for Iowa.
Lemming then explained why he believes Iowa is the favorite, and his explanation makes sense.
He pointed out that Proctor is from instate and is close friends with high school teammate and future Iowa defensive back Xavier Nwankpa, who is also a 5-star recruit in the 2022 class.
Proctor and Nwankpa helped lead Southeast Polk to the Class 5A state title this past November, and they both rank among the top players in their respective class.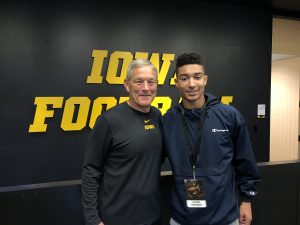 The fact that Nwankpa picked Iowa over a long and distinguished list of schools that included Ohio State, Notre Dame, Alabama, Michigan and Clemson among others had to make an impression on Proctor.
"Xavier is sort of the leader and I think they can use Xavier to talk him into it," Lemming said Friday. "
Lemming said Kirk Ferentz's experience as an offensive line coach also could give the Hawkeyes an advantage with the 6-foot-8, 335-pound Proctor.
In addition to coaching the Iowa offensive line from 1981-89 under Hayden Fry, Kirk Ferentz also coached the offensive line for six seasons in the NFL from 1993-98.
Iowa has had 18 offensive linemen selected in the NFL draft under Ferentz, including five in the first round, and almost certainly soon to be six with All-America junior center Tyler Linderbaum expected to be taken in the first round of the 2022 draft.
Former Iowa offensive tackle Tristan Wirfs was a first-round pick in 2020 by the Tampa Bay Buccaneers and the Mount Vernon native now ranks among the top offensive linemen in the NFL.
So, Iowa has a lot to sell in Proctor's case, and it'll take a lot to withstand the other six schools on his list.
"It's a massive factor because they want good coaching and they all want to get to the NFL," Lemming said of Kirk Ferentz's impact. "Kirk has put a lot of guys in the NFL, probably more than anybody.
"I think it would be smart to go there."
Lemming mentioned on Friday a conversation he had with former NFL executive Gil Brandt in which Brandt referred to Kirk Ferentz and Bill Callahan as two of the best offensive line coaches in the business.
Callahan is currently the offensive line coach for the Cleveland Browns and used to be the head coach for Nebraska from 2004 to 2007.
"I remember we were talking about great o-line coaches and he mentioned Billy Callahan, who's with the Browns, and Kirk," Lemming said.
And while Lemming believes that Iowa is the leader for Proctor, it'll still come down to out-recruiting six elite programs, including Nick Saban and Alabama.
However, the X-factor could prove to be Xavier Nwankpa.
"I've been there twice and I could tell both times that Xavier and him are close," Lemming said of his two visits to Southeast Polk High School.
Lemming also believes that the racial unrest from the summer of 2020 is having little to no effect on Iowa's recruiting.
Iowa won the Big Ten West Division this past season and finished 10-4 overall. It marked the second time in the last three seasons that Iowa won 10 games.
"It doesn't matter," Lemming said. "Everybody has forgot about it already.
"As long as you do well on the field you can do okay, and Kirk will always do that."