By Pat Harty
IOWA CITY, Iowa – Fran McCaffery was being interviewed moments after Iowa's 110-87 victory at Maryland this past Thursday when he was reminded that Iowa's next three games were at home, beginning with Sunday's game against Nebraska.
"As far as I' concerned we only have one," McCaffery said. "We have the next one against Nebraska on Sunday and we're ready for that one then we'll think about what's after that after that."
That is vintage Fran McCaffery in that he always lives in the moment and deals with the big picture by focusing solely on the little picture, which is the next challenge.
Iowa's schedule has since been updated with the Ohio State rescheduled for next Saturday in Columbus, Ohio. The game was supposed to be played on Feb. 3 in Columbus, but was postponed due to dangerous weather conditions.
So, instead of having three consecutive home games, Iowa will play Nebraska at home on Sunday, Michigan at home next Thursday, and then Ohio State on the road next Saturday before returning to face Michigan State on Feb. 22 at home.
It will certainly be no easy task playing four games in barely a week, but Fran McCaffery was in no mood for sympathy on a Saturday zoom conference when told that the updated schedule looks pretty daunting.
"We're not going to worry about it," he said. "Just play the game when it's scheduled."
Iowa took care of business at Maryland and now has to do the same against the last-place Cornhuskers to keep building momentum, and its post-season resume, and to avoid what would be a horrible and potentially costly loss.
With a win against Nebraska on Sunday, Iowa (16-7, 6-6 Big Ten) would climb above .500 in conference play for the first time this season.
Iowa is coming off a win at Maryland in which it made 19 3-point baskets, including a school-record 10 by sixth-year senior guard Jordan Bohannon. Iowa shredded Maryland's sieve-like defense pretty much from start to finish and won a road game under the rare circumstance in which it was favored.
Iowa is a heavy favorite heading into Sunday's game at Carver-Hawkeye Arena, but Nebraska is also coming off its first conference win of the season against Minnesota, and really has nothing to lose under head coach Fred Hoiberg, whose rebuilding efforts have been unsuccessful to this point.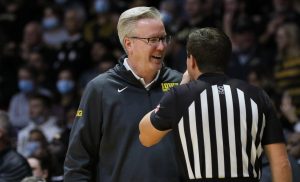 But even with all of its struggles, Nebraska has Iowa's full attention according to what Fran McCaffery said Saturday when asked what the keys were to not overlooking the Cornhuskers.
"I don't think you have to worry about that," Fran McCaffery said. "This (Nebraska) team has proven they're capable many, many times."
Fran McCaffery has the utmost respect for every opponent that Iowa faces.
Instead of seeing Nebraska's records of 7-17 overall and 1-12 in the Big Ten, Fran McCaffery sees a roster filled with talented players, led by brothers Bryce and Trey McGowens.
Bryce McGowens is a 6-foot-5 freshman guard and a former 5-star recruit from South Carolina. He leads Nebraska with a 16.7 per-game scoring average.
His brother, Trey McGowens, is a 6-4 junior guard, and also a capable scorer.
"Our guys understand how good both McGowens brothers are," Fran McCaffery said. "But they're not the only ones. They've got a lot of other pieces."
Sunday's game will be Fran McCaffery's second since returning from Covid-19 health and safety protocols that caused him to miss the win over Minnesota last Sunday at Carver-Hawkeye Arena.
Assistant coach Billy Taylor served as the head coach in McCaffery's absence and led Iowa to a 71-57 victory.
Iowa vs. Nebraska
When: Sunday, 1 p.m.
Where: Carver-Hawkeye Arena
TV: FS1
Radio: Hawkeye Radio Network
Records: Nebraska is 7-17 overall and 1-12 in the Big Ten. Iowa is 16-7 and 6-6.
All-time series: Iowa holds a 22-13 edge in the series. The Hawkeyes have won 10 of the 16 meetings since Nebraska joined the Big Ten in 2011, including last season's only meeting, 102-64 in Iowa City on March 4, 2021.
Iowa owns a commanding 16-3 advantage in games in Iowa City. Sunday will be Nebraska's 10th contest played in Carver-Hawkeye Arena. The Hawkeyes have won 13 of the last 14 contests in the series played in Iowa City, dating back to 1943.