By Pat Harty
IOWA CITY, Iowa – Momentum continues to be fleeting for the up-and-down Iowa men's basketball team.
Michigan withstood a furious Iowa rally late in the second half to prevail 84-79 on Thursday at Carver-Hawkeye Arena.
The Hawkeyes could've easily unraveled after trailing by 12 points late in the second half, but they kept fighting and scrapping, only to fall short at the end.
The loss snapped Iowa's three-game winning streak and put its conference record back at .500 at 7-7 and 17-8 overall.
Iowa now faces a quick turnaround against Ohio State on Saturday in Columbus, Ohio. The game was supposed to be played on Jan. 3 in Columbus, but was postponed due to dangerous weather conditions.
Sixth-year senior guard Jordan Bohannon said he looks forward to the quick turnaround, and for a chance to get Iowa's first quad-1 win this season.
"Obviously, we need that quad-1 win as well and that's something we're looking at," Bohannon said.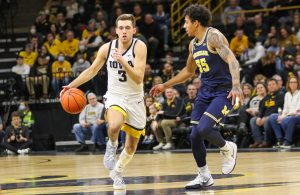 Bohannon made it abundantly clear in the post-game press conference that he was upset with the officials for not calling a foul in the final seconds when he attempted to draw a foul against Michigan guard Eli Brooks while taking a desperation 3-point shot.
"It was pretty obvious, the whole Michigan bench was yelling foul and Brooks was screaming foul right in front of the ref right when he went to snap at me with the ball," Bohannon said. "I mean it was pretty obvious that he was trying to foul me. I threw up a shot, but for some reason the whistle has not been on our side this year.
"It's been pretty obvious this year in a couple games it's been pretty bad. It's really unfortunate. Obviously, that's not the reason why we lost. We got down (double figures), but when it is pretty blatant like that, it's something that should be called and it's pretty obvious."
Bohannon is correct in saying that the officiating is not the reason why Iowa lost Thursday's game.
Iowa struggled with Michigan's length on both ends of the court.
The Wolverines also shot 50 percent from the field, made 18-of-23 free throws and assisted on 21 of their 31 field-goal attempts.
Michigan freshman forward Moussa Diabate caused fits for Iowa in the paint, making 12-of-15 field-goal attempts for a career-high 28 points. His previous high had been just 15 points.
Sophomore center Hunter Dickinson also finished with 14 points, nine rebounds and seven assists.
Iowa often used a double-team on defense against the 7-foot-1 Dickinson, but he did a good job of finding his teammates for open looks.
"It's a problem for whoever plays them," Fran McCaffery said of Michigan's length. "It's an advantage that they have, especially when your 6-11 four man (Diabate) is so athletic. He's really not a four-man. He's a small forward, but he's got length and Dickinson is a willing passer and always was, even in high school.
"I watched him play a lot. He was always a willing passer, a good passer because he sees it. But when we did double, I didn't like our doubles. We got it out of his hands, but we didn't come aggressively enough. We've got to work on that."
Sophomore forward Keegan Murray led Iowa with 23 points despite being hampered by cramps in the second half. But he only made 9-of-23 field-goal attempts, and he missed several shots near the basket, including at least two dunks.
He also missed five of his nine free throws.
"It's something that I really haven't experienced," Keegan Murray said of having cramps. "I really don't cramp much at all, so that was new. But it was obviously difficult knowing that physically there were points when I couldn't go out (on the court). Just sitting, especially during that last stretch, is difficult for any player."
Keegan Murray had a chance to tie the game late in the second half, but his 3-point shot bounced off the rim.
He had an open look at the basket from a designed play. The shot just didn't go in the basket.
"We ran our late-game sets perfectly," Keegan Murray said. "We got open looks down the stretch.
"Obviously, we got the looks that we wanted, but they didn't fall. That's just basketball. You have to live and you have to learn."
The first half was a back-and-forth affair in which the score was tied nine times and there were also eight lead changes.
The score was tied at 37 with 2.9 seconds left before halftime when Connor McCaffery threw an inbounds pass from underneath the Michigan basket that Keegan Murray caught near the baseline on the other end of the court. Murray then made a turnaround jumper from the baseline right before the clock expired to give Iowa a 39-37 lead at the break.
The play was executed to perfection, and it started with Connor McCaffery's inbounds pass that sailed from one end of the court to the other.
Keegan Murray led all the players in the first half with 13 points, while Bohannon and Filip Rebraca both scored seven points.
Bohannon scored two of his points in the first half on free throws after Michigan head coach Juwan Howard was whistled for a technical foul with 49.8 seconds left before halftime. Bohannon's free throws gave Iowa a 37-35 lead.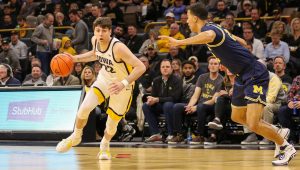 Iowa started the second half without sophomore forward Patrick McCaffery in the starting lineup because he didn't feel well.
However, Fran McCaffery's son overcame whatever was ailing him to play a key role during Iowa's second-half comeback.
Patrick McCaffery scored nine of his 13 points in the second half.
"Patrick wasn't feeling good, that's why I didn't start him in the second half," Fran McCaffery said. "I couldn't be more proud of him the way he played down the stretch."
Bohannon said after the game that Iowa has to stay positive and that there is no reason to get down despite the loss.
Fran McCaffery was told what Bohannon said and then was asked if he felt the same way,
"Yeah. Why would they? Fran McCaffery asked. "There's no reason for them to do that. They're a positive group."