By Pat Harty
IOWA CITY, Iowa – As Iowa senior center Monika Czinano continued to shred the Indiana defense on Monday with a variety of post moves, and with rock-solid fundamentals, I thought back to what Lisa Bluder said about Czinano at media day in 2019.
Czinano faced the daunting task of having to replace Megan Gustafson, who in the previous two seasons had been the most dominant post player in the country, and in program history.
Gustafson in addition to setting a bunch of individual records also led Iowa to the Elite Eight as a senior in 2019 and was a legend by the time she graduated.
She left a massive hole to fill, and it was mostly up to Czinano to fill it, and Bluder wanted to help ease the pressure of being in that important position.
"She's not Megan, she's her own person," Bluder said of Czinano at media day in 2019. "She's better in some things than Megan was. That's going to be something that is really holding her down all year if people keep trying to make that comparison because they're two different people.
"Monika has an amazing work ethic and an incredible attitude. She soaks up information like a sponge and she loved playing behind Megan all year and learning from Megan. I am excited about Monika because she embraces contact; she doesn't back away from it.
"She'll get down, rebound, and seal hard. I think we're all going to fall in love with Monika through her amazing attitude and work ethic through time."
Bluder couldn't have been more accurate in her evaluation of Czinano, who is from Watertown, Minnesota.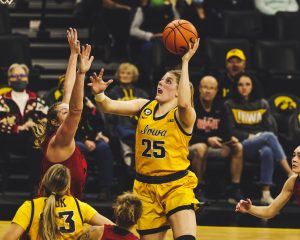 Czinano is everything Bluder said she was in 2019, maybe even more, and Hawkeye fans have fallen in love with Czinano.
Hawkeye fans have also been spoiled considering Iowa's starting center in women's basketball has made first-team All-Big Ten in each of the past five seasons, three for Gustafson and two for Czinano, and the streak will almost certainly grow to six with Czinano in position to make first-team for a third consecutive season.
And the streak could grow to seven since Czinano announced this past Sunday that she would take advantage of the free Covid year and return for a fifth season.
Czinano then went out and scored 31 points and grabbed 10 rebounds in Monday's 88-82 victory over No. 10 Indiana, helping to complete a season-sweep of the Hoosiers in barely 48 hours.
Czinano made 13-of-17 field-goal attempts in Monday's game, showing yet again that she is one of the most efficient and fundamentally sound players in the country.
Czinano, much like Gustafson, has thrived under the tutelage of Iowa associate head coach Jan Jensen, who coaches the post players.
Each player has her own style, but the results have been similar.
Gustafson was a more prolific scorer and rebounder, but that was partly because she had to be, while Czinano has all-everything guard Caitlin Clark to help carry the offensive load.
Czinano learned a lot from playing behind Gustafson as a freshman in the 2018-19 season, and she improved  each day in practice from competing against Gustafson.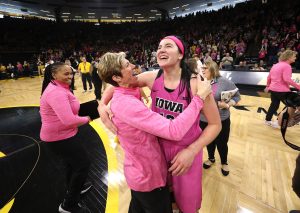 And by the time Gustafson had finished her career, Czinano was ready to step in as a major contributor.
From her footwork to her ability to use both hands, and how well she maneuvers in space and handles contact, the 6-foot-3 Czinano has so many of the qualities that you want in a post player.
She also plays with high energy and with high emotion, and her teammates seem to feed off her presence.
Clark is without question the star of the team, and a transcendent player, but Czinano is also a star in her own right, one the best centers in program history and that's saying a lot.
The way in which she and Clark play together on the court is beautiful to watch.
Clark seems to know in advance where Czinano will be, and Clark almost always makes the perfect pass by putting the ball exactly where Czinano wants it to score.
Clark's vision, anticipation and pin-point accuracy, coupled with Czinano's post moves and accuracy, makes them a potent inside-outside combination.
And while Bluder was correct in saying at media day in 2019 that Czinano is her own person, Czinano and Gustafson do have things in common, such as consistency, a love for the game and being on teams that win.
Iowa (18-7, 12-4 Big Ten) is in the thick of the Big Ten race with two regular season games left to play, and with a road trip to Rutgers up next on Thursday.
Iowa is also ranked 21st in the Associated Press poll, but still has some work to do in order to host an NCAA regional as a top-16 team.
There were over 7,000 fans at the Indiana game on Monday and Bluder made a point to thank them afterwards for their support.
So, just imagine the fan support should Iowa get to host an NCAA regional.
That fan support is one of the reasons Czinano decided to return for a fifth season.
She loves being a Hawkeye and Hawkeye fans love her, as Bluder predicted they would in 2019.
With senior day approaching people have been asking me a lot of questions… #hawkeyes @IowaWBB pic.twitter.com/ArTq3i8Szw

— Monika Czinano (@MCzinano) February 20, 2022