By Pat Harty
IOWA CITY, Iowa – Michigan State head coach Tom Izzo was walking off the court at Carver-Hawkeye Arena just minutes before the start of Tuesday's game when he was asked by an Iowa fan to pose for a photograph with her.
They stood side by side for a photo that was taken near courtside and Izzo nodded when the person thanked him. He then headed up the tunnel presumably to the Michigan State locker room because tip-off was only about 15 minutes away.
After watching that brief moment of kindness, it reminded why Gene Keady and Doug Collins are two of my favorite coaches/people in all of my years of covering Hawkeye sports dating back to 1991.
If you've never had the pleasure of interacting with Keady, you might think that Purdue's former men's basketball coach is a mean and angry bully due to his famous scowl that he wore so often during the heat of competition.
But that couldn't be further from than the truth, at least based on my experiences with Keady, and one experience in particular.
It occurred in the late 1990s when I was writing an advance for an Iowa-Purdue game while working for the Iowa City Press-Citizen.
I had left a message with Keady's secretary that I wanted to interview him over the phone and she said she would give him the message, but she also made no promise that he would call back.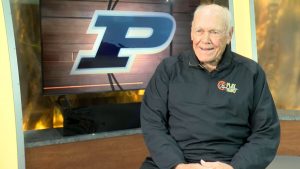 Several hours had passed and I was starting to assume that Keady wouldn't call back when the phone rang.
Unfortunately, I was taking a shower at the time, but I sprinted to telephone and answered after about three or four rings, and much to my shock, Gene Keady was on the other line.
I explained the circumstances, which looking back probably wasn't the smartest thing to do.
But then Keady said he would wait for me to dry off, and to this day, that is probably the shortest it has ever taking me to get dry.
I couldn't believe that Gene Keady was actually waiting for some nobody from an Iowa City newspaper to dry off from a shower to do a brief interview.
I thought about how there was no way that Bobby Knight would've lowered himself to do the same thing.
Knight, from my recollection, barely even did phone interviews.
The interview with Keady only lasted for about five minutes, but the memory still is firmly entrenched in my mind more than two decades later because it meant so much to me, that a coach of his stature would take the time to reach out and acknowledge me.
Keady was a serious person with a serious job in a serious profession, but he still didn't take himself to serious.
He is now 85 years old and has been retired as a head coach since 2005, but his legacy will live on forever.
And for me, a big part of Gene Keady's legacy is how he treated everyone with kindness and respect.
He could get angry during a game, and wasn't shy about letting the officials know how he felt.
But Keady was able to separate that kind of anger from how he treated people off the court.
He was a great coach, and always has been a great person, as I learned first hand.
As for Doug Collins, our brief encounter happened at the 1997 NBA pre-draft in Chicago.
I was covering the event for the Press-Citizen and was there to write about Iowa All-Big Ten point guard Andre Woolridge, who was coming off a spectacular senior season.
My hope was to get some quotes about Woolridge's potential from a few NBA coaches or assistant coaches or anybody connected to an NBA team.
However, after being turned down by several coaches, I had started to give up.
Some of the coaches barely even acknowledged me, while others just refused to comment.
But then along came Doug Collins, who was the head coach for the Detroit Pistons at the time and had previously been the head coach for the Chicago Bulls from 1986-89 when Michael Jordan skyrocketed to fame.
I introduced myself and explained why I was there, but instead of saying no comment or ignoring me all together, Collins stopped and shook my hand and reminded me that his son, Chris Collins, had Iowa among his top schools before he ultimately chose Duke.
Doug Collins then brought up the death of former Iowa forward Chris Street, which had happened about four years earlier in an automobile accident in Iowa City, and he talked about how much his son respected and admired Street, and about how much he respected and admired Street as a player and as a person.
We probably spoke for about 10 minutes, and he even said a few nice things about Woolridge, but was also somewhat guarded because coaches don't like to share evaluations heading into a draft.
Doug Collins said his son really liked Iowa and gave serious consideration to being a Hawkeye.
But Duke had risen to elite status under Mike Krzyzewski and a scholarship offer from the now legendary Coach K was hard to turn down.
Chris Collins would go on to have a successful career as a Duke guard and he is now the head men's basketball coach for Northwestern.
Chris Collins will be in Iowa City next Monday when Iowa faces Northwestern in the regular-season home finale.
His father is now a senior advisor of basketball operations for the Chicago Bulls, a position he has held since 2017.
Doug Collins was also a spectacular player and the first player taken in the 1973 NBA draft as a 6-foot-6 shooting guard. Injuries limited his NBA career to just 415 games, but he also had a 17.9 career scoring average.
It would sure be nice to see Doug Collins again, and maybe he will make the trip to Iowa City on Monday.
But if not, I will always have the memory of when he took a few minutes from his busy schedule to speak with me.
It meant a lot to me 25 years ago, and still does to this day.