By Pat Harty
IOWA CITY, Iowa – Jess Settles asked an interesting question while providing color commentary for the Iowa-Nebraska men's basketball game on Friday night.
A former star Hawkeye himself, Settles asked if sophomore forward Keegan Murray is possibly the most talented Iowa men's basketball player over the past 40 years, not the most accomplished, but the best.
The 6-foot-8 Murray entered Friday's game in which Iowa prevailed, 88-78, ranked fourth in the country in points per game (23.5); 27th in field goal percentage (.564); 41st in blocks per contest (2.08); and 84th in double-doubles (6).
Murray is also a four-time Big Ten Player of the Week honoree and is selected to the Wooden Award Late-Season Top 20 List, Naismith Trophy Midseason Team, Lute Olson National Player of the Year Watch List, and Karl Malone Power Forward of the Year semifinalist.
The son of former Iowa basketball player Kenyon Murray has accomplished all of this in what will certainly be his first and only season as a starter for Iowa being that Keegan Murray is considered a potential lottery pick in the 2022 NBA draft.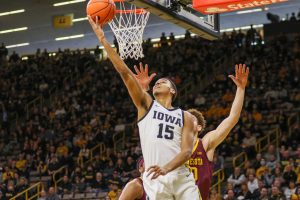 He has gone from a being a top reserve last season to one of the leading candidates for Big Ten Player of the Year this season.
It's hard to think of an Iowa player who has improved from one season to the next more than Keegan Murray has since the start of last season.
But is he the most talented Hawkeye over the last 40 years?
That would depend on how talent is defined.
Former center Luka Garza is undoubtedly the most celebrated and the most accomplished Hawkeye over the last 40 years, and in the history of the program for that matter.
But is he more talented than Keegan Murray?
Garza was selected late in the second round of the 2021 NBA Draft by the Detroit Pistons and has spent his rookie season splitting time with the Pistons and with its G-League team, whereas Keegan Murray projects as a high first-round pick.
There is no right or wrong answer to the question Settles asked because the answers are all subjective.
So, here are my top five most talented/best players dating back to 1975, which is more than 40 years, but I wanted to include the era in which the great Ronnie Lester played point guard for Iowa from 1976-80.
These picks are based on talent, but also on success as a Hawkeye as I expanded on Settles' question
If the picks were based solely on talent, former shooting guard Ricky Davis would have certainly made the top five.
To have gone back to the 1960s and beyond would've made picking five almost impossible with players such as Sam Williams, John Johnson and Fred Brown among the candidates.
Ronnie Lester: He was a human blur when healthy, a terror from baseline to baseline who could get to the basket with ease, and whom Magic Johnson once called the best player he had ever faced.
Lester was also a winner, the last point guard to lead Iowa to the NCAA Final Four in 1980, and he did that despite being hobbled by a knee injury from which he never fully recovered.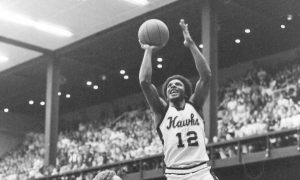 There is Ronnie Lester before the knee injury and Ronnie Lester after the knee injury, and sadly, there was difference startling.
Lester's career numbers as a Hawkeye were solid, but hardly legendary as he finished with career averages of 16.9 points per game, 4.8 assists and 2.3 rebounds.
But his contributions, his impact, and hid legend stretched far beyond statistics.
Lester made those around him better, and he made it virtually impossible for opponents to press Iowa because he would just blow by a trapping defense.
He was Iowa's most valuable player three times, twice made first-team All-Big Ten and earned All-America accolades in 1979-80.
Lute Olson recruited Lester out of Chicago and the soft-spoken Lester was without question the most important recruit that Olson signed at Iowa as Lester would go on to lead the resurgence of Hawkeye basketball in the late 1970s.
2. Keegan Murray: The fact that I would go as far as to rank Keegan Murray above Garza is a testimony to the kind of rapid ascent that Murray is on this season.
But when you factor in Murray's versatility, his defensive ability, and his NBA stock, it makes sense.
The only reason Keegan Murray won't be a multi-year All-American at Iowa and one of the most statistically accomplished players in program history is because the NBA wants him now as a sophomore.
He can score at all three levels.
He can score in half-court sets.
He can score in transition.
And he can score either facing the basket, or with his back to the basket.
He also has developed into a decent 3-point shooter, and his team has won six of its last seven games heading into Monday's home finale against Northwestern.
In other words, Keegan Murray checks all the boxes, although, he has to improve as a free throw shooter.
But nobody is perfect.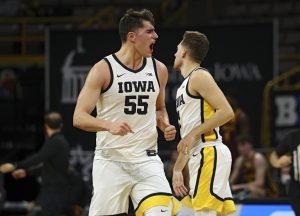 3. Luka Garza: The most celebrated and statistically accomplished player in program history had his No. 55 formally retired during halftime of the Michigan State game this past Tuesday, and deservedly so, because the 6-11 Garza was spectacular as a Hawkeye.
He went from being a solid player as a freshman and sophomore to a superstar as a junior and senior.
He also played with passion, high energy, and with a work ethic that few could match.
Much has been said and written about Garza's lack of athleticism, but he is also very skilled as a 3-point shooter and has a wide array of post moves that he has developed over time.
One of Garza's greatest strengths as a Hawkeye was his consistency on offense. He almost always could be counted on to score between 20 to 30 points per game, and sometimes, even more than that.
Offensive consistency is one area in which Garza still has the advantage over Keegan Murray.
4. Andre Woolridge: The Omaha native only played three seasons at Iowa after having started his career at Nebraska, but he still left an indelible mark as a Hawkeye point guard.
Some would argue that B.J. Armstrong should be ranked above Woolridge, and could use Armstrong's success in the NBA to support that argument.
And fair enough.
But for me, Woolridge gets the nod because of how much responsibility he had as a point guard, especially as a senior in 1996-97 when he became the first player to lead the Big Ten in scoring and assists for a season.
It was absurd that he didn't win Big Ten Player of the Year as a senior over Minnesota guard Bobby Jackson.
Woolridge was the definition of a scoring point guard.
He was very strong for his size, and explosive, and he fit perfectly in the fast-paced offense that Iowa played under Tom Davis.
5. Reggie Evans: The fifth and final spot came down Evans, Armstrong and Roy Marble.
The biggest blemish for Evans is that he only played two seasons for Iowa after having transferred from junior college.
But the Pensacola, Florida native was a force from the moment he put on an Iowa jersey, one of the greatest rebounders in program history who would go on to play for 13 seasons in the NBA.
In 2001 at Iowa, Evans led the nation in free throws attempted, free throws made and double-doubles.
He also led the Big Ten in rebounding in 2001 and 2002, and was named the Big Ten Tournament MVP in 2001, second-team All-Big Ten in 2002, and honorable mention All-American in 2001.
Evans led Iowa to the Big Ten Tournament title as a junior in 2001.
Imagine these five players as a starting lineup for Iowa, with Keegan Murray at small forward and Evans at power forward.
And though Lester and Woolridge were both point guards, they could've easily made it work because they were so talented and unselfish.
Imagine trying to keep both of them from getting to the basket, and especially with Garza out on the perimeter where his post defender would have to account for him due to his shooting ability.
Again, this is all subjective and a strong case could be made for some other players, namely Armstrong and Roy Marble.
And sadly, who knows how far Chris Street would have ascended if he hadn't been killed in an automobile accident midway through his junior season at Iowa in 1993.
Street was emerging as a star power forward whose upside seemed enormous.