By Pat Harty
IOWA CITY, Iowa – With the regular season now over, and with the Iowa women's basketball team having won a share of the Big Ten regular-season title, it's time to state the obvious:
Iowa sophomore guard Caitlin Clark deserves to be the National Player of the Year in women's basketball.
South Carolina center Aliyah Boston is the best player on arguably the best team in the nation, a 6-foot-5 double-double machine, and a defensive force.
But even with all of those credentials, Clark still deserves to be the player of the year for performing at a level never seen before.
Clark clinched the honor in my opinion by leading Iowa to a 104-80 victory over No. 6 Michigan on Sunday at Carver-Hawkeye Arena.
The former West Des Moines Dowling star finished with 38 points and 11 assists, and she probably could've score 50 points, or maybe even 60, if she had wanted to, but instead she chose to get her teammates involved.
The victory before a sellout crowd earned Iowa a share of the Big Ten regular-season title with Ohio State.
For Clark, it was her 23rd double-double as a Hawkeye, and her 14th this season.
It's hard to think of another women's basketball player who has stuffed the stat sheet as Clark has during nearly two seasons as a Hawkeye.
Clark leads the country in total points (743), assists per game (8.2), points per game (27.5), free throws made (174) and triple doubles (5) and has tallied nine 30-plus point games this season, the most 30-point games in Division I women's basketball.
She also joined the likes of Kobe Bryant, LeBron James, Russell Westbrook, James Hardin, Luka Dončić and Giannis Antetokounmpo as the only NBA, WNBA, Division I men's and women's basketball players to record back-to-back 30-point triple doubles since 2000.
Clark would have a strong case for national player of the year just based on her individual statistics alone.
But she also has led Iowa to a share of the Big Ten regular-season title, and to a No. 2 seed in the upcoming conference tournament where Iowa has received a double bye.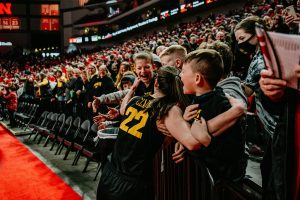 To me, this is a no-brainer.
Call me biased if you want since I do cover the Hawkeyes for a living, and since I also graduated from Dowling and played high school basketball with Clark's uncle.
But find me another women's basketball player, or any college player for that matter, that comes close to matching what the 6-foot Clark has accomplished this season.
If Clark has a weakness it's that she commits too many turnovers.
But she also has the ball in her hands more than any other player during the course of a game, and at times, she can be overly aggressive in trying to make a pass that most players wouldn't even attempt.
It's hard to answer whether Clark is a better shooter or a better passer because she is so good at both.
She makes the difficult look easy.
Clark almost certainly will be named Big Ten Player of Year this week, but she also deserves college basketball's most coveted individual honor.
Should it happen, it would mark back-to-back season in which the University of Iowa has had the national player of the year as Luka Garza won the award last season on the men's side.
These are unprecedented times at Iowa from an individual player standpoint.
Clark has caught the nation by storm with her immense talent and moxie.
NBA superstar Kevin Durant is now a big fan of hers, and has talked about her accomplishments on his podcast, and on social media.
Women's college basketball analyst Rebecca Lobo also puts Clark in a class by herself.
"We've never had a women's players lead the nation in scoring and assists," Lobo said. "So she's clearly doing something that has never been done."
And that's why Clark clearly deserves to be the national player of the year.