By Pat Harty
IOWA CITY, Iowa – Senior Day not surprisingly turned into Keegan Murray's night as Iowa's spectacular sophomore forward had yet another stat-sheet-stuffing performance during Monday's 82-61 victory over Northwestern at Carver-Hawkeye Arena.
Murray scored 26 points and grabbed 18 rebounds as No. 24 Iowa won for the seventh time in its last eight games, improving to 21-8 overall and 11-7 in the Big Ten with two regular-season games left at Michigan on Thursday and at Illinois next Sunday.
"He's so unique, he does everything," Northwestern coach Chris Collins said of the 6-foot-8 Keegan Murray. "I don't know what kind of player you put on him. He gets out in transition and he runs. He makes threes. He drives you from the perimeter, and he posts mismatches inside. And he's a monster on the glass.
"So, other than that, he stinks."
However, as great as Keegan Murray was in Monday's game, and even with it almost certainly being his last home game as a Hawkeye, he gladly shared the spotlight with his senior teammates, and with student manager Jack Devlin, who received the loudest ovation of the night when he swished a shot from half-court during a timeout late in the second half.
The Iowa players rushed the court and celebrated with Devlin as the fans gave him a standing ovation. Devlin then shared a long embrace with Iowa coach Fran McCaffery.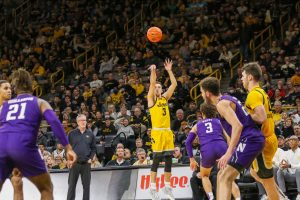 "It was almost like tonight was scripted," said Iowa senior guard Jordan Bohannon, who scored 18 points in his final game at Carver-Hawkeye Arena. "Our student manager hits a half-courter and we're up 25. We were able to watch and celebrate with him. We have an unreal Senior Night send-off."
Iowa played without starting forward Patrick McCaffery, who missed the game due to a hip injury that isn't considered serious.
His absence didn't matter, though, as his older brother, Connor McCaffery, replaced Patrick in the starting lineup and continued his hot streak from 3-point range, making 5-of-9 attempts from behind the arc.
Iowa made 13-of-35 shots from 3-point range, had a 50-35 advantage on the boards, had 10 steals and forced 15 Northwestern turnovers in a game that never really was in doubt.
Connor McCaffery, along with Bohannon and fellow senior Austin Ash, were all recognized before the game.
Ash also contributed to the script by making a 3-point shot from about 35 feet late in the second half.
"A lot of people were saying it was a great career when I walking off the court, but I was like, `there's still a lot left here,'" Bohannon said. "We have a lot of games to be played and a lot of memories still to be made.
"I came back to try and get this team to places that no one thought we could be."
Northwestern performed woefully on offense in the first half, making just 6-of-27 field-goal attempts.
However, the Wildcats were hampered by the flu bug, according to Chris Collins, and it caused starting point guard Boo Buie to play less than six minutes, all in the first half.
Iowa only shot 35.1 percent from the field in the first half, but it didn't matter because Northwestern was inept on offense and trailed 36-17 at the break.
The Wildcats took the crowd out of the game, but not how they had intended.
"They're playing great right now, really clicking at the right time," Collins said of Iowa. "And we played like a very tired team tonight.
"Unfortunately, we had a flu bug go through our team the last couple days. We had three or four guys that tried to gut it out, which I appreciated. But our energy just wasn't there. And that's not a good recipe when you play Iowa. You've got to have energy. You've got to have pop. You've got to be able to run, especially playing them here."
The most exciting thing about the first half were probably the timeouts in which the Iowa men's track and field team and the Iowa women's basketball team were both recognized and received loud ovations for winning Big Ten titles over the weekend.
Northwestern failed to mount any serious rally in the second half and that allowed Fran McCaffery to empty his bench down the stretch.
Fran McCaffery even became emotional when Connor McCaffery was taken out of the game for the final time late in the second half. He and Connor shared a long and tearful embrace.
Connor McCaffery as a fifth-year senior could return next season, but he said that Monday's game sort of felt like his last at Carver-Hawkeye Arena.
"We won a lot of games here, we won a lot," Connor McCaffery said. "I just feel like when I checked out it definitely all kind of hit me hard. I started tearing up a little bit. And I just think all at once just seeing the fans and I turned and saw my family and my dad was crying when he hugged me when I checked out.
"And he never cries, ever."
Connor McCaffery said he remembers his father only crying three times, and once was when Patrick McCaffery was diagnosed with a malignant tumor on his thyroid in 2014.
"I mean he never cries, and he was bawling," Connor McCaffery said of his father. "So that definitely got me."
Iowa hardly was considered a lock to make the NCAA Tournament when the season started after having lost so many key players from last season, including Iowa's all-time leading scorer, Luka Garza.
Iowa also started just 1-3 in conference play, and that only fueled the doubters and naysayers.
But now there isn't a hotter team in the Big Ten than Iowa.
"This was the goal from the beginning," Connor McCaffery said. "I knew coming in that I was going to be one of the senior leaders along with Austin and J-Bo. And I think we knew what this team was capable of, but nobody else really did. Definitely not a lot of people thought we would be here."
Part of the reason for the doubt was that nobody had any way of knowing that Keegan Murray was on the verge of stardom. He has gone from being a key reserve last season to one of the best players in the country this season and a potential NBA lottery pick.
Keegan Murray hasn't said whether this will be his last season at Iowa, but with NBA millions waiting for him, it almost certainly will be.
And what a send-off it was as he and the seniors and the student manager put on quite a show.