By Pat Harty
IOWA CITY, Iowa – The decision to hire Abdul Hodge as the new Iowa tight ends coach by itself looks promising for Kirk Ferentz and the Iowa football program.
Hodge is one of the greatest linebackers to have played for Ferentz at Iowa, a three-time all-Big Ten selection and a respected team leader during his days as a Hawkeye from 2002-05.
He grew up in Fort Lauderdale, Florida and that should help Iowa build on its recruiting presence in talent-rich South Florida.
Hodge spent the previous three seasons coaching linebackers at the University of South Dakota, so this will be a significant step up for him, and a significant change in job description because he is now on the offensive side.
But overall, the addition of Hodge should be embraced by Hawkeye fans.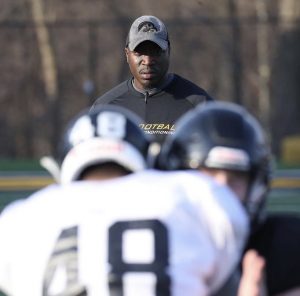 Kirk Ferentz apparently believes that Hodge will be able to make the transition from coaching linebackers to tight ends or he wouldn't have hired him.
Kirk Ferentz also must believe that his son, Iowa offensive coordinator Brian Ferentz, is now ready to coach the quarterbacks in addition to being the play caller because that will reportedly be Brian Ferentz's new job description with Hodge joining the program.
Brian Ferentz has coached the tight ends since 2018, but when Ken O'Keefe stepped away from coaching the Iowa quarterbacks in February, after having served in that capacity since 2017, it left Kirk Ferentz sort of at a crossroads.
He could've hired a new quarterbacks coach and kept Brian Ferentz as the tight end coach, or he could give his son even more control of the Iowa offense by making him the quarterbacks coach.
Kirk Ferentz has chosen to give Brian Ferentz more control, and more influence and that is certainly Kirk Ferentz's prerogative as head coach.
But is it the right decision?
Is it what's best for Hawkeye football and for the Iowa offense?
Only time and performance will tell.
There is certainly reason to question the decision to make Brian Ferentz the quarterback coach, not only because of his lack of experience with coaching quarterbacks, but also due to how poorly the Iowa offense has performed with Brian Ferentz running the show.
Iowa ranked near the bottom of the Big Ten in offense this past season, and some will say that Iowa won the Big Ten West Division and finished 10-4 overall in spite of the offense.
Brian Ferentz also said at his introductory press conference as offensive coordinator in 2017 that he wouldn't be comfortable coaching quarterbacks due to his lack of experience.
But that was five years ago, so Kirk Ferentz must believe that being around Ken O'Keefe for the past five years has helped Brian Ferentz develop an understanding about how to coach quarterbacks.
Iowa's current setup on offense is unusual in that most offensive coordinators also coach the coach quarterbacks.
So from that standpoint, the decision to make Brian Ferentz the quarterback coach would make sense if not for his mediocre results.
A rumor has persisted since the end of Iowa's season that Brian Ferentz was exploring his coaching options and was interested in leaving Iowa, perhaps for the NFL.
So much for that rumor with the news breaking on Tuesday that Hodge would be hired to coach the Iowa tight ends.
Iowa has yet to confirm Hodge's hiring, or that Brian Ferentz will now coach the quarterbacks.
But an announcement could come as soon as Tuesday afternoon.
Maybe Brian Ferentz has sent out feelers, but whatever the case, he now plans to stay at his father's side.
It might have been difficult for Brian Ferentz to sell himself to potential job suitors due to Iowa's offensive woes, but also because he still is a defendant in a discrimination lawsuit filed by seven former Iowa black players.
Some will say that Kirk Ferentz has blown an opportunity for a fresh start and for a new direction and perspective on offense by making what is considered a safe, convenient and non-threatening hire in Hodge.
However, it would've been virtually impossible for Kirk Ferentz to start fresh, or to create a new perspective, with Brian Ferentz still running the offense.
The only way a fresh start could've happened is if Brian Ferentz would've accepted a demotion to a position coach, allowing Kirk Ferentz to bring in a new offensive coordinator.
But that would've been awkward to say the least, and unrealistic.
Kirk Ferentz also could've relieved Brian Ferentz of his coaching duties, but that was never going to happen for obvious reasons.
Kirk Ferentz has attached his legacy to his son, and that attachment is now stronger than ever.
From an optics standpoint, making Brian Ferentz the quarterbacks coach leaves much to be desired under the circumstances because it seems that he is being rewarded despite a poor performance.
Kirk Ferentz seems to be saying that Iowa doesn't need to make significant changes on offense. It just needs to get better at doing what it does on offense.
Kirk Ferentz also seems to be saying that he is willing to risk his legacy, and the success of his offense, for the sake of his son.
And while that is certainly Kirk Ferentz's right to do so, it's also risky.