By Pat Harty
IOWA CITY, Iowa – Keegan Murray makes a lot lists these days.
The best at this, or the best at that.
A finalist for this award, or a finalist for that award.
You name it and Iowa's sensational 6-foot-8 sophomore forward is being considered for it heading into Sunday's regular-season finale at Illinois.
But is he one of the 10 most athletic players in program history?
That question was posed to me recently, and it caused me to think about who are the 10 most athletic men's basketball players in program history?
Being the most athletic isn't the same as the being best or the most talented, although, there is some overlap with a few players.
Athletic in this case is a combination of speed, quickness, leaping ability, quick-twitch muscles, and explosiveness.
Combine all those things together and you have a recipe for athleticism.
As for whether Keegan Murray is one of the most athletic players in program history, the following top-10 list will answer that question.
The list is based on personal observations and on the opinion of others.
It's also highly subjective with no right or wrong answers.
Ronnie Lester: The Chicago native when healthy was the fastest player I've ever seen from baseline to baseline.
There was Ronnie Lester before his knee injury and Ronnie Lester after his knee injury, and sadly, there is no comparison.
Lester when healthy was a human blur on the court as a 6-foot-2 point guard, and it was nearly impossible to trap him or to keep him from getting to the basket. He also could elevate and shoot above much taller defenders in the lane.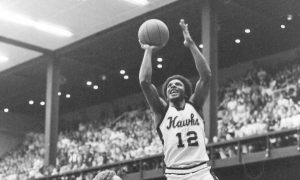 He used his quickness to make steals on defense and he often would turn one of his steals into a one-man fastbreak in which he blew past his defenders.
Lester played at Iowa from 1976-80 and helped lead the resurgence under Lute Olson. He also led Iowa to its last Final Four appearance in 1980 despite being hobbled by the knee injury.
It's no secret that I'm a huge Ronnie Lester fan, so maybe I am a little biased in this case.
But I also remember his greatness on the court, and part of what fueled that greatness was his incredible athleticism.
2. Ricky Davis: The Davenport native only played one season at Iowa in 1997-98 before heading to the NBA where he played for over a decade.
A 6-6 shooting guard at Iowa, Davis played above the rim and was an extraordinary dunker.
He had great length and the ability to hang in the air longer than most players. He also had an explosive first step that helped him get to the basket, or to create his own shot.
His athleticism was tailor-made for the NBA, and is a big reason Davis lasted in the NBA for as long as he did.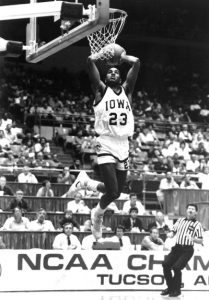 3. Roy Marble: The fact that he was compared to Michael Jordan as a Hawkeye speaks volumes about Marble's athleticism.
Marble, who passed away in 2015 at the age of 48, was similar in many ways to Ricky Davis in how he could rise above most defenders, hang in the air, and use his speed and quickness to get to the basket.
He wasn't a great perimeter shooter, but he still scored over 2,000 points during his Hawkeye career from 1985-89 thanks largely to his athleticism.
4. Gerry Wright: The California native played forward at Iowa in the mid-1980s and is known mostly for performing a cartwheel dunk.
Running directly at the basket, Wright would go into a full cartwheel while still holding the ball and then would come straight out of that into a full tomahawk jam.
I witnessed it once in person and couldn't believe what I just saw.
Wright was smooth and explosive, and he had great length.
He wasn't a great basketball player in college, but he truly was a great athlete.
5. Darryl Moore: He came to Iowa in the mid-1990s from Chicago as a 6-2 walk-on forward. He wasn't a great jump shooter, but he could jump out of the gym and was lightning quick.
He often would roam the baseline and perform ally-oop dunks, much to the delight of the fans.
Of all the players on this list, Moore probably relied on his athleticism to compete more than any other player. He really had no business being a Big Ten small forward, given his lack of height. But his athleticism made him effective.
6. Adam Haluska: The Carroll native, who started his career at Iowa State, was so skilled and fundamentally sound as a shooter and passer, that it was easy to overlook his athleticism.
But we're talking about a former high school sprinter and long jump champion in track and field. Haluska had Tim Dwight-like speed and he soared nearly 24 feet in the long jump.
Dunking was not a big part of his game, but at 6-5, Haluska could soar high above the rim, and he could run from baseline to baseline much like Ronnie Lester did.
7. Sam Williams: He is the only player on the list that I never saw play in person, or on tape.
But I've spoken to enough people who saw him play at Iowa from 1966-68 and they all rave about his athleticism.
He was only listed at 6-3, but he played much bigger due to his leaping ability.
Williams averaged 25.3 points per game as a senior and was named the Big Ten MVP in 1968.
8. Clay Hargrave: A graduate of Iowa City High School, he averaged 9.9 rebounds per game as a junior in 1977-78, and standing just 6-4, he became the shortest player to lead the Big Ten in rebounding. That doesn't happen without being gifted athletically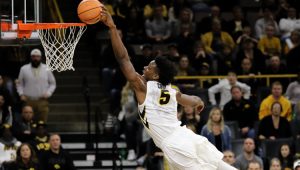 9. Tyler Cook: Like so many other high-risers, he isn't a great shooter, but he compensates with great leaping ability and quickness. His left-handed, rim-rattling dunks as a Hawkeye were a thing a beauty and the result of his athleticism.
He played three seasons at Iowa from 2016-19 and now plays for Chicago Bulls.
10. Keegan Murray: He is so smooth and efficient and always plays under control that it's easy to take his subtle athleticism for granted.
But it's a big part of his game as a 6-8 forward.
He runs faster than most of his opponents, but he also glides up and down the court, so it doesn't always look like he's running fast.
He has an explosive first step, and he gets off the floor quickly.
So, maybe I have him ranked too low on this list.
Also considered: Ryan Bowen, Ed Horton, Andre Woolridge, Chauncey Leslie, Kent Hill, Chris Street, John Johnson, Fred Brown, Reggie Evans, Bruce "Sky" King, Doug Thomas.