By Pat Harty
Michigan was a desperate for a win with its NCAA Tournament hopes hanging by a thread.
It was also playing at home, and on Senior Night.
But none of that mattered because the surging Iowa Hawkeyes were the opponent on Thursday at the Crisler Center in Ann Arbor, Michigan, and there isn't a team in the Big Ten that is playing better than Iowa is right now.
Iowa withstood a late Michigan rally and prevailed 82-71  for its eighth win in the last nine games. Iowa improved to 22-8 overall and 12-7 in the conference with one game left in the regular season at Illinois on Sunday.
Sophomore forward Keegan Murray continues to play at a level that very few have for Iowa as he scored 23 points and showed yet again why he is considered a potential lottery pick in the 2022 NBA Draft.
Sixth-year senior guard Jordan Bohannon continues to be on fire from 3-point range as he made three in the first half and five overall.
And the role players, particularly Keegan Murray's twin brother Kris Murray, continue to excel at their jobs, on offense, and on defense.
Kris Murray came off the bench to score 19 points, and he also provided a spark on defense with his length. His 19 points were all the points scored from Iowa's bench.
Iowa has now matched its win total from last season when it had All-America center Luka Garza leading the way.
Iowa also has come a long way since starting conference play with a 1-3 record.
Its only loss in the last nine games was to Michigan on Feb. 17 at Carver-Hawkeye Arena, but then payback came with Thursday's victory.
"You gotta stay the course," Fran McCaffery said on the FS1 post-game show when asked what he told his players heading into Thursday's game. "We have a team that has a multitude of guys that contribute. We're a very close-knit group. We have gotten better, especially on the defensive end, substantially better. And we've gotten better on the glass.
"All those things translate to your ability to win. So we knew we were going to get a battle. We have tremendous respect and the already beat us at our building. So we know what they're capable of. We just felt like we had to fight them on the glass and try to limit their post touches, get out and run a little bit, and move and share the ball. We did that well tonight."
Iowa has now recorded a victory over Michigan, Michigan State, Ohio State and Indiana in the same season for the first time since 2006.
Defense at times has been a weakness under Fran McCaffery, and there have been some games this season when Iowa has struggled on defense, but not recently.
Iowa's hot streak has happened largely because of its defense as Fran McCaffery stated.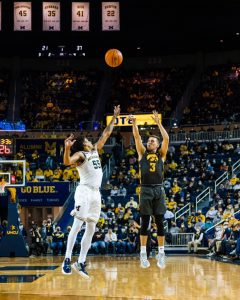 From the effort to the execution to the communication, Iowa is doing what it takes to excel on defense.
And when you have a player as dynamic as Keegan Murray, a 3-point shooter as impactful as Bohannon, and a versatile supporting cast that just keeps getting better, it adds up to a team that is difficult to defeat.
"Everybody I put in was terrific, but Keegan does open things up for everybody else," Fran McCaffery said.
Sophomore shooting guard Tony Perkins has always brought a toughness on defense, but now his offensive game is starting to emerge as he scored 13 points in Thursday's game.
An Iowa team that many thought was a longshot to make the NCAA Tournament due to having so many personnel losses from last season, including the national player of the year (Luka Garza) and a two-time All-Big Ten selection (Joe Wieskamp), is playing as well, or better, than any Iowa team has in 13 seasons under Fran McCaffery.
Iowa bolted to a double-digit lead early in the first half, shot 60 percent from the field in the first half and led 47-30 at halftime.
Michigan rallied late in the second half, trimming a 19-point deficit to single digits.
But it was too little and too late as Iowa won its fifth game in a row and is peaking at the right time.
Iowa had four players in double figures before the midway point of the second half.
The Murray twins combined for 42 points against the team their father grew up cheering for in Battle Creek, Michigan.
Kenyon Murray was the 1992 Michigan Player of the Year, and yet despite being a Michigan fan, he signed with Iowa.
He would go on to become a three-year starter and one of the best defensive players in program history.
And now 30 years later, his decision to be a Hawkeye continues to pay huge dividends thanks to his twin sons.
BROTHERLY LOVE 🧬@keegan3murray kicks it out to his brother @KrisMurray24⁰ to knock down the 3 pointer

They just know how to score the ball for @IowaHoops! 🩸 pic.twitter.com/I4qcxWt78z

— FOX College Hoops (@CBBonFOX) March 4, 2022