IOWA CITY, Iowa – While the NCAA transfer portal has changed the way college teams deal with recruiting, and with restocking rosters, Kirk Ferentz's approach has pretty much stayed the same.
He would prefer to sign high school recruits, but will make an exception every now and then by using the portal to fill a spot.
But it has to be a player that Kirk Ferentz believes will fit the Iowa culture, and will have a chance to contribute right away.
Tight end Steven Stilianos, a graduate transfer from Lafayette, apparently fits that description as he announced on Monday that he will transfer to Iowa this summer.
The 6-foot-5, 250-pound Stilianos visited Iowa last month and picked the Hawkeyes over Rutgers and Virginia.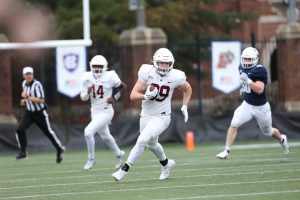 The Virginia native only played in four games for Lafayette this past season and finished with 21 catches for 130 yards. He competed in three games during the 2021 spring season and had nine receptions for 125 yards and four touchdowns.
He twice earned first-team All-Patriot League honors.
Stilianos is scheduled to complete his Engineering degree at Lafayette this spring and will have two seasons of eligibility at Iowa with his Covid year.
Iowa returns its top two tight ends from last season – Sam LaPorta and Luke Lachey – and also signed two tight ends in its 2022 recruiting class.
But even with that depth, Kirk Ferentz still likes Stilianos enough to have recruited him from the portal.
The tight end plays a key role in Iowa's offense as a blocker and receiver. Some even refer to Iowa as Tight End U.
In fact, LaPorta led Iowa in receiving this past season as a junior with 53 catches for 670 yards and three touchdowns.
God is good. Thanks to everyone that recruited me, this experience has been such a blessing. I'm excited to announce my commitment to the University of Iowa! Jeremiah 29:11 pic.twitter.com/xsJALbinUA

— Steven Stilianos (@StevenStilianos) February 28, 2022