By Pat Harty
IOWA CITY, Iowa – Exactly two months after losing at Wisconsin, 87-78, on Jan. 6 to fall to 1-3 in conference play, the Iowa men's basketball team will play at Illinois in the regular-season finale on Sunday with a chance to earn a double bye in the Big Ten Tournament.
No. 24 Iowa has won five games in a row, eight of its last nine games and has a 11-4 record since the loss at Wisconsin.
Sophomore forward Keegan Murray has been sensational during this hot streak, but he hardly has been a solo act as Iowa's supporting cast, which includes Keegan Murray's twin brother, Kris Murray, has consistently risen to the occasion.
Iowa has improved on defense, is rebounding much better, and is getting hot from 3-point range at the right time, having combined to make 45 treys in the last four games.
Illinois edged Iowa 87-83 on Dec. 6 at Carver-Hawkeye Arena, thanks largely to its 52-23 dominance on the boards, which included 19 offensive rebounds.
Iowa had no answer for Kofi Cockburn, Illinois' 7-foot, 285-pound junior center from Jamaica who had 18 rebounds in the first game, along with 17 points. That game was played at a time when Iowa was struggling to rebound on both ends.
But after being out-rebounded by 7.2 per game over its first 10 Big Ten games, Iowa is plus 4.3 over the last nine.
Iowa coach Fran McCaffery was asked Saturday on a zoom conference to explain his team's dramatic turnaround on the boards.
"Just a little more attention to detail, playing with a little more physicality," McCaffery said. "It's really a mindset that you have to have and have to develop that."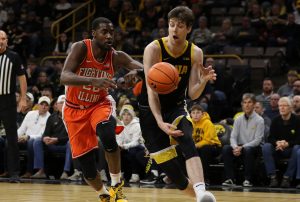 Iowa could be without 6-9 sophomore forward Patrick McCaffery in Sunday's game due to a lingering hip ailment.
Patrick McCaffery missed the Northwestern game this past Monday, but then he returned for Michigan game on Thursday, playing 18 minutes in Iowa's 82-71 win in Ann Arbor.
But he only played 4:41 in the second half as the hip apparently started to bother him again.
Fran McCaffery isn't sure about his son's status for the Illinois game.
"He's hurting a little bit," Fran McCaffery said. "He did not come out of (the Michigan game) like we had hoped."
Iowa could suffer on the boards without having Patrick McCaffery's size on the frontline.
He was replaced in the starting lineup against Northwestern by his older brother, Connor McCaffery, who is about four inches shorter than Patrick McCaffery.
The fact that Iowa even has a chance to earn a double bye in the conference tournament is a testimony to the team's resolve.
Should Iowa earn a double bye, it would only have to win three games to be the Big Ten Tournament champion for the first time since 2006.
Illinois has won the last four games in the series, but the teams have split the last six meetings at the State Farm Center.
Sunday's game should be highly emotional with Illinois celebrating Senior Day.
However, Michigan honored its seniors before facing Iowa this past Thursday, but it did little good as Iowa built a double-digit lead in the first half and then withstood a Michigan rally late in the second half to prevail.
Iowa vs. Illinois
When: Sunday, 6:37 p.m.
Where: Champaign, Illinois, (State Farm Center)
TV: FS1
Radio: Hawkeye Radio Network
Records: No. 24 Iowa is 22-8 overall and 12-7 in the Big Ten. No. 20 Illinois is 21-8 and 14-5/
All-time series: Illinois holds an 89-76 advantage in the series. The Fighting Illini have won four consecutive games in the series since snapping Iowa's five-game win streak from 2018-20. Illinois holds a 64-17 advantage in games played in Champaign. The teams have split the last six meetings at the State Farm Center, with the Illini winning the last two. Iowa and Illinois also met in Champaign in the regular season finale two years ago on March 8, 2020 (Illinois won 78-76).