By Pat Harty
IOWA CITY, Iowa – Fran McCaffery has made countless decisions as the Iowa men's basketball coach, some spur of the moment in the heat of battle, and some after deep thought and consideration.
Here are his top six:
Offered scholarships to twin brothers Keegan Murray and Kris Murray while they were attending prep school in Florida:
Western Illinois was the only Division I school to offer the Murray twins scholarships when they graduated from Cedar Rapids Prairie High School in 2019.
Fran McCaffery was very interested in both, however, and he was partly responsible for their decision to attend prep school for one year in Florida after having graduated from high school.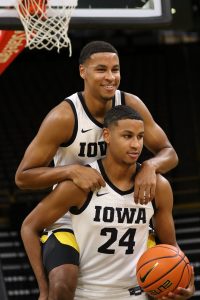 McCaffery wanted to see them both develop for a year, and to work on their game with the understanding that scholarships would be offered if he liked what he saw.
McCaffery liked what he saw and offered scholarships to both, and the rest is history that just keeps writing itself as Keegan Murray is now considered one of the best players in the country as a 6-foot-8, 225-pound sophomore power forward, and a potential lottery pick in the 2022 NBA draft, while Kris Murray is an emerging star as a 6-8 forward.
Keegan Murray was named unanimous first-team All-Big Ten by the coaches and the media on Tuesday, and he is the driving force for an Iowa team that won 22 games in the regular season and that has won eight of its last 10 games heading into the Big Ten Tournament.
Fran McCaffery had a plan for the Murray twins, and that plan is playing out almost to perfection, much to delight of former Iowa basketball player Kenyon Murray, who is Keegan's and Kris' father.
Kenyon Murray credits Fran McCaffery for believing in his twin sons when other coaches didn't, and for devising a plan for success.
2. Offered a scholarship to Luka Garza very early in the recruiting process and before Garza had transformed his body, and before other head coaches from high-major schools had offered Garza.
By the end of his celebrated high school career in Washington D.C., Garza had over two dozen scholarship offers from a long and distinguished list of schools.
But the offer from Fran McCaffery was special because it came before all the other head coaches had offered, and because it helped to strengthen their bond.
Garza played four seasons under McCaffery, but they will be friends forever.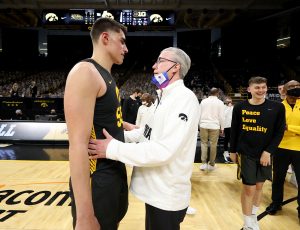 McCaffery believed in Garza when most others didn't, and that belief was the foundation on which their friendship was built.
Garza wasn't in the best shape early in high school, but Fran McCaffery trusted that Garza would transform his body, and that's exactly what happened after Fran McCafferey had offered him a scholarship.
Garza would go on to reward Fran McCaffery by becoming the most decorated player in program history and Iowa's all-time leading scorer as a 6-11 center with a motor that never stops, and with a work ethic that few have matched.
Garza had his jersey No. 55 formally retired during halftime of Iowa's victory over Michigan State in February.
3. Offered Aaron White a scholarship:
Iowa and Northwestern were the only Big Ten schools to offer White a scholarship. And he only had seven offers overall coming out of high school in 2011, according to Rivals.
So, it's fair to say that Fran McCaffery took a chance on the 6-8 redhead from Ohio, and that McCaffery was rewarded in a big way as White now ranks among the best players in program history.
White finished his Iowa career ranked first in Iowa games played (140), and free throw makes (618) and attempts (800), second in scoring (1,859), third in rebounding (901), and 14th in double-doubles (16). He also made more free throws (618) than any Big Ten player the last 50 years and ranks third all-time in conference history, and was the first Hawkeye to lead the team in rebounding four straight years.
4. Stuck with Peter Jok despite his numerous injuries in high school: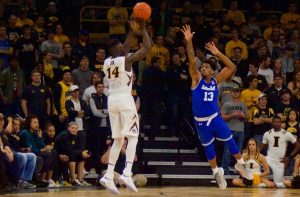 Jok was considered a star on the rise as a high school freshman in Des Moines, and one of the best players in his class.
College coaches were in hot pursuit, and that included Fran McCaffery, who immediately started recruiting Jok after being hired at Iowa in 2010.
But then Jok suffered through a series of knee injuries that caused him to lose his athleticism, and that caused most college coaches to back away.
Fran McCaffery stayed loyal to Jok, however, and when Jok finally recovered from his knee injury, he was ready to reward McCaffery for sticking with him.
Jok would go on to become one of of Iowa's best perimeter shooters as a 6-6 guard. He led Iowa in scoring as a senior in 2016-17 with a 19.9 per-game average and made first-team All-Big Ten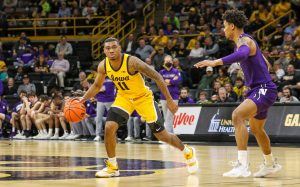 5. Switched Jordan Bohannon from shooting guard back to point guard 21 games into this season and inserted Tony Perkins as the starter at shooting guard:
Iowa is 8-2 since Fran McCaffery changed the starting lineup, which he rarely does.
Bohannon was struggling to make shots as the starting shooting guard, as was Joe Toussaint as the starting point guard.
Tony Perkins also was struggling to find a rhythm on offense while playing in stretches off the bench in the first 21 games.
The decision to bench Toussaint was met with some skepticism because he was performing well on defense, and because Bohannon wasn't performing well on offense or defense.
But Fran McCaffery trusted his instincts and knew that he had to keep Bohannon in the starting lineup due to Bohannon being Iowa's best perimeter shooter. Defenses always have to account for Bohannon, even when he struggles to make shots, because he is capable of getting hot from 3-point range at any time.
Bohannon played mostly at point guard in his first four full seasons as a Hawkeye, and the switch to shooting guard appears to have disrupted his rhythm and flow on the court.
Fran McCaffery saw that and then took action.
Perkins has since seized the opportunity and is now emerging as a threat of offense. He scored 17 points and grabbed 12 rebounds in last Sunday's 74-72 loss at Illinois.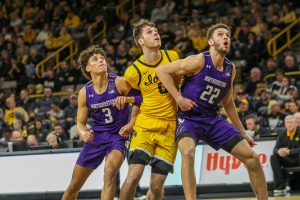 6. Landed Filip Rebraca from the transfer portal to help fill the massive void left by Luka Garza:
It's easy to overlook Rebraca's contributions and his impact because he only averages six points per game.
Numbers don't define his role, or his importance, however.
The 6-9 Rebraca gives Iowa a presence in the post that helps the offense run more smoothly, and that helps to stabilize the defense. He also works hard on the boards and holds his own despite often playing against much bigger post players.
Rebraca was a double-digit scorer at North Dakota and one its marquee players, but he wanted to play on a bigger stage, and Iowa needed help right away in the post.
So, he checked his ego at the door and embraced his new role in which scoring isn't a top priority.
That says a lot about Rebraca's unselfishness and about Fran McCaffery's ability to find the right fit.
Iowa has two true post players on the roster in redshirt freshman Josh Ogundele and true freshman Riley Mulvey.
But neither has played much this season because they apparently aren't ready for that kind of role.
Rebraca, on the other hand, is 24 years old and he has a wealth of experience at the collegiate level.
His maturity, and his willingness to do the dirty work, and to always put the team first, have been crucial to Iowa's success this season.