By Pat Harty
Indianapolis – Wow!
That pretty much sums up my reaction to what the Iowa men's basketball team inflicted on Northwestern in the second round of the Big Ten Tournament on Thursday at Gainbridge Fieldhouse.
Ten different players for Iowa made at least one 3-point basket during the 112-76 beatdown. It was the kind of shooting display that would've been impressive even without an opponent trying to play defense.
Iowa in addition to breaking the record for the most points scored in a Big Ten Tournament game also set a tournament record with 19 3-point baskets in a game that never was close except for in the opening minutes.
Sophomore forward Keegan Murray was sensational as usual, scoring a game-high 26 points and grabbing eight rebounds while barely playing half of the game.
Keegan Murray also made all three of his shots from 3-point range, while sixth-year senior point guard Jordan Bohannon made 5-of-8 treys.
Iowa finished 19-of-29 from 3-point range as a team, assisted on 25 of its 43 baskets and had a 45-18 advantage on the boards.
"You've got to tip your hat to Iowa today," said Northwestern coach Chris Collins. "Those guys are playing at a really high level. Anytime we had any kind of breakdown they made us pay for it. They shot the ball at an incredibly high clip. I don't know how anybody beats them if they play like that, they way they shot it, the energy they had.
"And they've been playing that way the last couple of weeks."
Iowa has now won nine of its last 11 games and will face No. 4 seed Rutgers in the quarterfinals on Friday.
Rutgers held Iowa to a season-low for points during a 48-46 victory on Jan. 19 in Piscataway, New Jersey.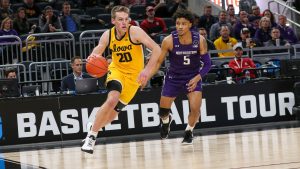 "They really kind of beat us down the last time," said freshman Payton Sandfort. "They're really physical, a really good defensive team. "So we're going to have to bring it. Obviously, they held us to 46 points the last time, so we're going to have to play really well to beat them."
Iowa was a different team, figuratively and literally, when it lost at Rutgers more than a month ago.
Bohannon is now playing point guard after having started at shooting guard in the first 21 games, while sophomore Tony Perkins is now starting at shooting guard and playing his best as a Hawkeye.
The 6-foot-4 Perkins had a career-high six assists in Thursday's win, after having a career-high five assists in the 74-72 loss at Illinois last Sunday in the regular-season finale.
Iowa is 9-2 since the changes were made in the backcourt.
"That really seems like it was five years ago," Sandfort said of the Rutgers loss. "It's been quite a month-and-a-half since that game. We've really found our stride. Our motion game has gotten a lot better and our transition game.
"So, we'll be ready to go."
Iowa bolted to a 17-4 lead against Northwestern and the game never was competitive after that.
Keegan Murray had 18 points and seven rebounds in the first half, which ended with Iowa leading 64-31 at the break.
" We can't play much better than we played tonight, obviously," said Iowa coach Fran McCaffery. "Everything was clicking, our offense was really good. I thought early on, our rebounding, especially on the offensive glass, I think was crucial."
Iowa also had its way against Northwestern when the teams met on Feb. 28, winning 82-61 at Carver-Hawkeye Arena.
However, Northwestern was at less than full strength in that game with several players, including starting point guard Boo Buie, battling a flu bug.
The Wildcats were healthy for Thursday's game in the conference tournament, at least until Iowa started making 3-pointers at an incredible rate.
"I think coming into the game, we recognized that when we played Northwestern 10 days ago, they were not right," Fran McCaffery said. "They had a number of guys with the flu, so you kind of throw that game out. Watched a ton of their games. I have so much respect for Chris and his program, and really watched them play extremely well against so many teams. A substantial number of wins.
"So we felt like we needed to play with the kind of effort we played with tonight in order to win."
Fran McCaffery downplayed the revenge factor against Rutgers, unlike Bohannon who was pushing that narrative after Thursday's victory over Northwestern.
"We all know coach McCaffery is a different guy," Bohannon said. "He's a phenomenal coach, a phenomenal human being. But I defintiely have been marking this game when we saw them on our side of the bracket for the Big Ten Conference. We felt like that was a very different game when we played up there. Both teams weren't scoring a lot and then a controversial foul was called, obviously, to end the game.
"So we felt like we deserved overtime there, and we weren't giving it. But that's okay, we've got to earn this win tomorrow and we understand that."
Bohannon was referring to a controversial foul called on Keegan Murray late in the loss at Rutgers that led to Ron Harper Jr., making what proved to be the game-winning free throws.
"I think it's a team we only played once this year and we all felt it's a game should have won at their place," Keegan Murray said. "I feel like for us we wanted this game and we got it now, so it's just putting the pieces together going over the scout and trying to get the win against a physical team, and obviously, held us to our lowest scoring output of the season. But I feel like if we play at our pace it will be at a good game."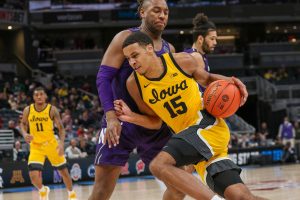 The matchup against Rutgers will be a battle of contrasting styles with Iowa's fast-paced offense matched against the Scarlet Knights' rugged defense and slower paced offense.
Rutgers is likely to guard the perimeter better than Northwestern did in Thursday's game. Rutgers also excels at stopping transition.
"We know what we're facing tomorrow," Fran McCaffery said of Rutgers.
As for the revenge narrative, Fran McCaffery dismissed it.
"To be honest with you, I really don't look at it that way," Fran McCaffery said. "You show up in this tournament, whoever you play against, you'd better be ready. Anybody you show up to play against can beat you. We feel like anybody we show up to play against, we can beat them. So we're just trying to lock in to a game plan and play well and stay together.
"All that, "Boy, I hope we have another shot," all that nonsense, you just get on to the next game. This could have been any number of teams that we're playing tomorrow."
Iowa played at full strength in Thursday's game as sophomore forward Patrick McCaffery returned to the starting lineup after having missed two games with a hip ailment.
He was among five players for Iowa who scored in double figures with 10 points.
"I thought he was really good," Fran McCaffery said of his son. "He ran out of gas a little bit, said he felt good, but he seemed to be a little fatigued. I would have put him back in, but not when we were up by 30 points, so we kept him out.
"I thought he moved without the ball, he was aggressive attacking, his defense was pretty solid, he had one breakdown and that's when he got tired and I was trying to get him out. I just have to make sure that he's going good physically. He had been sick, as you know, hadn't practiced and hadn't really done anything. We didn't know what was going to happen today. So all in all, we're very pleased with him."
Fran McCaffery had a lot to be pleased with after Thursday's drubbing.
And if his team keeps making 3-pointers like it did against Northwestern, the best could be yet to come.
"This is going to be a tough out for anybody," Chris Collins said of Iowa.
#B1Gtourney single-game records set by @IowaHoops today:

• Most FGs (43)
• Most 3s (19)
• Most points (112)
• Largest margin of victory (36) pic.twitter.com/OWfJXL00oN

— Big Ten Network (@BigTenNetwork) March 10, 2022