By Pat Harty
Indianapolis – Keegan Murray's brief time as an Iowa Hawkeye will almost certainly come to an end soon, but how it ends is full of intriguing possibilities, for him, and for his surging team.
Iowa's sensational 6-foot-8 sophomore forward from Cedar Rapids had yet another stat-sheet-stuffing performance against Rutgers in the Big Ten Tournament quarterfinals on Friday as he scored 26 points and grabbed eight rebounds to lead the Hawkeyes to a 84-74 victory.
Murray also with Friday's performance broke Iowa's single-season scoring record that was previously held by Luka Garza. Murray has scored 750 points this season, while Garza finished with 747 points last season on his way to being named the National Player of the Year.
"For me, last year I really just tried to learn from Luka as much as I could," Keegan Murray said after Friday's victory. "Obviously, when you have the National Player of the Year on your team, you just kind of want to resemble him in a way.
"But for me to break his record's a big credit to him and what he's done at the university and just what — how he's carried himself and how he's kind of put in the footsteps to become great here at Iowa. So it's an honor for me, for sure."
Iowa improved to 24-9 overall and will face Indiana in the semifinals on Saturday as the Hoosiers upset No. 1 seed Illinois 65-63 on Friday to advance.
It should be a hostile environment for the Hawkeyes with the tournament being played not far from the Indiana campus, but the Iowa players are playing with a lot of confidence and swagger and they relish the challenge.
"For us, it it's just taking one game at a time," Keegan Murray said. "We know what we're capable of, and we've had these goals and aspirations early on in the season, and we knew that we were going to be a good team and we knew that we had to be playing our best basketball at this point in the season.
"I feel like we're doing that and just take it one game at a time. Indiana's a really good team, they're really well coached and they're playing really well right now. Just get back, look them over and see what we need to work on to try to beat them tomorrow."
Fran McCaffery also relishes the challenge of trying to lead Iowa to its first appearance in the Big Ten championship game since 2006.
But he also knows what his team will be up against in Saturday's game.
"You have to be really impressed with the job that Indiana's done here in particular," said Iowa coach Fran McCaffery. "You know, they lost some games down the stretch, but I don't think in any way it was indicative of the caliber of team. They lost a couple really tough games. The ball didn't bounce their way and they just kept coming. And they showed up here I think determined; we're in the tournament, like we're going to the tournament. And now they think they can win it, this one.
"You have to be respectful of the way that they've continued to compete. Obviously, it will be a great atmosphere with them being here."
Keegan Murray and his cohorts are playing as well as any team in the conference right now, if not the country, with Iowa having won 10 of its last 12 games,
The same Iowa team that started 1-3 in conference play, and that was just 4-6 midway through the conference schedule is now performing at an elite level.
The same Iowa team that struggled to rebound up until about a month ago is now a force on the boards.
The same Iowa team that struggled to defend up until about a month ago is now defending with a purpose and showing that it's more than just a team that likes to play fast and score a lot of points.
The goal for every team is to be peaking at the right time, and that certainly describes Iowa, which overcame a sluggish start in Friday's game to win by double figures.
"I feel like, for us, we've kind of learned how to get — we've gotten knocked down, we've learned how to get back up on different stretches," Keegan Murray said. "And we know that if we're down a little bit, we can get on a run at any point in the game. So for us it's just keeping the mentality that just never give up, whether we're up 20 or down 20, that's just kind of the mindset we've had these last stretch of games. It's just a credit to our guys, sticking with our scout and doing what we do best. And I feel like we've been sharing the ball really well."
Friday's victory marked the first time in 12 seasons under Fran McCaffery that Iowa has won at least two games in the Big Ten Tournament.
McCaffery deserves much of the credit for this late-season surge, but it ultimately comes down to the players making plays.
And as great as Keegan Murray is, especially on offense, he is hardly a solo act as Friday's victory showed.
Iowa overcame a poor start to the game thanks largely to the contributions from its bench, which includes Keegan Murray's twin brother, Kris Murray, who finished with nine points and five rebounds.
Sophomore guard Tony Perkins, who is from Indianapolis, has continued to thrive since moving into the starting lineup in February. He finished with 16 points in Friday's game, marking the fourth time in the last six games that he has scored in double figures.
And the fact that he played well in his hometown made it even more special.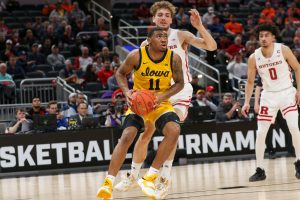 "A lot of people that see me through high school through now know what I can do, and now I'm able to bring it to the next level is big," Perkins said "Knowing I'm playing in my home city and seeing everybody in the crowds that I know, grew up with, it really boosts my energy a lot. That's pretty much it."
It didn't take long to realize that Iowa was facing a much tougher challenge than it faced against Northwestern on Thursday as Rutgers bolted to leads of 7-2 and 15-5 in the opening minutes.
But the combination of Keegan Murray and four players off the bench, including  Kris Murray, helped to not only erase the deficit but also give Iowa a 41-32 lead at halftime.
Kris Murray scored seven points and grabbed five rebounds in the first half, and he also made a 3-pointer late in the half when Rutgers was trying to rally.
Junior point guard Joe Toussaint used his quickness to make an impact on both ends, while senior guard Connor McCaffery used his passing skills to dish out four assists in the first half.
Iowa also had a 21-10 advantage on the boards in the first half.
"I think the critical thing there was in that stretch, in the beginning they were taking it right through us and then we got some consecutive stops," Fran McCaffery said. "You've got to rebound. They're a team that they'll miss, but they'll go back and get it, they'll go back and get it again, they'll go back and get it again.
"And we got it and we went the other way with it and that team really clicked with the transition opportunities at that point and big change in the complexion of that game."
Friday's game was in stark contrast to Iowa's 48-46 loss to Rutgers on Jan. 19 in Piscataway, New Jersey. That game marked a season low in points for Iowa.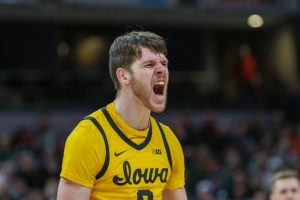 "Obviously, Keegan Murray was a problem for us from the opening tip, and they had it going," said Rutgers coach Steve Pikiell. "I thought we played like us for about 13 minutes in the second half and kind of clawed back in it, then could never get really back over the hump. Again, one of the huge keys was to defend without fouling and we fouled them a lot. Got to play better.
"This group has been great all year long, they're warriors. We just didn't have enough today and that's on me, too. I've got to make sure to have these guys more like us. Today, there were minutes that we weren't us, and that's what bothered me the most, but that's on me. And we'll be ready for the next one."
Iowa also made 22 consecutive free throws in Friday's game and finished 25-of-27 overall.
That was a major improvement from its 74-72 loss at Illinois last Sunday in the regular-season finale when Iowa missed 12 of its 22 free throw attempts.
"I think for us just to see one go down as a team, we went 10-10 the first half for free throws so I feel like for us that kind of boosted all of our confidence to just go up there and make free throws," Keegn Murray said. "Obviously, against Illinois we missed a lot down the stretch, we missed a lot in the second half of that game and we knew that that was kind of a learning experience for us and I feel like a lot of our guys stepped up to the plate today and made free throws when we needed them."
History 🤝 @keegan3murray finish the job! ❤️💯

— Luka Garza ✞ (@LukaG_55) March 11, 2022