By Pat Harty
IOWA CITY, Iowa – Dane Belton is poised to join a long and distinguished list of former Iowa defensive backs under Kirk Ferentz who would go on to play in the NFL.
The list started with Matt Bowen being taken by the St. Louis Rams in the sixth round of the 2000 NFL draft and it continued in 2020 when Michael Ojemudia was picked by the Denver Broncos in the third round and Geno Stone was selected by the Baltimore Ravens in the seventh round.
Iowa has had 16 defensive backs selected in the NFL Draft under Kirk Ferentz dating back to the 2000 draft.
Belton, of course, still has to get drafted and then make an NFL roster, but he certainly has put himself in position to do so after having had a standout career at Iowa where he excelled at the cash position, playing both safety and linebacker.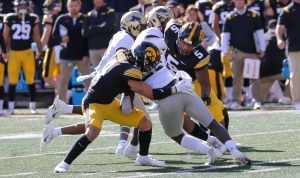 It's rare what Belton is trying do, leave Iowa after just three seasons to play in the NFL.
The legendary Bob Sanders didn't do it, nor did Desmond King, Micah Hyde, Charles Godfrey, Josh Jackson or just about any other Iowa defensive back under Kirk Ferentz.
Amani Hooker only played for three seasons at Iowa from 2016-18 before leaving for the NFL where he now plays for the Tennessee Titans after having been picked by the Titans in the fourth round of the 2019 draft.
But that's about it for Iowa defensive backs leaving for the NFL after being just three years removed from high school.
And while it's true that All-America center Tyler Linderbaum declared for the 2022 NFL Draft as a junior, Linderbaum is a fourth-year junior after having been redshirted as a true freshman in 2018.
Belton, on the other hand, started four games for Iowa as a true freshman in 2019 and saw action in eight games overall that season.
The Tampa, Florida native would go on to start 26 games overall at Iowa and made first-team All-Big Ten this past season after having led the conference with five interceptions.
Belton believes that his success at the cash position, which involves playing both safety and linebacker, helped showcase his versatility for NFL teams.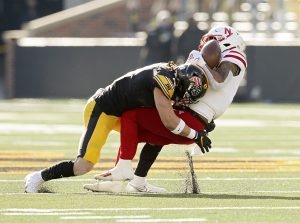 "I think it definitely did, especially in this new age of defense, position-less football that people talk about and just having guys that can play in the box, but still athletic enough to cover the slot receivers and the fastest tight ends," Belton said after participating in Iowa's annual Pro Day event on Monday.
Belton was one of three Iowa players to participate in the 2022 NFL Combine this past February in Indianapolis.
He was pleased with how he performed, especially in showcasing his speed and quickness, and with how he interacted with NFL personnel during meetings.
Belton was clocked at 4.43 seconds in the 40-yard dash, which certainly raised some eyebrows.
He also has good size at 6-foot-1 and weighing approximately 205 pounds.
"It was blessing for sure to go there, four long days, buy it was definitely an experience that I appreciated and enjoyed," Belton said. "And it was something that I definitely got out of it. I felt like I ran well, which was a big concern. People thought I was slow or whatever. But I ran well. Check that box. I vertical and broad work were good as well and my position drills went well.
"I feel like the biggest aspects that people don't talk about it my meetings with the teams, and I felt like every meeting that I had in all honestly went real well. So, I feel like the combine definitely helped me in this process."
Asked what caused some to think he was slow, Belton said:
"Honestly, I don't know. I know some teams talk about when I played in the box a little bit. Does it allow me to show my top-end speed, sometimes? It was just like I guess that was it. But I felt they didn't understand the ability that I have and the athletic ability that I possess. And for me to go out and show it was a big thing for me."
Belton was confident that he would run well at the combine.
"Warming up on the field before my forty, I felt loose, I felt good, my body was really healthy and in my mind I knew I was going to run well," Belton said. "So just to be able to get that time confirmed is a big thing for sure."
Iowa started using the cash position in 2018 in hopes of improving its pass coverage with five defensive backs playing instead of the usual four.
Hooker was the first Hawkeye to play cash and he then handed the torch to Belton.
They never actually played together at Iowa, but Belton studied Hooker on film to see how he handled the cash position.
"Those comparison, that can be fair," Belton said. "Some people say were very close. But in all honestly, whether they are close or not, I feel he's a great player and someone I can model my game after."
Belton was part of an Iowa defense that led the nation with a school-record 24 interceptions during the 2021 regular season.
Iowa also won the Big Ten West Division this past season and won 10 games in two of Belton's three seasons in the program.
Belton enjoyed his time as a Hawkeye, but he believes he is ready to play at the highest level and to go where very few Iowa defensive backs have gone, which is to the NFL after having graduated from high school just three years earlier.
He was one of seven sophomores named to Iowa's Leadership Group in 2020, and he earned Dean's List recognition last spring.
Belton plans to watch the 2022 NFL draft with his family.
The draft will be held April 28-30 in Paradise, Nevada.
"I'm going to keep it low key," Belton said. "I'm going to have my immediate family there, my parents, my brother, both of my grandmas, just the people close to me.
"And when I get drafted, I might want to go bowling or something. Not too big, spend time with family and then off to mini-camp."