By Pat Harty
IOWA CITY, Iowa – With the winter sports season nearly over at the collegiate level, this seems an appropriate time to address several storylines, beginning with a projected starting lineup for the Iowa men's basketball team for next season.
This lineup was chosen with the assumption that Keegan Murray will declare for the 2022 NBA Draft as a third-year sophomore, and that his twin brother, Kris Murray, will return to Iowa next season after having tested the NBA draft process.
Those announcements should be coming soon.
It didn't take a lot of research or thought to pick a starting five because four of the players in my lineup for next season started multiple games this season, and all five started at least one game.
Iowa's projected starting five for next season:
F – Kris Murray, 6-8, Jr., he averaged 9.7 points and 4.3 rebounds this past season while shooting 38.7 percent from 3-point range. He also finished second on the team behind his brother with 31 blocks and third on the team with 41 3-point baskets despite only playing an average of 17.9 minutes per game.
Kris Murray's biggest problem so far has been inconsistency, and getting into foul trouble, but he without question has a high upside, much like his brother.
Kris needs to improve as a free throw shooter after having made just 64.5 percent of his free throws this past season.
It makes sense why Kris Murray would want to test the NBA draft process because he has NBA potential, and because it would help him better understand where he ranks as a prospect.
But Kris should be one of Iowa's go-to players on offense next season, and a potential star.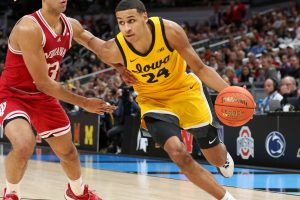 F – Patrick McCaffery, 6-9 Jr., the son of Iowa head coach Fran McCaffery was arguably Iowa's best player in the loss against Richmond in the first round of the NCAA Tournament, scoring 18 points, including 12 in the second half.
Patrick McCaffery started all 32 games in which he played this past season and he finished third on the team in scoring with a 10.5 per-game average.
If you were to pick a player to lead Iowa in scoring next season, Patrick McCaffery certainly would deserve consideration, along with Kris Murray as they both have star potential.
F – Filip Rebraca, 6-9 Sr., He went from being a double-digit scorer at North Dakota to averaging just 5.8 points per game for Iowa this season. But that was partly by design.
His scoring average should increase next season without Keegan Murray scoring between 20 and 30 points per game, and with a year of Big Ten basketball under his belt.
Rebraca also finished second on the team in rebounding with a 5.6 per-game average, and did so playing out of position at center.
He often played against taller centers, and did a lot of the dirty work for Iowa under the boards.
That should also be part of his role next season, but he also should have more scoring opportunities without Keegan Murray.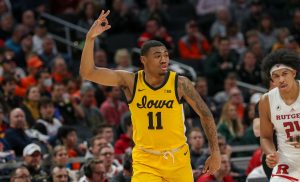 SG – Tony Perkins, 6-4, Jr., the Indianapolis native was arguably the most improved player on the team. He started the final 15 games of the season and Iowa finished 12-3 in those games.
Perkins averaged 7.4 points per game and finished fourth on the team with 32 steals.
But he only shot 32.1 percent from 3-point range, so that part of his game needs work, especially since Jordan Bohannon has finally used up his eligibility.
PG – Joe Toussaint, 6-0, Sr., the New York City native started the first 21 games this season and was a force on defense as expected.
But he struggled to make perimeter shots – he was just 9-of-35 from 3-point range – and that caused the offense to become stagnant and predictable at times.
The biggest concern with having both Toussaint and Perkins in the starting lineup would be a lack of 3-point shooting because neither has made enough for defenses to consider them a threat. Toussaint also has a tendency to get out of control sometimes on offense, but his quickness is a key factor on both ends of the floor.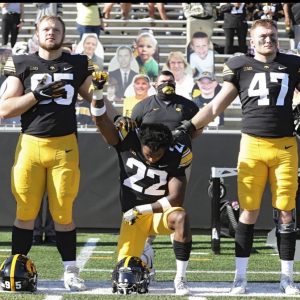 2. Logan's run: While fans and the media question Kirk Ferentz's decision to make Brian Ferentz the Iowa quarterbacks coach, Kirk's decision to move Logan Jones from defensive tackle to center makes perfect sense.
It also creates hope and excitement since Tyler Linderbaum made the exact same switch near the end of the 2018 season, and he would go on to become arguably the greatest center in program history, and a likely first-round pick in the upcoming 2022 NFL Draft.
Jones, a sophomore-to-be from Council Bluffs, is currently listed third on the depth chart behind sophomore Tyler Elsbury and senior Matt Fagan.
Kirk Ferentz said Elsbury came on strong late in the 2021 season.
Ferentz also said that Justin Britt could be an option at center, while freshman Michael Myslinski was showing nice potential before suffering an injury during bowl preparation in Florida.
"We worked (Elsbury) there in the latter part of the year. I think that's the best he's looked, quite frankly, since he's been here and he's had a great offseason," Kirk Ferentz said. "Logan's had a good offseason. It helps us, first of all, to have enough depth to practice, but it also increases the competition. Matt Fagan has done a nice job in there, too. Gives us at least three guys. And Justin Britt could jump in there if he had to."
Ferentz said Myslinski's injury will cause him to miss spring practice.
"He was doing really well.," Ferentz said of Myslinski. "Really excited about what we see there. And we were hopeful when we recruited him — you're always hopeful with every guy you recruit but you don't know. I think we've seen enough of him to know he's a football player, and a good football player, potentially would be a good one. But he won't be able to work this spring.
"We'll get him back in June, that's the good news, and he's wired in and all that, but it's not the same as practicing. We've got to make sure — and we don't have five established starters at this point anyway. So it's a matter of letting everybody compete."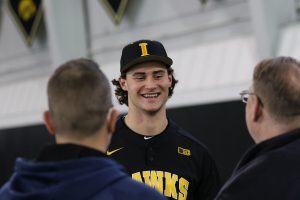 3. Growing pains: Somewhat overshadowed by the Iowa baseball team's 10-1 loss to Central Michigan this past Saturday was Brody Brecht's two innings of relief pitching.
The heralded freshman from Ankeny didn't allow a run and had four strikeouts, thanks mostly to an overpowering fastball that was consistently clocked in the high 90s, and sometimes, above 100 miles per hour.
Brecht walked two batters, which has been an ongoing problem for him, and for his team this season, but he only allowed one hit and left the two base runners stranded.
Brecht and fellow freshman Marcus Morgan were two of the most coveted pitchers to join the Iowa program in years.
And while both have shown flashes of brilliance, they also have struggled due mostly to control problems.
Brecht has walked 12 batters in 10 ½ innings and has a 4.22 earned-run average, while Morgan has allowed 12 walks in 14 innings and has a 5.79 earned-run average.
Brecht and Morgan both have shown the ability to get strikeouts as Brecht has 19 strikeouts and Morgan has 22.
Brecht has had to play catch-up with the other pitchers after having spent the fall playing receiver for the Iowa football team.
But if his latest performance is any indication, Brecht might be starting to find his groove on the mound.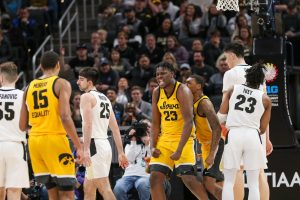 4. Transfer portal need: Fran McCaffery doesn't make a habit of using the transfer portal to fill spots on his roster.
But he will go that route if he feels it's necessary as was the case with adding Rebraca last season.
It's hard to know for sure what Iowa's roster will look like heading into next fall, but at this point, the guard court is stacked with Toussaint, Perkins, Payton Sandfort and Ahron Ulis all returning, at least for now, and with Connor McCaffery likely returning for a sixth season.
Iowa will also add two freshmen guards next season in Dasonte Bowen and Josh Dix, although, Dix might have to take a redshirt season after having suffered a broken leg this past season.
Whether Fran McCaffery uses the transfer portal could depend on how confident he feels about centers Josh Ogundele and Riley Mulvey being able to contribute next season.
Ogundele had some brief moments of success this past season as a redshirt freshman, but he never made Iowa's rotation.
Mulvey also played sparingly this past season, but not much was expected from him since he skipped his senior year of high school to enroll at Iowa a year early.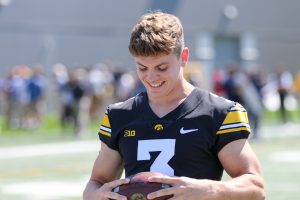 5. Super Cooper: Freshman defensive back Cooper DeJean showed flashes of his potential while playing mostly on special teams this past season.
He is expected to play a more prominent role next season, but the question is where?
"I don't know what he's going to be doing," Kirk Ferentz said last week. "We thought he was a safety. We had depth problems last year due to injury at cornerback. And he jumped in there and he's actually the guy that made the big tackle in the bowl game fourth quarter, across the field.
"This guy's a football player, and I'm not sure where he'll settle. But he's competitive. He should be an outstanding special teams guy."
DeJean has the size at 6-1 and 203 pounds to play safety, or maybe even the cash position, but he also has the speed, quickness and quick hips to play cornerback.