By Pat Harty
IOWA CITY, Iowa – If you were to pick the one thing that concerns you most about the 2022 Iowa football team, let me guess, it would either be the quarterback position, or the fact that Brian Ferentz is now coaching the quarterbacks.
And fair enough.
Because there certainly is reason to question both since the quarterback play has been average to mediocre over the past two seasons, and since Brian Ferentz has little to no experience coaching quarterbacks.
But for me, the offensive line is the biggest concern because its performance last season left a lot to be desired, and that was with All-America center Tyler Linderbaum leading the way.
Iowa only averaged 123.6 rushing yards per game last season, and just 3.4 yards per carry. And that was with Tyler Goodson starting at running back.
Michigan more than doubled Iowa in rushing yards in the Big Ten Championship game, outgaining the Hawkeyes 211 to 104 during the 42-3 beat-down.
Iowa is known for being a power running team that methodically moves the chains, controls tempo and excels in play action, but that is more the exception than the rule.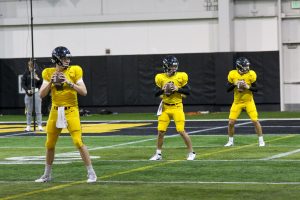 Spencer Petras certainly deserves some of the blame for Iowa's sputtering offense because his performance at quarterback has been average to mediocre in most games.
But he also hasn't had the best circumstances under which to perform.
Petras needs play action to be at his best due to his lack of mobility, but it's hard to establish play action with an ineffective running game.
Really, it's hard for Iowa to do just about anything on offense when the running game isn't moving the chains.
That's why my biggest concern is the offensive line.
The cupboard hardly is bare, with several offensive linemen having started multiple games, including Jack Plumb, Connor Colby, Mason Richman and Nick DeJong.
But none of them have distinguished themselves as a potential star at this stage.
Kirk Ferentz said he was encouraged by what he saw from the offensive line as last season progressed.
"I think I'm excited about the growth we saw, especially the last two months, November, December," Kirk Ferentz said. "So to me, I'm encouraged. I think the potential is there. The potential is potential. Really doesn't help you. But I think the guys have worked hard. They've got the right attitude. I'm anxious to see everybody this spring. It's fun to watch guys and see how they practice, how they improve and compete."
Kirk Ferentz is right about potential not really helping. The challenge is to turn potential into results.
I would argue that the offensive line is the most important group on most football teams, but especially in the case of Iowa because of how it wants to play under Kirk Ferentz, whose area of expertise is the offensive line, and because of the situation at quarterback.
I'm not necessarily saying that I expect the offensive line to struggle next season, nor is this meant to question George Barnett's effectiveness as the offensive line coach.
I'm saying that the offensive line carries a heavy burden because when it struggles, the offense struggles, sort of a trickle-down effect.
We might be surprised how effective Petras or Alex Padilla could be if Iowa had a ground attack that averaged at least 175 yards per game.
Iowa's offense makes sense when the running game produces.
But without a running game, Iowa's offense makes you question just about everything.
My choice for the biggest concern came down to the offensive line, quarterback, kicker and the cash position.
Goodson's decision to declare for the NFL draft as a junior leaves a hole to fill at running back, but Gavin Williams and Leshon Williams both showed in the Citrus Bowl loss to Kentucky that they are capable of filling it.
The problems at quarterback have been well-documented, and have lingered for two years, while the concern about kicker and the cash position are due simply to personnel changes.
Iowa fans have been spoiled in both cases, considering how well Iowa's kickers have performed over the last four or five seasons, and how well Dane Belton and before him, Amani Hooker, performed at the cash position.
Caleb Shudak made the most of his only season as Iowa's starting kicker last season as he converted on 24-of-28 field-goal attempts and all 36 of his point-after kicks.
Shudak had the daunting task of replacing All-America kicker Keith Duncan, but there was no drop off as Shudak also performed at an All-America level, and sometimes, made it look easy.
Sophomore Aron Blom was listed as the No. 1 kicker heading into spring practice followed by junior Lucas Amaya.
Incoming freshman Drew Stevens will also be in the mix to replace Shudak.
Belton, meanwhile, excelled while playing the cash position last season, so much so that he made first-team All-Big Ten and has since declared for the 2022 NFL draft as a true junior.
The cash position involves playing both defensive back and linebacker depending on matchups. It takes speed and quickness combined with power and strength to excel at the cash position.
Junior Sebastian Castro was listed on the depth chart as the starter at the cash position heading into spring practice, while junior Jestin Jacobs was listed as the starter at Leo linebacker.
But right now, the depth chart means very little as Kirk Ferentz always points out this time of year.
Spring practice is a time for teaching and for developing young talent, and for just getting better.
The Iowa offensive line needs a good spring.