IOWA CITY, Iowa – Fran McCaffery was the guest on Wednesday's Hawk Fanatic radio show and podcast.
The interview lasted for approximately 40 minutes and covered multiple topics, including Fran McCaffery saying that his s0n, senior guard Connor McCaffery, will return for a sixth season.
Iowa hasn't confirmed Connor McCaffery's return in a release, nor has Connor said for sure that he will return for a sixth season.
In fact, Connor McCaffery posted on Twitter shortly after his father's appearance on the radio that his return hasn't been confirmed.
But Fran McCaffery spoke Wednesday as if Connor will be a key part of the team next season.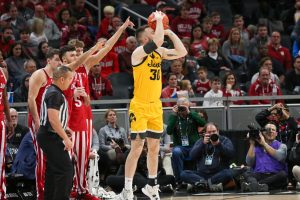 Fran McCaffery also talked about the transfer portal and said that he wants to add a frontcourt player to help fill the void left by All-America forward Keegan Murray, who has declared for the 2022 NBA Draft as a sophomore.
Iowa is reportedly one of the schools being considered by 6-foot-11 Utah Valley State transfer Fardaws Aimaq, along with Kentucky, Arkansas,  Gonzaga, Texas Tech, Arizona, Washington and Houston.
Aimaq averaged 18.9 points and 13.6 rebounds this past season and was a two-time All-WAC selection.
Iowa has two available scholarships with point guard Joe Toussaint and center John Ogundele both having recently entered the transfer portal.
But even with Toussaint's departure, Fran McCaffery said he isn't necessarily looking for a guard in the portal because he seems convinced that he will have enough depth in the backcourt with the guards Iowa has returning next season, and with the addition of incoming freshmen guards Desonte Bowen and Josh Dix.
There has been a concern that Dix wouldn't be ready to play next season after having suffered a broken leg this past season. But Fran McCaffery was optimistic on Wednesday that Dix would be ready for next season.
Fran McCaffery also reflected on this past season in which Iowa won the Big Ten Tournament and 26 games overall. The 26 wins is the second most in program history.
The season ended abruptly, however, as Iowa lost to Richmond in the first round of the NCAA Tournament.
"We just didn't shoot the ball well," Fran McCaffery said.
Fran McCaffery also talked about how the transfer portal and Name, Image and Likeness have changed the college landscape.
Fran hasn't relied much on the transfer portal because he prefers to build a roster over time.
But he will use the portal when necessary as was the case with landing forward Filip Rebraca last season. Rebraca played his first three seasons at North Dakota before transferring to Iowa where he started every game last season.
Rebraca is one of three starters returning next season, along with Fran's son, Patrick McCaffery, and shooting guard Tony Perkins.
Fran McCaffery said Wednesday that he thinks Patrick McCaffery and Kris Murray, who is Keegan Murray's twin brother, will both lift their game to another level next season.
Kris Murray was a force off the bench this past season. He led Iowa with a 29 points and 11 rebounds in a win over Indiana.