By Pat Harty
IOWA CITY, Iowa – Even with all the problems on offense, and with having to break in a new starting kicker, and with Ohio State and Michigan back on the schedule, and with Wisconsin and Purdue still on the schedule, and with Tyler Linderbaum not on the roster, the 2022 Iowa football team still looks capable of winning a second consecutive Big Ten West Division title.
That says something about the West Division, and about Iowa, and more specifically, about the Iowa defense.
The old saying is that defense wins championships and offense sells tickets.
And while that might be the case for most teams, it's only partly true in the case of Iowa.
Defense certainly was the driving force behind last season's success, but the offense certainly wasn't the driving force from an entertainment standpoint.
But Kirk Ferentz isn't paid to win with style points, just to win and Iowa met that challenge 10 times last season.
Iowa fell short at the end last season, getting demolished by Michigan 42-3 in the Big Ten Championship game and losing to Kentucky 23-20 in the Citrus Bowl.
The defense wore down against Michigan due partly to the Iowa offense having far too many possessions that were short-lived and unproductive.
For the most part, however, the Iowa defense rose to the occasion last season and many of the key players from that defense are back.
Five of those key players attended Tuesday's press conference in which defense was highlighted, including three starters on the defensive line: tackles Noah Shannon and Logan Lee and defensive end Joe Evans.
They were joined by fifth-year senior cornerback Riley Moss and by senior safety Kaevon Merriweather.
Lee is the only one among the five who isn't a senior, but he is a fourth-year junior after having been redshirted as a true freshman in 2019.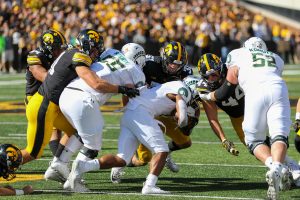 Starting linebackers Jack Campbell and Seth Bensen will also be seniors next season, and they have combined to start 36 games.
Moss has made 26 career starts, while Shannon, Lee and Merriweather have started 15, 14 and 12 games respectively.
Senior defensive end John Waggoner didn't attend Tuesday's press conference, but he has started 14 games and appeared in 28 games overall.
Moss and Merriweather also have appeared in 41 and 33 games, respectively.
So, combine all that experience with Phil Parker's leadership and knowledge and that's enough to feel pretty good about Iowa's chances of competing for the West Division title again.
Because it's hard to think of an Iowa team that struggled, or that underachieved while performing well on defense.
Special teams also should be strong again next season, assuming the new kicker rises to the occasion, and that along with a rock-solid defense should be enough to keep Iowa in every game, and with a chance to win almost every game.
Parker met with the media on Wednesday, along with assistant defensive coordinator and linebacker coach Seth Wallace and defensive line coach Kelvin Bell.
All three said what you would've expected them to say in the spring; that the players are working hard and showing improvement.
But it's what the five defensive players said Tuesday that is real cause for optimism.
They weren't cocky, nor did they make any bold statements or predictions.
They just spoke with confidence because as upperclassmen they've already proven themselves as part of an Iowa defense that held six opponents to 17 or fewer points last season.
"It's a little bit of cliché, but the sky's the limit for us," Logan Lee said of the defensive line. "We've got a bunch of great guys back."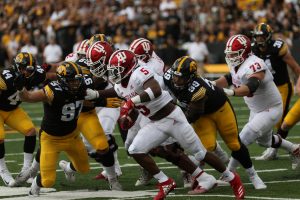 Lucas Van Ness and Yahya Black both played key roles on the defensive line as a redshirt freshmen last season, and they should only get better with more experience, and with the veteran players leading by example.
"Being an older guy, the young guys need a model and not a critic," Lee said. "So, I'm just there to try to improve on my own fundamentals, so that they can learn from that."
Lee credits former Iowa defensive linemen such as Brady Reiff and Cedrick Lattimore for helping him to evolve.
"I'm just doing my best to apply those fundamentals each and every day so that the younger guys can watch and learn from that," Lee said. "Realizing that it's not always going to be perfect, but as long as it's a majority of the time I'm doing what needs to be done, they'll be able to pick up on that and learn from that."
Probably the biggest concern on defense is having to replace three starters in the secondary, but the cupboard hardly is bare with Moss, Merriweather and cornerback Jermari Harris all returning with starting experience.
Moss considered leaving for the NFL, but his decision to return for a fifth season gives Iowa one of the most experienced defensive backs in the country.
"I think having Riley, him having so much experience and him being such a pivotal player and playing a pivotal role on defense is everything," Merriweather said. "Just having a corner that can lock down the best receiver and lock down his side of the field, I think that's huge."
Senior cornerback Terry Roberts also has been through the battles, and he gives Iowa yet another proven veteran on defense, while sophomore Cooper DeJean already has made a strong impression.
Five-star recruit Xavier Nwankpa, who enrolled at Iowa in January, also has made a strong first impression and should help at either safety position, and also on special teams.
T.J. Hall is another defensive back in Iowa's 2022 recruiting class who enrolled early and is now practicing this spring and making an early impression.
Junior Sebastian Castro is yet another candidate for playing time at the safety positions, or perhaps at the cash position.
The defense could sure use more help from the offense, and there's always a chance that it could happen.
But just in case, the defensive players should keep doing what they're doing.