By Pat Harty
IOWA CITY, Iowa – Keagan Johnson, in addition to being a talented receiver on the Iowa football team, is mature beyond his years.
He showed that again on Tuesday while answering a wide range of questions from the media about his progress this spring, about the team's progress and about the competition at quarterback.
The Iowa coaches would've been proud because Johnson said all the right things.
He didn't make any bold predictions or point fingers or make excuses.
He just spoke as part of something that is much bigger than him, and did so with humility and respect.
When asked how much more comfortable he is working with quarterbacks Spencer Petras, Alex Padilla and Joey Labas, Johnson seemed reluctant to say anything specific, because maybe he didn't want to show any signs of being biased.
He basically said he tries to just mind his own business.
"I guess as a receiver I'm more focused on doing my duty, so I'm not paying as much attention to who's getting me the ball as maybe others on this team," Johnson said. "But honestly, it might sound cliche, but I feel like all three are really capable. All three have different strengths and I think that's led to a really good competition and just the different attributes that each one brings and jelling and seeing how it works.
"But I think all three are capable, and honestly, it's been fun. You the love competition."
Johnson then was asked a follow-up question about whether he cares which quarterback throws him the ball, and about whether the ball comes out differently from each quarterback.
The reporter wasn't trying to put him on the spot. It was a fair question, especially under the circumstances.
But Johnson didn't want any part of answering it.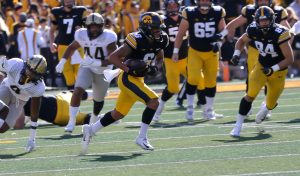 "I'm focused on doing my job, and I think all the wide receivers will say that," Johnson said. "We're focused on being the best version of ourselves. And whatever happens, happens. But we have to make sure that we're taking care of our job first and we're handling that to the best of our ability and the rest will come.
"I know it'll play out like it's supposed to. So, just taking it a day at time right now."
Imagine the smile on Kirk Ferentz's face should he ever read that comment from Johnson.
Football is often described as the ultimate team sport, and knowing what to say, and what not to say, is part of being a good teammate.
Johnson showed last season that he was ready for the challenge as a true freshman as he finished with 18 catches for 352 yards and two touchdowns. His average of 19.6 yards per catch led all starters and showed that he is a playmaker.
And yet, the offense still finished ranked near the bottom, or at the bottom of the Big Ten, in multiple statistical categories.
Iowa only averaged 303. 7 yards per game last season, which ranked 121st nationally.
The Iowa passing game has struggled in each of that past two seasons, and Johnson was asked about the stigma that comes with being an Iowa receiver where opportunities are considered few and far between.
He was asked how the current receivers are trying to change that stigma, and if they can make Iowa a more exciting place for receivers to play.
"I think we can, " Johnson said. "I don't see why we can't. We have the players to do it. We can. I know we can.
"And as much as the coaches put stuff in place, it's also on the players to go out there and execute. But I feel like we have the playmakers and we have the players to do it. It's not that we're lacking that. But the next step is making it happen. We can say what we want, but really going out there and making it happen. I feel like that's going to show recruits, and other people, that it can happen here at Iowa."
It's obvious from listening to the 19-year old Johnson talk that he was taught about the importance of being accountable, that words only go so far, and that the team always comes first.
He is the son of former Nebraska receiver Clester Johnson, so Keagan grew up around the game, and around a father who also was part of something much bigger than him in college.
Keagan is a pleasure to interview, because for one, he has a great personality, and because he seems so well adjusted off the field.
He talked on Tuesday about how yoga has helped him to recover from football injuries, including the one that caused him to miss the 2022 Citrus Bowl.
He also talked about the bond that he shares with fellow sophomore receiver Arland Bruce, and about how close his 2021 recruiting class is from having experienced the recruiting process during a global pandemic.
And he talked about the special bond that he shares with Iowa receivers coach Kelton Copeland, saying Copeland was the biggest reason he picked Iowa.
But it's also what Keagan Johnson didn't say that stood out on Tuesday.