By Pat Harty
IOWA CITY, Iowa – Some might say the best thing about my advice for the Iowa football team's struggling offense is that it's free.
Fair enough.
Probably the question I get asked the most about Hawkeye football is what can be done to help Brian Ferentz's sputtering offense that finished 121st nationally this past season.
Fans will get a glimpse of the offense on Saturday when Iowa holds an open practice at Kinnick Stadium to conclude spring drills.
The offense has supposedly made considerable progress during spring practice, but it's also hard to measure progress in the spring, and remember, spring narratives are always positive because spring practice is a time for hope and optimism.
But just in case the offense hasn't improved, here are 10 suggestions on how to make it better based on conversations with several sources who are far more qualified than myself, and based on how I feel about this topic.
I even took into consideration what fans have been saying about the offense because some of it makes sense.
These suggestions are in no particular order, and are pretty simple.
1. Take more chances downfield with vertical and seam routes: While there is certainly a place for underneath and horizontal routes in a passing offense, Iowa seems to rely too heavily on the shorter and safer routes.
Sometimes, a play caller has to be more aggressive and take chances downfield, especially when you have a receiver as talented as sophomore Keagan Johnson. He averaged 19.1 yards per catch last season and showed an ability to blow past defenders on vertical routes, and to make defenders miss after making a catch.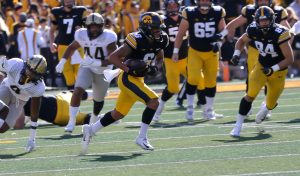 2. Play more up tempo: It might be my imagination, and it could be due partly to defenses being in a prevent mode, but it seems Iowa has more success on offense when it plays more up tempo, or in a 2-minute offense.
Defenses have to adjust to the speed of the plays being ran, and that sometimes gives the offense an edge.
3. Use more single back and less fullback: Nothing against Iowa's fullback because the position plays a critical role, mostly as a lead blocker between the tackles.
But using a fullback also makes Iowa more predictable and less explosive on offense, and it prevents another receiver from being on the field.
4. Play the top two running backs at the same time: This would take some imagination, but on the other hand, football isn't rocket science.
Would it be so hard to use the top two running backs at the same time, maybe lined up side-by-side since neither is a fullback?
Defenses would have to account for both as runners and receivers, and that would occupy more defenders than having a fullback as a lead blocker.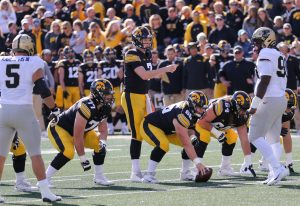 5. Throw more into the end zone when in the red zone: This comes down to a willingness to take more chances.
The fact that Caleb Shudak made 24-of-28 field-goal attempts this past season says a lot about him and about Iowa's inability to score touchdowns in the red zone.
Far too many drives for Iowa fizzled in the red zone last season, and there were many cases when the ball never crossed the goal line on a pass play.
It seems Iowa worries more about making mistakes in the red zone than doing what it takes to score touchdowns in the red zone.
6. Adjust more to in-game matchups rather than just run the same plays regardless of the opponent: There are times when the Iowa offense resembles trying to fit a square peg into a round hole. Regardless of the opposing defense's style of play, the Iowa offense rarely seems to adapt to the circumstances.
It just always seems to be a case on offense of just keep doing what we do, just do it better.
Well, sometimes, that's not enough.
Sometimes, an offense has to take what the defense gives it and then try to exploit. It gets frustrating watching the Iowa offense try to run between the tackles with eight defenders in the box.
7. Play to win rather than not to lose: This one I came up with all by myself because this is how I often feel when watching Iowa play on offense. There seems to be a sense of paranoia on offense in that something bad will happen from being too aggressive, or from taking some chances.
There are ways to take chances and to be aggressive without being careless and reckless.
Brian Ferentz called a masterful game in the 2019 Holiday Bowl, and it started with him being aggressive, creative and unpredictable. He used receivers on jet sweeps that produced two touchdowns during the 49-24 victory over the University of Southern California.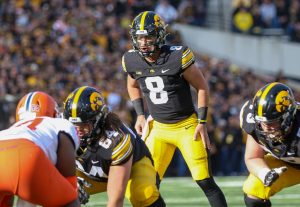 8. Don't be afraid to switch quarterbacks during a game: This seems timely and fitting under the current circumstances since Iowa currently has two quarterbacks with starting experience.
Fifth-year senior Spencer Petras has a 13-6 record as Iowa's starting quarterback and a big edge in experience over fourth-year junior Alex Padilla, who has three starts under his belt.
But Petras also has struggled at times since becoming the starter in 2020, and he has yet to complete 60 percent of his passes over the course of a season.
So, it's not a case where Petras has separated himself, but on the other hand, Padilla also struggled at times as the starter last season. He completed less than 50 percent of his passes last season.
But he also provided a spark off the bench against Northwestern, leading three scoring drives, helped partly by his mobility.
Padilla's mobility is one thing that separates him from the 6-foot-5, 233-pound Petras.
Both know the offense from top to bottom, and both have shown they can play winning football.
So why not use them both?
Should Petras win the starting job, which is my prediction, then certainly let him play without having to look over his shoulder.
But if he struggles and the offense suffers from his lack of mobility, then give Padilla a chance.
9. Run more screen plays: This would be a good way to get the running backs in space and make it so the offensive linemen wouldn't have to sustain blocks in the trenches where there is little room to carve out space.
Iowa relies heavily on the zone stretch running play, but if the blocking isn't rock-solid, it tends to go nowhere unless the running back can shed multiple defenders at the line of scrimmage.
It also might help the quarterback to gain confidence and establish a rhythm by completing a couple easy screen passes where the blockers and the running back do most of the work.
10. Don't treat converting on 3rd-and-long as being impossible: Third-and-long in this case would be seven yards or longer.
That doesn't necessarily mean the football has to be thrown at least seven yards down field to a receiver in each case.
But it also doesn't make sense to throw a five-yard down-and-out on 3rd-and-7, which Iowa sometimes does, especially late in close games.
This is yet another suggestion that comes down to being more aggressive and less paranoid on offense.